While mainland China does not currently supply the Hong Kong police force, analysts expect growing civil unrest and higher military spending to boost domestic and export markets
Chinese-made tear gas has been used against protesters around the globe, including anti-government protests in Sudan and Venezuela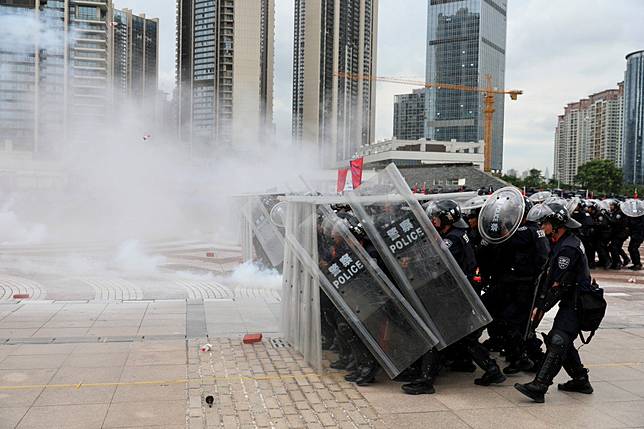 China is expected to increase its production of tear gas and other crowd control weapons because of higher demand from domestic law enforcement and from abroad, according to manufacturers and market researchers.
Although Hong Kong " where tear gas has been extensively by police during the ongoing anti-government protests " relies on foreign suppliers, mainland China produces its own supplies along with other so-called "non-lethal" weapons such as acoustic and electromagnetic equipment.
These items have been used to equip both China's own military and riot police and have also been exported around the globe.
China started producing its own tear gas in the 1990s. Over the past decade, mainland riot police have reportedly used tear gas at some of the country's most high-profile protests, including demonstrations against land seizures in Wukan village in the southern province of Guangdong in 2011 and 2016.
Watch: Chinese riot police clash with villagers after Wukan arrests
Media reports have also said that made-in-China tear gas was being used against protesters during Thailand's political unrest, the Arab spring and at anti-government demonstrations in Sudan and Venezuela.
Chinese makers of law enforcement weapons could see markets growing by 7.4 per cent between this year and 2025, generating around US$811 million in market value over this period, according to a report by the analysts Research & Markets earlier this month.
The whole industry could be worth more than US$9.7 billion by 2022, according to a report by the Allied Market Research, with China projected to be one of the fastest growing markets "due to strong economic growth, increased military expenditure, rapid industrial development, and growing civil unrest situations".
Tear gas is popular with law enforcement because of its easy availability, low cost and ability to incapacitate multiple targets quickly.
Last year, about 20,000 tear gas hand grenades were dispatched from the privately owned Jinjian Police Equipment Manufacturing Company, according to a salesman surnamed Han.
"Most clients are from home, but there were also foreign buyers and trading companies that eventually resold the goods abroad," he said. "As far as I know, some of our grenades went to Algeria."
Research by Amnesty International and the Omega Research Foundation in 2014 said the number of Chinese companies manufacturing "policing and security equipment" had quadrupled in the past decade to 134, with 48 offering products for export.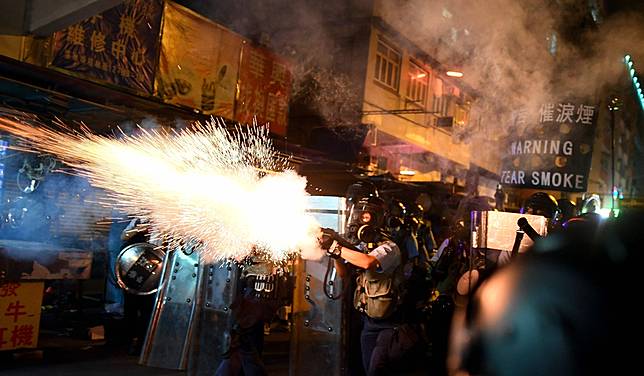 Although there are no later official statistics available, the industry boom in China appears to have continued.
In the Jingjiang Policing Equipment Industrial Park in eastern Jiangsu province, where Han's company is located, about 500 companies are in operation, although a majority of them are traders rather than manufacturers.
Approval from the Ministry of Public Security is needed for purchase of tear gas.
In 2016, 16 companies across the country were selected by a government procurement process to supply the ministry with backpack tear gas spray. This number had increased to 50 by the time of the 2018 bidding process.
Han noted that the chemicals used to make tear gas expire after one or two years, so security forces will need to replace their unused supplies regularly.
In Hong Kong, the police have used tear gas, rubber bullets, bean bang rounds and pepper spray during the repeated anti-government protests.
So far the force has fired more than 1,800 rounds of tear gas, prompting criticism that its use in residential areas and MTR stations was risking people's health and potentially their lives.
While there is no law preventing Hong Kong police from using tear gas produced on the mainland, its long-term supplier has been Britain " which in June said it would suspend exports of tear gas and rubber bullets citing "concerns about human rights abuses".
The European Parliament has also expressed concern, adopting a resolution that called for export control mechanisms to deny China, and in particular Hong Kong, "access to technologies to violate basic rights".
Tear gas is banned from being used in war, but is allowed by the Chemical Weapons Convention for domestic riot control, which means that China is not obliged to ban or strictly control its exports.
There are, however, still some restrictions on exports, according to a saleswoman at state-owned Henan Ordnance Special Equipment Company, one of the 50 contracted tear gas suppliers.
"Foreign buyers have to provide a whole set of documents, like the end users' information and licenses, as well as relevant approvals from the Chinese police," she said.
Copyright (c) 2019. South China Morning Post Publishers Ltd. All rights reserved.