Foreign ministry in Beijing insists that it will protect its integrity after advisory group calls for action if military is deployed to quell protests
Hong Kong enjoys special trade privileges – but US Senate has yet to vote on legislation that would expose these to greater scrutiny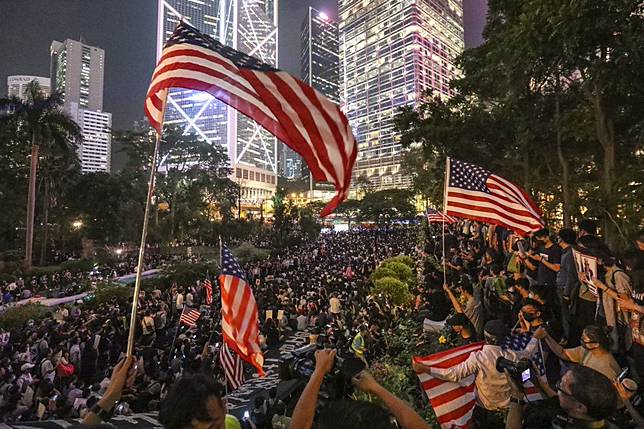 China insisted it would protect its sovereignty and national integrity after a US congressional body called for Hong Kong's special status to be suspended if military forces are deployed in the city to quell the ongoing protests.
The US-China Economic and Security Review Commission also called for export controls on mainland Chinese companies to be extended to their Hong Kong counterparts, but Geng Shuang, a spokesman for the Chinese foreign ministry, accused it of being "full of prejudice against China".
In Beijing on Friday, Geng said: "Its reports generally have no basis in fact. I have no interest in commenting on the report's content.
"We urge the US to be discreet in word and deed, conscientiously respect China's sovereignty, stop interfering in China's internal affairs and stop damaging Hong Kong's prosperity and stability."
Geng also said the Chinese government was resolute in its determination to keep the "one country, two systems" arrangement in the city and strongly opposed any outside interference in Hong Kong affairs.
Currently Hong Kong is treated as a separate customs and trading zone to the rest of China, which means it is not subject to tariffs imposed as a result of the trade war.
The report by the commission, which is mandated to advise Congress on the implications of the US economic relationship with China, is among a growing number of voices calling for a firmer stance towards Beijing,
Compel Chinese companies listed in US to disclose party links, Congress urged
The Senate is also being urged to pass legislation that would require Hong Kong's special status to face regular scrutiny.
In October, the US House of Representatives passed the Hong Kong Human Rights and Democracy Act " which requires the city's autonomy to be reviewed annually.
The legislation also enjoys bipartisan support in the Senate, where it is widely expected to be passed, but would still have to be signed into law by the president.
Shi Yinhong, an international relations professor at Renmin University in Beijing, said China would be cautious in its response to the protests, now entering their sixth month.
"The suspension, if it really occurs, would lead to capital outflows from the city which may hurt the mainland and Hong Kong as well as foreign companies," said Shi, who is also a government adviser.
"Any targeted countermeasures against US businesses in Hong Kong will only backfire."
More than 1,200 US companies do business in Hong Kong, of which over 800 are either regional offices or headquarters, attracted by the city's free market orientation, transparent legal system and well-established rule of law, according to the American Chamber of Commerce in Hong Kong.
Shi said China would continue to support the Hong Kong government's handling of the protests, adding: "Military intervention is the only last resort for China to crack down on the radical and violent protesters."
Donald Trump tries to outflank Congress as pressure grows on China
Chen Long, a Beijing-based partner with independent research agency Plenum, said the Chinese government would not be happy if the US legislation was passed, but would not walk away from trade talks with Washington since "it's not in Beijing's interest".
He said Beijing had not taken any real action and gave a muted response after it was passed by the House of Representatives.
"We believe Beijing recognises that there is a wide consensus within Congress on Hong Kong issues and it is hard to change. More importantly, Congress and (US President Donald) Trump disagree on many issues, and Trump cannot change Congress's mind on Hong Kong.
"He will sign the act because the Congress has the two-thirds majority it needs to override Trump's veto. Therefore, we believe that China will tolerate the act as long as Trump does not back the legislation loudly."
Under the terms of the Hong Kong Human Rights and Democracy Act, the US would have to certify once a year that the city remained sufficiently autonomous to warrant its special status.
Hong Kong is a key gateway for capital inflow into China, accounting for two-thirds of China's overall foreign direct investment flows.
According to the Ministry of Commerce, foreign direct investment from Hong Kong rose 8.1 per cent in the first three quarters, when the overall inflows increased 2.9 per cent to US$100.78 billion.
He Wen, a Hong Kong affairs specialist from the Shanghai Institute for East Asia Studies, said the US would not easily drop Hong Kong's special status since it had many interests in the city.
US House speaker Nancy Pelosi backs congressional legislation on Hong Kong
But he added: "The US should not bargain with China on Beijing's possible military measures, since Beijing would not hesitate to safeguard its national interests if those measures were needed. Hong Kong's trade status does not weigh equally with China's national interests."
Zhang Jian, a Hong Kong affairs observer from the Shanghai Institutes for International Studies, said Beijing might be able to persuade US companies to urge Washington to act with caution.
"Withdrawing Hong Kong's trade status would have a big impact on US companies, which I think is a big factor that the Trump administration must consider," Zhang said.
He also said Beijing was eyeing the possibility of developing financial markets in Macau and a free-trade zone on the island province of Hainan as ways of offsetting the uncertainties in Hong Kong.
Copyright (c) 2019. South China Morning Post Publishers Ltd. All rights reserved.