Foreign ministry stops short of saying deal has been finalised but points to stock market surge as positive sign
Negotiated a deal to benefit both nations, spokeswoman Hua Chunying says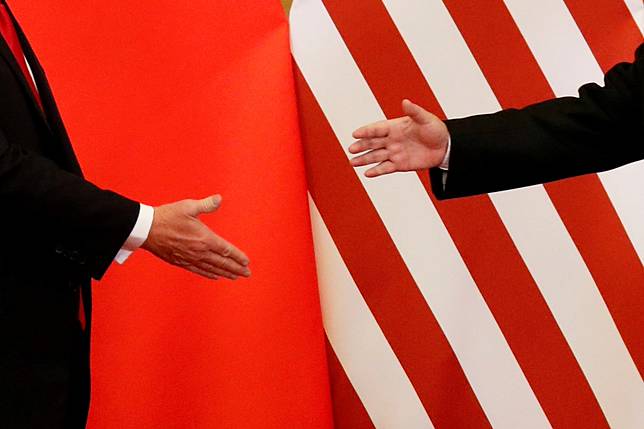 The Chinese foreign ministry said China was committed to resolving the trade dispute with the US, but added the agreement should be mutually beneficial.
Ministry spokeswoman Hua Chunying stopped short of saying if the two sides had reached a deal, as reports suggested consensus had been reached on a "phase one" deal " with the US reducing tariffs imposed on Chinese imports and China buying US agricultural products worth US$50 billion.
"As soon as reports suggesting the phase one deal was reached emerged, the major stock markets in the US and Europe jumped. This illustrates that a deal through negotiation is beneficial to both nations and their peoples, and it is what the international community wants," Hua said.
She added China insisted on resolving the trade dispute through negotiations, which should be based on the principles of equality and mutual respect.
"The agreement has to be mutually beneficial to each other," she said.
American media reported on Friday that the US would not only postpone tariffs on around US$160 billion of Chinese goods scheduled to go into effect on Sunday, but would also make cuts in duties already in place.
According to Politico, US President Donald Trump was also expected to reduce duty rates already in place on a portion of the previous goods hit by tariffs, including many consumer items such as footwear, clothing and flat screen televisions.
Politico also reported that the text of the agreement could be formally signed by China's envoy to Washington, Cui Tiankai.
China has yet to confirm whether it will push ahead with postponing its own tariffs of between 5 and 10 per cent on US goods, also set to go into effect on Sunday. Over the course of negotiations, Beijing has maintained that a suspension of future tariff increases and a rollback of existing duties should be part of any agreement.
Trump used his favoured platform Twitter on Thursday to write that Washington was "getting very close to a big deal with China. They want it, and so do we!"
Getting VERY close to a BIG DEAL with China. They want it, and so do we!

" Donald J. Trump (@realDonaldTrump) December 12, 2019
But China has remained silent on whether the two sides had reached a deal. Earlier on Friday, Foreign Minister Wang Yi said information would be released as soon as possible.
Hu Xijin, editor-in-chief of nationalist tabloid Global Times, tweeted that the Chinese side had kept silent because it was a delicate situation.
Chinese authorities and official media so far haven't given any information on China and the US are close to a deal. As the US side released optimistic information through various channels, the Chinse side has basically kept silent. This is a delicate situation.

" Hu Xijin 胡锡进 (@HuXijin_GT) December 13, 2019
An initial phase of a potential agreement to resolve the two countries' prolonged trade war has been in the works for months, despite Trump's insistence in October that it was ready to be signed within weeks.
Uncertainties in the negotiation process were spurred by the cancellation of the Asia-Pacific Economic Cooperation summit in Chile over domestic unrest " throwing a spanner in plans for China and US leaders to sign the phase one deal there " as well as ideological clashes between Beijing and Washington over US legislation on anti-government protests in Hong Kong and the mass internment of ethnic Muslims and other minorities in China's Xinjiang region.
More to come
Copyright (c) 2019. South China Morning Post Publishers Ltd. All rights reserved.