Family of three arrived on Wednesday from mainland Chinese city of Wuhan, the source of deadly outbreak
Staff at eye clinic they were attending tested them and found woman had relatively high body temperature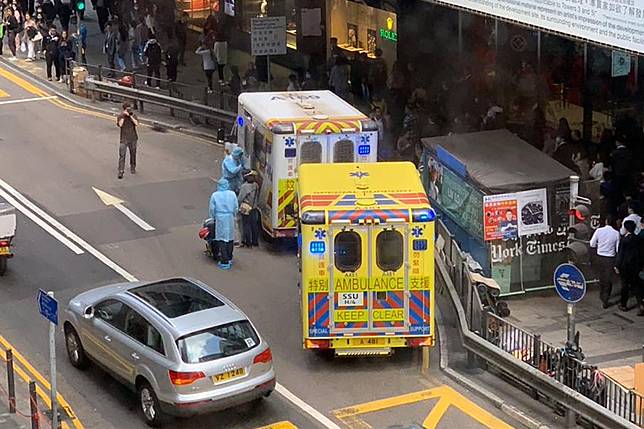 Panic swept through Hong Kong's central business district on Thursday when a woman from the mainland Chinese city at the centre of the deadly coronavirus infection was seen being taken to hospital in an ambulance.
Images of medical staff in full protective gear walking along a street in Central with a woman and a child quickly went viral, sparking fears of a potential outbreak in the community.
The woman and her family, who arrived in Hong Kong on Wednesday by high-speed rail, were in the city to take their child to an optometrist in the Central Building on Queen's Road Central.
Dennis Lam Shun-chiu, the popular ophthalmologist who founded C-Mer Eye Care Holdings, said the woman was at his clinic along with her husband and their child, when staff decided to check their body temperatures as a safety measure.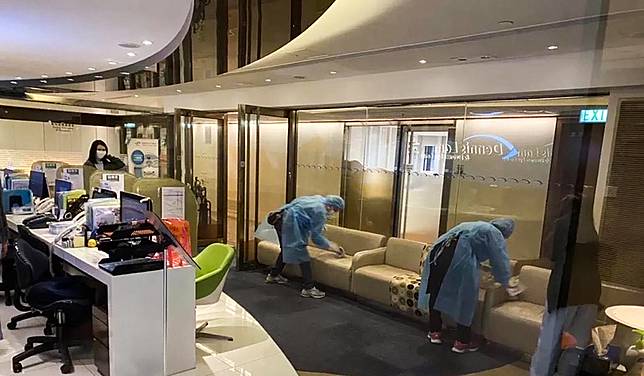 The woman's body temperature was found to be relatively high, and the three were sent to hospital. The clinic has opted to close for two days to undergo a thorough cleaning.
"The mother was found to have a relatively high body temperature at 37.3 degrees Celsius (99.14 degrees Fahrenheit). But the figure falls within the normal range of 36 to 37.3 degrees according to international standards," Lam said, adding the woman did not show any other symptoms.
"According to the information obtained, the risk was not high."
Lam is a Hong Kong delegate to the National People's Congress, China's top legislature.
For epidemic prevention, staff at the clinic isolated the family in a room while the case was being reported to the Department of Health, Lam said.
Eventually, the family was sent to the hospital for further tests, and the clinic said it would remain closed on Thursday afternoon and Friday.
Wuhan quarantine: shutting down a city five times the size of London
Concerns were also raised at the Alva Hotel By Royal in Sha Tin, where a 56-year-old man who was reported to be Hong Kong's second confirmed case of coronavirus infection, spent a night on January 20.
On Thursday, most hotel guests and staff were seen wearing masks, and at least two guests told the Post they had cancelled bookings.
A receptionist at the hotel said a thorough clean-up was being conducted, and hand sanitiser had been placed in public areas of the hotel.
She assured guests they would not be staying on the same floor where the man had stayed, but declined to say which floor that was. She said those who pre-booked rooms would be able to cancel or postpone the booking.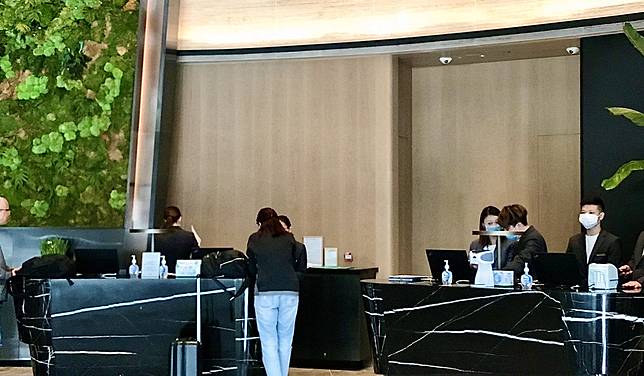 Patrick Kwok, 40, said he had booked a one-night stay for his family at a cost of HK$1,600, but decided to cancel the reservation after the hotel offered him a full refund.
"I have just heard about the news while on our way to the hotel, and the hotel was also kind enough to offer us a refund within a month," he said.
"Personally I'm not too worried, but since we have a (nine-year-old) daughter, my wife has been more worried than me."
Jack Leung, a Hongkonger in his 50s who lives overseas but returned to Hong Kong to visit his relatives, said he had been staying at the hotel for a few days but did not think about leaving early.
"I think the hotel's handling (of the situation) has been satisfactory, in fact, they have been quite thoughtful of us guests," he said.
Guests leave Hong Kong hotel connected to city's first coronavirus infection
In a reply to the Post, the hotel said the employee responsible for cleaning the man's room had been taken to hospital for a check-up and was expected to be isolated.
Guests will have temperature checks, and will be expected to fill in health forms on their arrival at the hotel, which has also formed a special team for epidemic prevention.
At the Empire Hotel Kowloon, in Tsim Sha Tsui, a similar scene played out on Wednesday, where the family of the first patient confirmed to have contracted the virus had stayed. On Thursday, the hotel said the floor where the group stayed had been sterilised, and staff were required to wear masks.
Additional Reporting by Chris Lau
Copyright (c) 2020. South China Morning Post Publishers Ltd. All rights reserved.