China became the first country to announce the deployment of the missiles, but Russia recently announced it had developed a much-more advanced version the Avangard
Defence analysts say the weapons are not a game-changer for now but could give Moscow extra leverage in negotiations with the US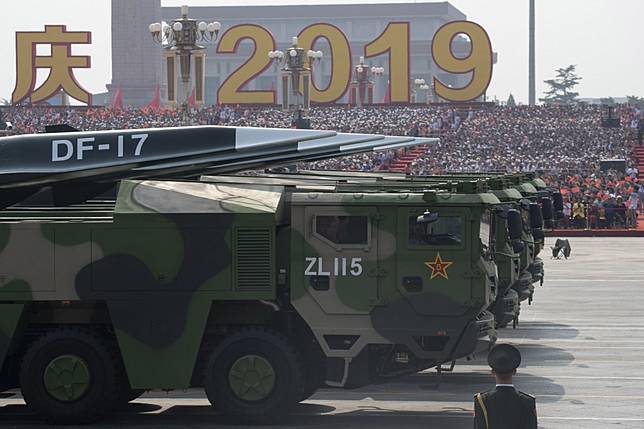 Recent breakthroughs in the development of hypersonic weapons have heightened fears about a new arms race between China, Russia and the US, with some defence observers calling for new international arms control agreements.
The emergence of hypersonic weapons has raised concerns about the "invincible" arms, which cannot be intercepted by any existing defence systems, being used to enhance nuclear powers' capabilities.
A hypersonic weapon is usually defined as one that reaches speeds of at least Mach 5, five times the speed of sound.
Last year China became the first country in the world to publicly announce the deployment of hypersonic weapons when its DF-17 missile featured in the National Day military parade on October 1.
Avangard: Russia's nuclear-capable hypersonic missile enters combat duty
But in late December Russia announced the formal deployment of its Avangard missile.
"The deployment of Avangard indicated that Russia is ahead of both China and the US, because the DF-17 hypersonic missile of the People's Liberation Army is a low-tech one, which can travel at a speed of Mach 6," a military insider told the South China Morning Post.
Russian media claimed that the Avangard hypersonic glide vehicle can fly at speeds of Mach 20.
The US has resumed hypersonic missile development under Donald Trump after his predecessor Barack Obama suspended the programme but is yet to announce the development of its own weapons.
Russia and China currently enjoy an advantage in the development of hypersonic technology, based on the number of successful test flights they have conducted, while India and France are close behind, according to a recent report published by the Bulletin of the Atomic Scientists.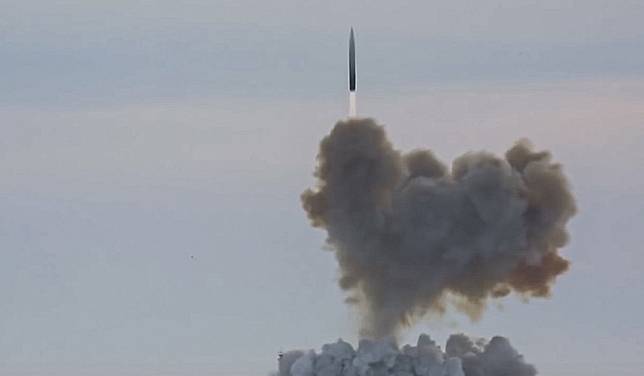 Despite the accelerating arms race, Margaret Kosal, an associate professor at the Sam Nunn School of International Affairs at Georgia Institute of Technology in the US, said the hypersonic technology would not become a "game changer" because the evidence suggests the technology will not replace nuclear weapons as the most effective "strategic deterrence tool".
"Hypersonic missiles will not cause deterrence among superpowers, great powers, or rising powers, (even though the weapons) might affect aspects of the deterrence calculus and might affect choices in command and control," she said.
Beijing-based military analyst Zhou Chenming said hypersonic weapons might increase the cost of war, but none of the three major powers would use the hypersonic weapons as a "pre-emptive strike tool" and would continue to enhance their strategic nuclear technology.
"The appearance of hypersonic weapons has been the icing on the cake for strategic nuclear weapons among today's three superpowers, because it means the cost of being a real nuclear state is increasing," Zhou said.
"The production and maintenance cost of hypersonic weapons might be much cheaper … but its development cost is tremendous, with each flight test costing billions of yuan."
Macau-based military observer Antony Wong Dong said it would be almost impossible to stop the major powers competing to develop hypersonic technology, but they could work to avert a potential crisis by agreeing not to arm them with nuclear weapons.
"Hypersonic missiles could become either national saviour, or state sinner, it depends on what the leaders decide," he said.
"The three countries should obtain a consensus and verification mechanism to prohibit any hypersonic glide vehicles being armed with nuclear weapons."
Will hypersonic DF-17 missile transform Beijing's Taiwan strategy?
However, hypersonic weapons could also be used as a tactical weapon to increase negotiating power.
Alexei Rakhmanov, president of Russia's United Shipbuilding Corporation, said in December that Moscow will arm its new warships with hypersonic weapons and retrofit its existing vessels with the missiles, according to a report by the news agency Tass.
"If (Russia's plan is realised, it'll present a whole new game-changer here," said Collin Koh Swee Lean, a research fellow with the Institute of Defence and Strategic Studies' Maritime Security Programme in Singapore.
Both Koh and Zhou believe Russian President Vladimir Putin used the country's advantage in developing Advangard to increase its bargaining power ahead of the upcoming Strategic Arms Reduction Treaty (START) negotiations with the US.
START is expected to replace the Intermediate-Range Nuclear Forces Treaty that Trump decided to withdraw from last year.
"Moscow believes it's ahead on this area of strategic weapons technology," Koh added.
"It'll have an impact on strategic deterrence … if the day comes when these three major powers possess hypersonic weapons there could be an international push for new arms control agreements to restrict their use and proliferation."
China's hypersonic DF-17 missile threatens regional stability, analyst warns
Both US and Russia are keen on bringing China into the negotiation and expand it into a trilateral treaty.
But Beijing has insisted it is "not qualified" to join the discussion, saying the number of nuclear payloads in its stockpiles lags far behind Washington and Moscow's arsenals.
However, as the power with the most advanced hypersonic missile technology after Russia, Kosal said there may be a push to convince China to join the US and Russia for new arms control discussions.
"Hypersonics are not likely to substantially change the relationships between China, Russia, and the US. The hype around hypersonics, however, will be generating enough interest to prompt productive discussions and increased Track I and Track II diplomatic efforts both bilaterally and trilaterally," she said, referring to backchannel diplomacy through non-governmental contacts.
"That would be a good thing."
Sign up now for our 50% early bird offer from SCMP Research: China AI Report. The all new SCMP China AI Report gives you exclusive first-hand insights and analysis into the latest industry developments, and actionable and objective intelligence about China AI that you should be equipped with.
Copyright (c) 2020. South China Morning Post Publishers Ltd. All rights reserved.