Foreign ministry says London and Washington did not 'sternly condemn' torching of man in the city
Both Western countries express deep concerns over confrontations and the use of force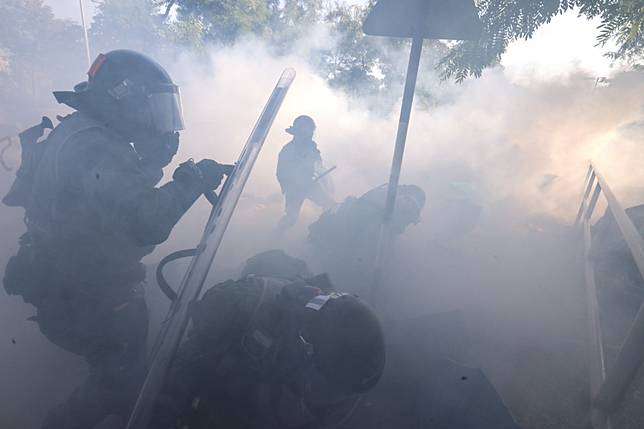 Hong Kong's top priority is to stop the violence in the city and restore order, Beijing said on Tuesday as it lashed out again at Western nations it accuses of interfering in Hong Kong affairs.
The comments came after Washington expressed "grave concern" over the situation in Hong Kong on Monday, one of the bloodiest days in the city since anti-government protests began in June.
In separate incidents, a police officer shot a protester and a man was set on fire.
Chinese foreign ministry spokesman Geng Shuang accused the United States and Britain " which described events on Monday as deeply disturbing " of hypocrisy, saying "their lip service to justice has shown their double standards and ill intentions".
"The hateful act (of the torching) has caused widespread panic and concern among Hong Kong citizens. If countries like the United States and Britain are opposed to violence as they claim, why didn't they sternly condemn such acts that targeted civilians," Geng said.
In a separate statement, the ministry's office in Hong Kong said the brutality of the "black-clad riots" was no different from terrorism, saying it had gone far beyond the scope of peaceful assembly and freedom of speech.
"Some American and British politicians, however, have confounded the police's efforts to enforce the law and stop the chaos with the rioters' frantic and inhumane violent acts, which only proves again that they are colluding with and endorsing the violent criminals," the statement said.
"Such acts will definitely be denounced by Hong Kong citizens and the international community."
Later on Tuesday, the Chinese central government agency overseeing Hong Kong affairs strongly urged the city's authorities to take a tougher stand to quell civil unrest.
Yang Guang, spokesman for the State Council's Hong Kong and Macau Affairs Office, said the office "expresses the strongest condemnation of the rioters, and demands the suspect (of the torching) be arrested and be brought to justice as soon as possible".
"Such shocking and savage acts … in broad daylight have seriously trampled on the bottom line of rule of law, of morality and of human civilisation," Yang said.
"We express great indignation and strong condemnation (against the violence) and convey our deepest sympathy to the victim and his family."
He said violence should not be tolerated and expressed support for the Hong Kong government, police force and judiciary to take "stronger, more resolute and more efficient" measures to restore the city to order.
"We will never allow violence to be rampant in Hong Kong, and will never allow the plotters against China … to succeed," Yang said.
Anti-government protesters vow to stick with new strategy after increased weekday violence brings Hong Kong to partial standstill
On Monday, a British foreign office spokesman said Britain was "seriously concerned by the ongoing violence, and the escalation between protesters and police".
A senior official in the administration of US President Donald Trump also condemned "unjustified use of deadly force" in the violence, adding that "Hong Kong police and civilians alike have a responsibility to de-escalate and avoid violent confrontations".
US State Department spokeswoman Morgan Ortagus said the US was watching the situation in Hong Kong with "grave concern".
"We condemn violence on all sides, extend our sympathies to victims of violence regardless of their political inclinations, and call for all parties " police and protesters " to exercise restraint," Ortagus said.
She said that increased polarisation in Hong Kong society underscored the need for a "broad-based and sincere dialogue between the government, protesters and citizenry" and called on protesters to respond to efforts at dialogue.
"We urge Beijing to honour the commitments it made in the Sino-British Joint Declaration," Ortagus said, referring to the document signed by China and Britain in 1984 that guaranteed Hong Kong a high degree of autonomy for 50 years after its 1997 handover to China.
Those commitments included a pledge that Hongkongers would enjoy human rights such as "the freedoms of expression and peaceful assembly " core values that we share with Hong Kong", she added.
Elsewhere in Washington, lawmakers cited the day's bloody clashes as further evidence of the need for a US policy response to the ongoing unrest, with House Representative Jim McGovern calling on Senate leader Mitch McConnell to bring the Hong Kong Human Rights and Democracy Act to a vote in the upper chamber.
Introduced by Republican Senator Marco Rubio, the bill would increase scrutiny of Hong Kong's autonomy from Beijing, and subject foreign nationals deemed responsible for the "undermining of fundamental freedoms" in the city to economic sanctions and travel restrictions.
Amid concerns that enactment of the bill could complicate trade negotiations with Beijing, Trump has instructed his allies in the Senate to slow-walk the legislation, according to a US source close to the talks.
As it happened: 16 hours of violence in Hong Kong continue with Mong Kok unrest, while Carrie Lam says 'wishful thinking' to believe government will yield to political demands
One US official said that the legislation was not moving as fast as it could be "if it had the administration's full support", but said that Monday's point-blank shooting of a protester " the third person to be hit by live ammunition " would inevitably increase pressure on the US government, including Congress, to act.
"Hong Kong has long been the goose that lays golden eggs for China's trade relations; the US along with the rest of the world is increasingly horrified that China appears to be strangling it," the official said. "The US has spoken up on Hong Kong and will not fail to act for long."
Shi Yinhong, an international relations professor at Renmin University in Beijing, said trade negotiations between China and the US would be affected if Trump endorsed the act, and the bill's passage would bring more chaos to Hong Kong.
"International capital would lose confidence in Hong Kong, which would be harmful to both mainland and Hong Kong," he said.
Additional reporting by Minnie Chan and Wendy Wu
Copyright (c) 2019. South China Morning Post Publishers Ltd. All rights reserved.