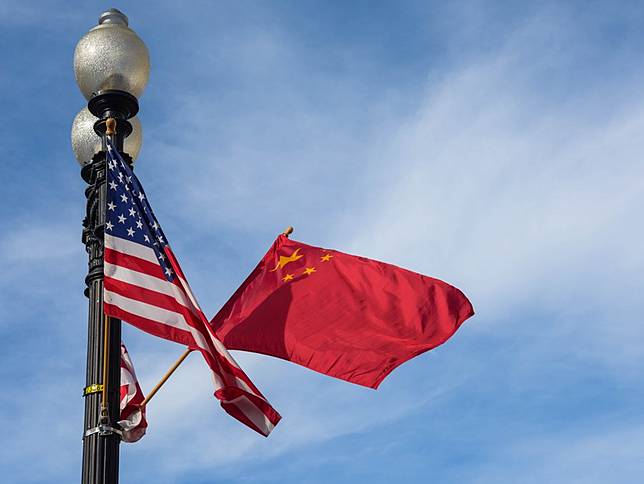 File photo shows the national flags of China (R) and the United States on the Constitution Avenue in Washington, capital of the United States. (Xinhua/Bao Dandan)
BEIJING, Aug. 7 (Xinhua) -- Senior Chinese diplomat Yang Jiechi said Friday that China and the United States must never allow a handful of self-serving U.S. politicians to push the bilateral relationship into serious jeopardy.
He made the remarks in a signed article titled "Respect History, Look to the Future and Firmly Safeguard and Stabilize China-U.S. Relations," which was published Friday.
Yang, a member of the Political Bureau of the Communist Party of China (CPC) Central Committee and director of the Office of the Foreign Affairs Commission of the CPC Central Committee, said that a sound and stable China-U.S. relationship affects the well-being of China, the United States and the world at large.
To uphold world peace and promote development for all is the shared mission and responsibility for China and the United States, Yang said. "What it requires is for the two countries to view and handle their relationship in a proper manner and seek a way of peaceful co-existence despite differences."
"Nonetheless, for some time, some politicians in the United States have kept making false statements and groundless remarks against China. They have viciously attacked the CPC and China's political system. They have deliberately distorted and even attempted to write off the history of China-U.S. relations for the past nearly 50 years," Yang noted.
"What they are up to is to stitch up lies to blind the American people and fool international public opinion," he added.
"The erroneous words and moves by the U.S. Administration constituted interference in China's internal affairs. They undermined China's interests and seriously disrupted China-U.S. relations, putting the relationship in a most complex and grave situation since the establishment of diplomatic ties," said Yang.
In response to the U.S. move, the Chinese government has expounded its position in a comprehensive manner and reacted resolutely to firmly defend China's sovereignty, security and development interests and firmly safeguard and stabilize China-U.S. relations, said Yang.  ■