Industrial production grew by 4.7 per cent in October, down from 5.8 per cent in September, and below analysts' forecasts
Retail sales and fixed asset investment growth also declined in October, as pressure builds on Beijing to arrest the downturn in the economy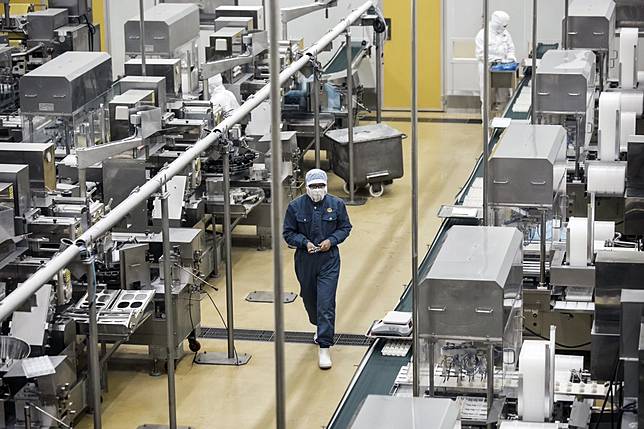 Growth in China's industrial economy fell sharply in October, as a broad-based slowdown in manufacturing was again clear in figures released on Thursday.
Industrial production, a measure of growth in sectors such as manufacturing, mining and utilities, expanded by 4.7 per cent cent last month, down from 5.8 per cent in September. This was below analysts' expectations of 5.4 per cent growth. September's figure had rebounded from a 17-year low of 4.4 per cent, recorded in August.
In another piece of data released by China's National Bureau of Statistics (NBS) on Thursday, fixed asset investment, purchases of capital goods, real estate and infrastructure, grew by 5.2 per cent in the first 10 months of the year, below analysts' expectations of 5.4 per cent and down from September's reading, also of 5.4 per cent. This was the lowest growth figure since records began in November 1999.
Retail sales, a key metric of consumption in the world's most populous nation, grew by 7.2 per cent in October from a year previous, this was below analysts' forecasts in a Bloomberg poll, which predicted no change from September's 7.8 per cent growth. This was the lowest monthly growth rate since April.
Other data from October " better than expected results from the Caixin survey of small, private manufacturers, smaller than expected declines in exports and imports " had suggested some semblance of stability in the world's second largest economy. Thursday's numbers, however, suggest that the multiple and significant headwinds facing China persist.
Furthermore, while the manufacturing slump has dominated headlines this year, the sag in investment will be of real concern to policymakers in Beijing. The trade war with the United States has had significant material impact on data. Exports fell by 0.9 per cent in October, better than September's 3.2 per cent decline and ahead of analysts' forecasts. Imports too beat expectations with a 6.4 per cent fall, but this marked the ninth monthly decline in a row.
However, analysts have long said that the greatest impact will be on investment. Companies now seem to be holding back on making large purchases, as the chill effect of US President Donald Trump's tariffs percolate through the Chinese economy.
Investment in infrastructure in October " measured year-to-date " was 4.2 per cent, down from 4.5 per cent in September. Manufacturing investment actually rose to 2.6 per cent, up from 2.5 per cent, but with infrastructure investment being the biggest component, this was not enough to arrest the decline.
Within the industrial production figures, manufacturing " the biggest single component " grew by 4.6 per cent, while mining grew by 3.9 per cent. These were both down sharply from 5.6 per cent and 8.1 per cent growth in September, respectively.
At a press conference in Beijing on Thursday, an NBS spokeswoman put China's economic woes down to "the global economic growth slowdown" and "relatively greater external uncertainties".
All year, the data coming out of Beijing has been weak and last month continued that trend. China has been waging a trade war with the US since July 2018 and manufacturers have been taking a hit, getting lower prices for their goods and losing big parts of their US export market.
The trade war has also acted as a drag on confidence, meaning fixed asset investment had grown steadily " if unspectacularly " all year. In years gone by, these sorts of investment were among the main engines of China's economic growth, which grew at its lowest pace on record in the third quarter of the year, 6.0 per cent. Now, however, investment is suffering.
The pressure is now on for Beijing to ensure gross domestic product (GDP) growth does not sink below its target level of 6.0 to 6.5 per cent for the full year in 2019. Next year will be worse again, analysts have suggested.
At a meeting with economists and policymakers in Beijing on Tuesday, China's Premier Li Keqiang acknowledged the challenges facing the economy.
The current external environment (has become) more complex and severe, with increasing downward pressure on the domestic economy, rapidly rising prices of pork and other products, and increasing difficulties in the business operations of companiesLi Keqiang
"The current external environment (has become) more complex and severe, with increasing downward pressure on the domestic economy, rapidly rising prices of pork and other products, and increasing difficulties in the business operations of companies," Li said.
A relatively small scale trade deal with the US is in the offing, which would potentially offer some tariff relief to Chinese exporters in exchange for large-scale purchases of American farm goods. However, most experts have suggested that this mini-deal will not be economically significant in the grand scheme of things.
Nor will it satisfy the initial demands of the Trump administration, which was pursuing wholesale changes to China's economic practices. Many suspect that should Trump lose the 2020 election to a Democratic rival, things will become tougher for Beijing, which will be under greater pressure to make reforms to its economic model when facing a president who does not alienate traditional rivals.
It is not thought that China is prepared to unleash large volumes of stimulus to jolt its ailing economy into life. Instead, it will continue the sorts of incremental policy moves " such as changes to the bank lending rate and discounts for consumers buying big ticket items " it has used for the past year.
And while it has been losing billions of dollars in trade revenue due to the US trade war, it has been trying to claw back some of those losses through trade with other nations.
Since the beginning of the trade war 17 months ago, China's average tariff rate levied on American goods rose to 20.7 per cent, up from 8.0 per cent. For the rest of the world, however, the average tariff rate has fallen from 8.0 per cent to 6.7 per cent, according to research from the Peterson Institute of International Economics' trade economist Chad Bown.
In last week's trade data, exports with the US were down again, but exports to Southeast Asian nations were up notably, suggesting that this policy may be bearing some fruit.
Additional reporting by Orange Wang
Copyright (c) 2019. South China Morning Post Publishers Ltd. All rights reserved.