Number of confirmed cases reported in Wuhan on Saturday falls 55 per cent from previous day, National Health Commission says
But surges in South Korea, Japan and Iran suggest the epidemic is becoming a pandemic, according to experts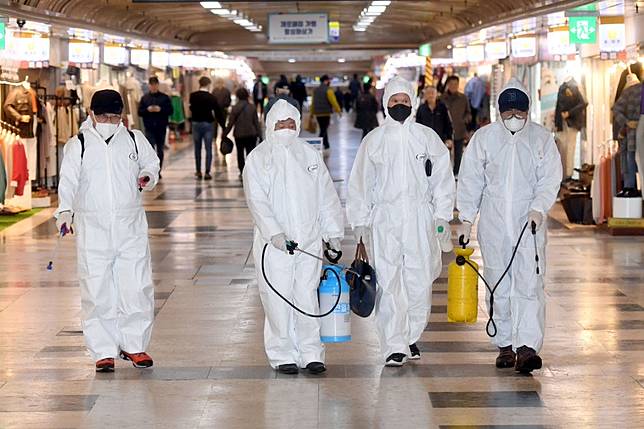 A month on from the introduction of strict controls in Wuhan, the city at the centre of the coronavirus outbreak, China is cautiously returning to normal operations after seeing a downward trend in the number of new infections.
But that chink of light could yet be overshadowed as a surge of cases elsewhere in the world, most notably in South Korea, Japan and Iran, threatens to turn an epidemic into a pandemic, experts say.
The spike in new infections outside China coincided with the arrival in Wuhan on Saturday of a team of public health experts from the World Health Organisation (WHO), who after earlier visits to Beijing and the provinces of Sichuan and Guangdong now have the task of setting the course for the next stage in handling the deadly outbreak.
Also on Saturday, China's National Health Commission reported 397 new coronavirus infections " a 55 per cent drop from the 889 reported on Friday " taking the total reported in the country since the outbreak began in December to 76,288. A total of 2,345 have been killed by the virus, of which 109 were reported on Friday.
While the numbers continue to rise, the commission said it had seen a declining trend in Wuhan and other cities in Hubei " the province worst hit by the outbreak " and elsewhere, suggesting that medical efforts were making "positive progress".
Commission spokesman Mi Feng said that in Wuhan the number of ongoing cases " which excludes fatalities and those who have recovered " fell to 36,680 on Saturday, from 38,020 on Tuesday. For Hubei as a whole the corresponding figure dropped to 10,967 from 13,886, and for all other parts of the country to 5,637 from 9,141.
"The changes indicate that with the continuous strengthening of national prevention and control measures … positive progress has been made in medical treatment and the number of existing cases has seen an accelerated decline," he said.
On Friday, 18 provinces reported no new infections, among them Tibet, Inner Mongolia, Jiangsu, Liaoning and Gansu, which have not added to their totals for several days.
Authorities in Gansu and Liaoning responded by downgrading their emergency response levels by two notches, from "extreme severe" " the highest possible " to "relatively large".
Elsewhere in the country, governments and businesses are working hard to get back on track. In Shanghai, for instance, 97 per cent of Fortune 500 companies and 93 per cent of multinationals with regional headquarters in the city have now resumed regular operations.
North China city of Harbin puts four districts on lockdown
Likewise, the Ministry of Foreign Affairs said on Saturday it would recommence its regular press conferences at its offices in Beijing after weeks of online-only briefings.
However, despite the positives, many officials and public health experts have said the epidemic has yet to reach its peak and that the challenge of containing it remains grave, echoing a message delivered at a meeting on Friday of the Chinese Communist Party's Politburo chaired by President Xi Jinping.
Similarly, World Health Organisation director general Tedros Adhanom Ghebreyesus warned on Saturday that the "window of opportunity" to contain the international spread of the outbreak was "narrowing".
The United Nations' health agency was concerned about the number of coronavirus cases with no clear epidemiological link to China, he said.
"Our biggest concern continues to be the potential for Covid-19 to spread in countries with weaker health systems."
Health authorities in Iran reported 10 new confirmed cases on Saturday " taking the total in the country to 28 " including a fifth death.
South Korea's Centres for Disease Control and Prevention said the number of people infected with the coronavirus more than doubled on Friday to 433 from 204. Most of the new infections were traced to a hospital in the county of Cheongdo in the southeast of the country and a minor Christian sect in the neighbouring city of Daegu.
In Japan, about 750 people have now tested positive for the virus " though most of those were passengers and crew from the quarantined Diamond Princess cruise ship docked in Yokohama, near Tokyo.
Singapore has reported 86 cases and the United States 34.
Dirk Pfeiffer, a professor with the department of infectious diseases and public health at City University of Hong Kong, said that while a drop in case numbers in China was to be expected given the huge scale of the nation's containment efforts, it did not mean the epidemic was under control, and it was still very likely it would become a pandemic.
"Unfortunately, I believe we cannot stop this virus from spreading, and it is inevitable that over the next weeks and months cases will appear in many if not most countries around the world. It will become a pandemic," he said.
Covid-19 to slash US$185 billion off China's economy in January, February
However, it would not be in other nations' interests to adopt China's strict approach to managing the outbreak, he said.
"It is neither epidemiologically nor economically or socially desirable to replicate China's extreme containment measures, because the severe economic and social consequences of such measures would not be proportionate to the impact of the virus on human health," he said.
A better option was to adopt a risk mitigation approach, as seen in Singapore, he said.
Dr Yanzhong Huang, director of the Centre for Global Health Studies at Seton Hall University in the United States, agreed that said Beijing should seek to relax some of its containment measures so as to lessen their impact on the economy.
"For the moment, containment is still the way to handle the outbreak, but the turning point the epidemiologists forecast has yet to come," he said, adding that the government's strategy was coming at the expense of disruption to ordinary people's lives and damage to economic growth.
"Killing 1,000 of your enemies at the expense of 800 soldiers is not worth it," he said. "At some point, Beijing needs to switch focus to treat only severe cases, instead of tracking everyone who has been infected and all of their close contacts."
Meanwhile, Professor Greg Gray, an epidemiologist at Duke University in the US, said he was concerned about the possibility of the coronavirus spreading through Asian countries that lacked a strong public health infrastructure.
"The virus spreading in Asia is very alarming," he said. "I think we are closer to a pandemic."
Additional reporting by Reuters and Associated Press
Purchase the China AI Report 2020 brought to you by SCMP Research and enjoy a 20% discount (original price US$400). This 60-page all new intelligence report gives you first-hand insights and analysis into the latest industry developments and intelligence about China AI. Get exclusive access to our webinars for continuous learning, and interact with China AI executives in live Q&A. Offer valid until 31 March 2020.
Copyright (c) 2020. South China Morning Post Publishers Ltd. All rights reserved.