On Saturday, the city leader ordered health declarations at all border crossings
But at the airport and popular rail crossing on Monday, declaration forms were not being collected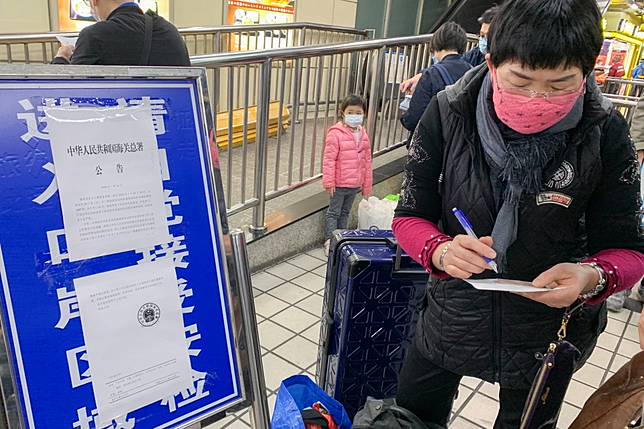 Travellers at major entry points to Hong Kong did not have to hand in health declaration forms on Monday, as officials admitted they were still working on measures to spot travellers coming from the epicentre of the deadly coronavirus outbreak.
The cracks in the city's defences against the virus were visible despite Chief Executive Carrie Lam Cheng Yuet-ngor declaring the highest level of emergency two days earlier, ordering health declarations at all border crossings. Those included six road-based control points at the border with Shenzhen, in Guangdong province, and three cross-border ferry terminals.
Meanwhile, all eight infected patients in Hong Kong were on Monday night at Princess Margaret Hospital. One patient's condition had changed from stable to serious, the Hospital Authority revealed.
The declaration forms had previously only been required for anyone flying from Wuhan " the city in mainland China's Hubei province where the outbreak began " and arriving rail passengers at West Kowloon station.
The government also decided late on Sunday to bar all Hubei residents, and anyone who had visited the province within 14 days, from the city. The move came into force at midnight, with an exemption for local residents.
Chuang Shuk-kwan, head of the communicable diseases branch of the Centre for Health Protection, admitted in an afternoon briefing on Monday that Hong Kong authorities were still making arrangements for the checks.
"We are working with all related departments to work out the logistics," she said.
At the airport, no staff or signs showing passengers where to drop their signed health declaration forms, distributed during some flights, were visible. The forms required passengers to declare any symptoms and give their contact details, but did not ask if they had been in Wuhan recently.
Chuang said it was not yet policy for plane passengers to fill in the forms, but some could have been handed out by flight attendants, having been sent to airlines in preparation for the roll-out.
"Except flights from Wuhan (which have stopped already), all other flights have not yet implemented this measure yet," she said.
A Department of Health spokesman confirmed that airline staff had mistakenly distributed the declaration forms to passengers.
At Lo Wu, the most popular border crossing, which connects with the MTR's East Rail line, there were no health declaration forms being handed out on Monday afternoon.
To screen arrivals, workers relied on the existing temperature-checking equipment, and officers at immigration counters asking non-residents whether they had visited Hubei in the past 14 days.
One immigration officer, who asked to remain anonymous, criticised the measures as "toothless".
'Draconian measures' urged as research estimates 44,000 virus cases in Wuhan
"We have no way to identify mainlanders who lie to us, especially if they are coming to seek better medical treatment," he said.
Despite visitors from Hubei being barred from midnight, the officer said it would be difficult to enforce the ban as they relied on checking the "place of issue" shown on travellers' permits.
"If they live in Wuhan but their permits were not issued there, we cannot pick them out from the crowds," he said.
A Hong Kong resident surnamed Cheng was returning to the city with three relatives via Lo Wu after visiting family on the mainland. He said he was surprised the government had not required mainland travellers to sign health declarations.
"I don't feel that Hong Kong has ramped up measures at the borders," Cheng said. "If I am a Wuhan resident who suspects I am infected, it's quite easy to get through the border, as even declaration forms are not required."
On the mainland side of the border, travellers were only required to fill in health declaration forms provided by the central authorities before entering Hong Kong. But officers were seen allowing several people without forms to get through immigration on Monday.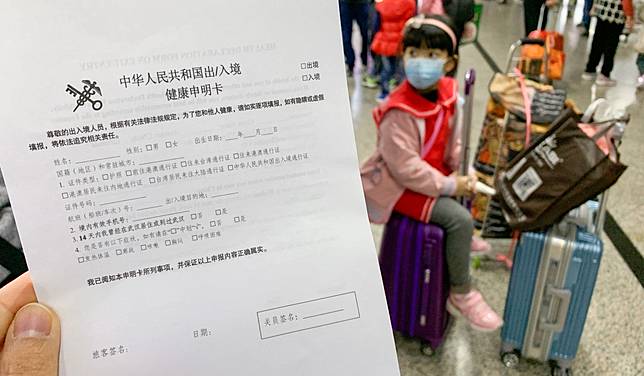 No temperature-checking equipment was installed at the mainland border. An officer at a health screening counter admitted she had not barred travellers who reported low fever from entering Hong Kong, but only collected saliva samples from them for examination.
With very few staff at the counters helping travellers to fill in the new forms, a travel agency at the mainland control point was charging HK$6 to borrow a pen and HK$10 for help with the forms.
Hong Kong announced no new coronavirus infections on Monday, leaving the local total at eight.
According to mainland health authorities, more than 2,800 cases have been confirmed there, with 81 deaths. Hubei, with 1,423 confirmed patients, has the most cases among the 30 provinces.
Cases have also been confirmed in Cambodia, Thailand, Vietnam, Singapore, Japan, South Korea, Nepal, Taiwan, Malaysia, France, Australia and the US.
Shanghai sets the record straight: City is not locked down
Dr Chung Kin-lai, the Hospital Authority's director of quality and safety, said the local patient whose condition had worsened was the second confirmed case, a 56-year-old Hong Kong man who had been to Wuhan to visit relatives. Chung said the intensive care unit had been contacted to see if any further treatment would be needed.
Other patients remained stable.
Chung added that 69 more people who met the reporting criteria for the coronavirus were admitted to public hospitals in the 24 hours to Monday noon. In total, 110 patients were under isolation.
Secretary for Food and Health Professor Sophia Chan Siu-chee told a radio programme on Monday that top officials would meet that day to discuss whether further preventive measures would be needed.
Copyright (c) 2020. South China Morning Post Publishers Ltd. All rights reserved.