Skirmishes began after approved march through industrial heartland Kwun Tong, moving to nearby areas and across eastern Kowloon
Community leaders and politicians had earlier urged the city's chief executive to launch a public inquiry to allow meaningful dialogue to take place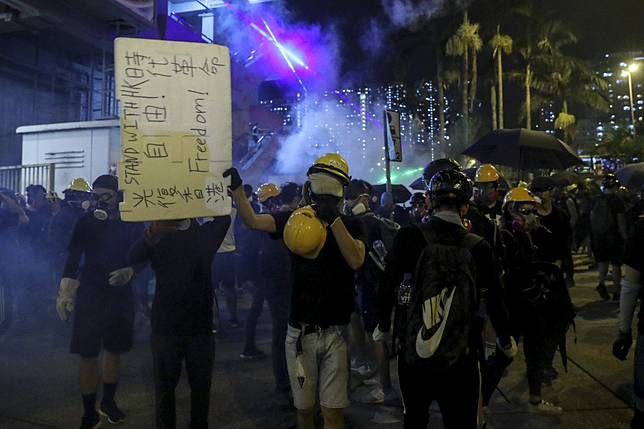 Tear gas and violence returned to the streets of Hong Kong on Saturday after a week's respite as police and protesters battled each other district by district across eastern Kowloon.
The skirmishes lasted from early afternoon well into the night, spreading from the streets of industrial heartland Kwun Tong to nearby commercial and residential areas. In a now familiar pattern, the protesters threw bricks, petrol bombs, corrosive liquid and other projectiles at the police, who responded with tear gas, pepper balls and sponge grenades. Twenty-eight people were arrested, including an organiser of an approved protest march. At least 10 people were hospitalised, including two men in serious condition.
Many onlookers were caught in the crossfire, with some restaurants at Telford Plaza in Kowloon Bay, a main battleground, having to evacuate customers from their dinner tables.
In a late-night statement, the government condemned the vandalism and violent acts of protesters.
As the political crisis triggered by a now-shelved extradition bill enters its 12th consecutive week, there is no end in sight.
After last Sunday's massive but peaceful rally, when hundreds of thousands of people " or 1.7 million, according to the organiser " braved torrential rain to show the movement could regain its peaceful moorings, there was some hope for peace. For eight days, there was no tear gas.
But when she faced the press on Tuesday, Chief Executive Carrie Lam Cheng Yuet-ngor did not respond directly to the protesters' five demands, which include a complete withdrawal of the bill and the setting-up of an independent inquiry to look into alleged police brutality. Instead, she proposed a "platform for dialogue" be formed.
On Saturday morning, 19 community leaders and politicians gathered at Government House to brainstorm a solution. More than half of them urged the embattled Hong Kong leader to launch a public inquiry to allow meaningful dialogue to take place, the South China Morning Post has learned.
Lam did not dismiss the idea but told them it was not the right time to do so as Hong Kong first needed to return to peace and normality.
Meanwhile, the central government gathered its top experts on Hong Kong affairs in neighbouring city Shenzhen to discuss how to resolve the crisis. According to state media, the seminar heard that Hong Kong must end the violence itself or Beijing would "intervene".
"The People's Liberation Army garrison in Hong Kong are not scarecrows. They are a key part of ensuring the principle of 'one country, two systems' is being implemented in Hong Kong," Maria Tam Wai-chu, a heavyweight pro-Beijing politician from Hong Kong, was quoted as saying.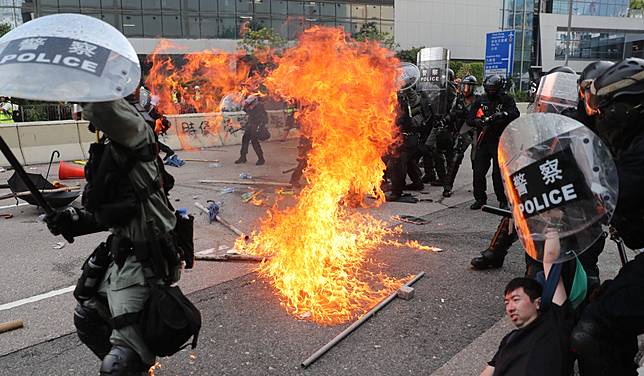 That message was lost on the hundreds of frustrated young protesters who barricaded part of Wai Yip Street in front of Ngau Tau Kok Police Station after an approved protest march through Kwun Tong in the early afternoon.
The crowds vented their anger on some newly installed "smart lamp posts" fitted with sensors, closed-circuit cameras and data networks. While the government said the multifunctional lamp posts were used to collect air quality, traffic flow and weather data, the protesters saw them as surveillance tools.
They systematically vandalised the lamp posts one by one, the crowd cheering after dozens of masked protesters managed to topple one of them by sawing off the metal base and pulling it down with ropes.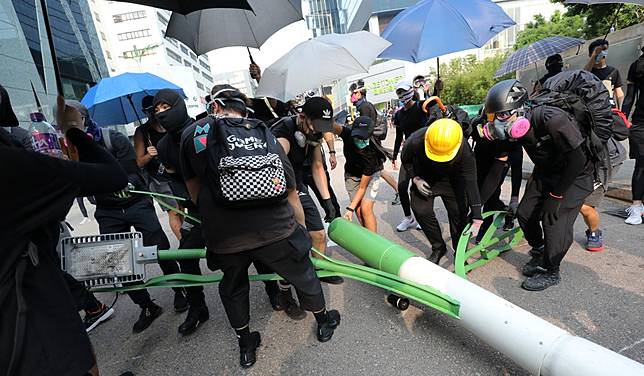 As protesters faced off with scores of riot police, tempers began to fray. Some threw bricks and water bottles at officers, and at 4.30pm, police unfurled a red banner warning the crowds to disperse or face the use of force.
The police special tactical squad, or Raptors, suddenly charged at the protesters, wrestling several of them to the ground and making arrests. Amid the chaos, some demonstrators threw projectiles and a petrol bomb at the officers, who fired pepper balls, sponge grenades and eventually tear gas in return.
The protesters quickly retreated via the footbridge to nearby district Kowloon Bay, where they occupied the podium of Telford Plaza " a major commercial and residential complex.
From a height, protesters threw projectiles and at least two petrol bombs at the police, who responded with tear gas. Some bystanders were affected and had to be taken away to receive first aid.
After several rounds of clashes, police gradually dispersed the protesters, who retreated to Choi Hung, where many of them went into the subway station and took the train to Wong Tai Sin. There, protesters occupied a major thoroughfare and continued their fight " again making use of the city's railway system to play cat and mouse with police.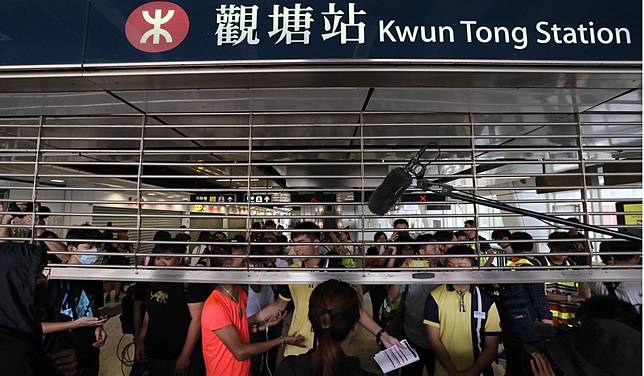 Even before the chaos, the MTR Corporation suspended train services at some stations, citing the safety of passengers and staff as the reason. The railway operator has become a target of the protesters, who have accused it of siding with the police.
Notices were put up at all stations on Friday night after the MTR Corp secured a court injunction banning people from "unlawfully and wilfully obstructing or interfering with the proper use of stations and trains".
In an open letter addressing service disruptions and the closure of several train stations on the Kwun Tong line on Saturday, Adi Lau Tin-shing, the MTR Corp's operations director, defended the arrangements and condemned acts of vandalism by anti-government protesters.
"We had no choice but to do so due to safety reasons," Lau said.
He said protesters had in the past few weeks vandalised the railway operator's property, destroying its CCTV cameras and spray-painting graffiti at stations.
Earlier in the day, an attempt to cause disruption at Hong Kong International Airport fizzled out, but the protesters vowed to try again next week.
Copyright (c) 2019. South China Morning Post Publishers Ltd. All rights reserved.