Chief executive set out measures from housing and land to environmental protection but conspicuously omitted any reference to protesters' demands
But critics on both sides of the political divide say policy blueprint had failed to offer bold initiatives to address deep-rooted problems in Hong Kong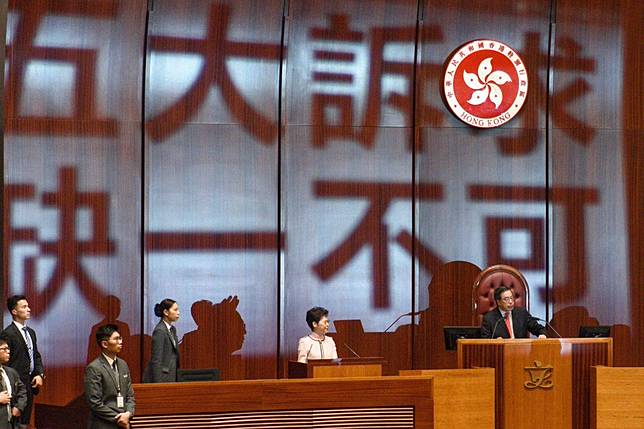 Chief Executive Carrie Lam Cheng Yuet-ngor's third policy address boasted of more than 220 initiatives which, she said, would hopefully help Hong Kong return to normal. But none of the measures tackled head-on the political storm that has been battering the city over the past four months.
By sidestepping difficult political issues, analysts said, her policy blueprint was a missed opportunity to deliver some badly-needed answers on how to break from the current impasse between protesters and the government.
Housing, welfare and economic issues dominated her speech. In setting out measures ranging from housing and land to environmental protection, Lam conspicuously omitted any reference to the protesters' demands for universal suffrage and an independent inquiry into police's alleged abuse of power.
Instead, she zeroed in on housing and defined it as the "toughest" livelihood issue and "a source of public grievances" as she announced a raft of measures to help low-income households and the middle classes buy their own homes.
"Housing is the toughest livelihood issue facing Hong Kong society. It is also a source of public grievances," she said.
The government, she said, would offer a "one-off living subsidy" for low-income households that were not living in public rental flats or receiving welfare, such as the Comprehensive Social Security Assistance (CSSA). These would include those who were on the queue for public housing.
The beleaguered leader was insistent that Hong Kong would soon be able to "emerge from the storm and embrace the rainbow" as long as Hong Kong people had unwavering confidence and reversed their pessimism to tap into their can-do spirit.
On the increasingly violent clashes between protesters and police, sparked by the now-withdrawn extradition bill which would have allowed transfer of criminal suspects to mainland China, Lam set out only three parameters on how to handle what she described as "the current major crisis".
Hong Kong protesters' five demands meant to 'humiliate' government: Singapore PM
First was the accurate adherence to the governing principle of "one country, two systems"; second was the upholding the rule of law; and third was ensuring institutions from the judiciary to law enforcement were not eroded.
These values were vital to the sterling reputation the city had enjoyed thus far, she said, as she once again beseeched the people to abhor and condemn the violence and work to restore calm to society.
(Carrie Lam) missed a golden opportunity to reverse the negative sentiment in the communityLi Xiaobing, Nankai University
During her press conference in the afternoon, Lam was asked why she had not addressed not just the protesters' demands, but the discontentment of other peaceful protesters and residents unhappy with her and her government. She also did not reach out to those who were affected by the crisis and had lost their jobs.
Asked how she could hope to heal social divisions when her policy address contained nothing substantive to reach out to the protesters or on the ongoing crisis, Lam said it would be irresponsible of her to float a political reform package when the atmosphere was not right in the city and after lawmakers had already rejected the proposal three years ago.
"I have admitted in the opening remarks that this single policy address cannot address or resolve the problems in society," she said. But she promised to hold sincere and open dialogues with various sectors when calm returns.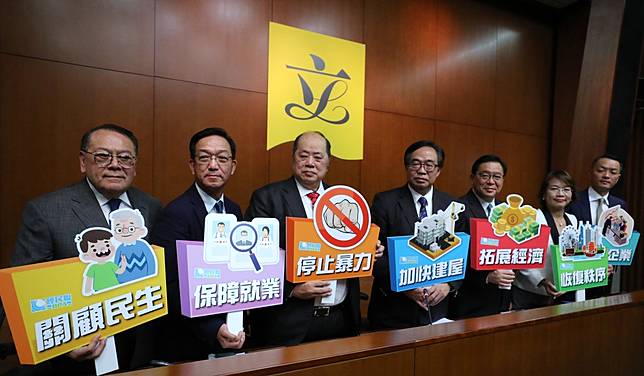 Ivan Choy Chi-keung, a political scientist at Chinese University, said Lam failed to offer a proper diagnosis of the political crisis and the anger of those who took to the streets in the past four months.
"Political problems can't be solved by policies. But Lam is trying to solve the political crisis with measures targeting livelihood issues," he said.
"She failed to buy time through this policy address," Choy said. "Instead, she kept on condemning violence in her speech. She may add fuel to fire as some people feel she just turns a blind eye to their sentiment."
US requires Chinese notification of meetings with state or local officials
Ma Ngok, an associate professor with Chinese University's department of government and public administration, said the policy address proved to be a failure in political crisis management.
"Even if she can't relaunch political reform, I expected Lam to announce something which could become talk of the town, such as large-scale sale of public rental flats to tenants," he said. "But there is a dearth of such big bang measures in her speech."
Lam only announced the sale of about 42,000 unsold public rental flats to tenants under an existing Tenants Purchase Scheme.
Political issues need to be resolved politically, not with housing (policies)Abraham Razack, lawmaker
Li Xiaobing, an expert on Beijing's policies on Hong Kong at Nankai University in Tianjin, agreed the chief executive had failed to offer bold initiatives to address deep-rooted problems in Hong Kong. "What she announced on Wednesday were piecemeal measures," he said. "She missed a golden opportunity to reverse the negative sentiment in the community."
Li said Lam should have come up with eye-catching moves like increasing the number of government-funded first-year undergraduate places from the existing 15,000 a year or waiving part of tuition fees for university students.
That could ease the pressure on young people competing for university places and relieve their economic burden, the mainland Chinese academic said.
Indeed, Lam omitted sections titled "Nurturing talents" and "Connecting with young people", which were in her two previous policy speeches. Nearly one third of the more than 2,000 protesters arrested were students, many of whom aged below 18.
Asked why during the press conference, the chief executive said the last chapter of her Policy Address Supplement, a new, 130-page review of previous years' initiatives, was dedicated to young people.
More damningly, Lam also failed to impress her allies, the pro-establishment camp.
Democratic Alliance for the Betterment and Progress of Hong Kong chairwoman Starry Lee Wai-king said her party was disappointed with Lam's policy address as it lacked measures to calm the long-running unrest.
"We want our normal life back, we expected our chief executive to have some measures to achieve that," Lee said. The pro-establishment camp had since the withdrawal of the extradition bill and the ensuing crisis been worried that it would be punished by voters at the coming district council elections next month and the Legislative Council elections next year.
Lam herself said in a private meeting with the European Union head in the city that a "heavy defeat was in prospect" for the pro-establishment camp.
Norwegian lawmaker nominates Hongkongers for 2020 Nobel Peace Prize
DAB's Lee said the government had put in effort to boost land and housing supply, but conceded it was not a problem that could be solved with one policy address.
"I fear people do not feel hopeful after hearing the policy address," Lee said.
The pro-government Business and Professionals Alliance legislator Abraham Razack, who represents the real estate industry, said Lam's decision to relax the ceiling of mortgage financing schemes for first-home buyers could undermine market confidence.
"Political issues need to be resolved politically, not with housing (policies)," he said.
When will (Lam) understand that lecturing the people in a patronising tone will not get Hong Kong out of this jam?Selina Chow, former lawmaker
For those who are allowed to borrow up to 90 per cent of the value of the flat, the lending cap is raised to HK$8 million from the existing HK$4 million The cap is raised to HK$10 million from HK$6 million for those who take mortgages worth up to 80 per cent of the value.
New People's Party chairwoman Regina Ip Lau Suk-yee said Lam had failed to address more fundamental issues in her address, such as the erosion of the city's competitiveness and education policies.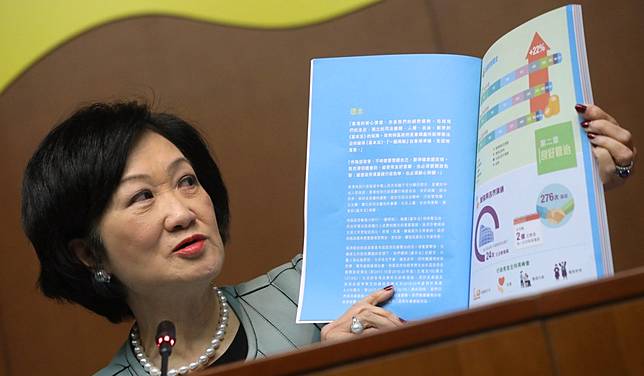 Pan-democrats predictably slammed her speech, even as they had jeered at her and forced her to read it via a recorded broadcast rather than in Legco. Democratic Party lawmaker James To Kun-sun said Carrie Lam was "living in a parallel universe".
"She missed the point that she is the cause of the entire problem. There's no point in asking for forgiveness through policy initiatives," To said.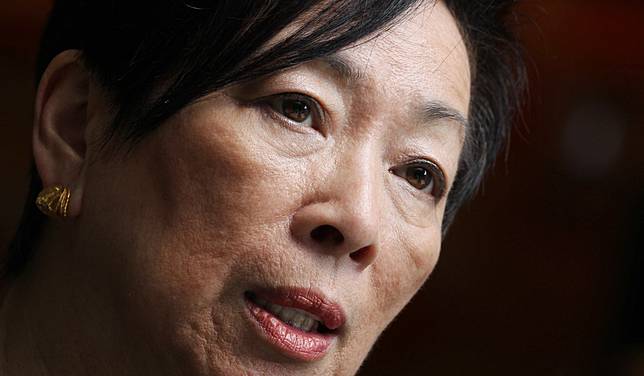 Selina Chow Liang Shuk-yee, who served as a lawmaker from 1981 to 2008, said Lam had again taken the wrong path.
"How can she pretend the crisis is over? It reflects a total lack of wisdom and sensitivity, " the honorary chairwoman of the pro-business Liberal Party said.
Chow said Lam had effectively passed on responsibility for getting Hong Kong out of the present crisis to the people when society as whole, whatever the political persuasions of its individuals, hoped she would do so as the city's leader.
"This will undoubtedly cause disappointment here. When will she understand that lecturing the people in a patronising tone will not get Hong Kong out of this jam?"
Copyright (c) 2019. South China Morning Post Publishers Ltd. All rights reserved.