Worshippers 'would have felt unsafe to just walk out of the door' without police protection, prayer organiser says
He describes the actions of the flag-waving crowd as bullying and intimidation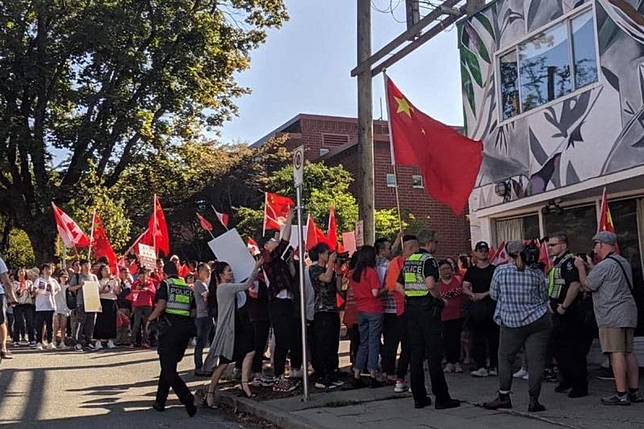 Canadian police escorted worshippers out of a Vancouver church on Sunday, after flag-waving pro-China protesters surrounded the building while the Christians attended a prayer meeting for Hong Kong.
The protesters' actions were described by an organiser of the prayers as "intimidation" and "bullying".
Chris Chiu said the incident at the Tenth Church, on a leafy street in the city's Westside area, had left him shaken and fearing for the worshippers' safety.
The prayer meeting at the small evangelical church began at 3.15pm. Some of the worshippers, including Chiu, arrived from an earlier rally at the Chinese consulate in support of Hong Kong's protest movement.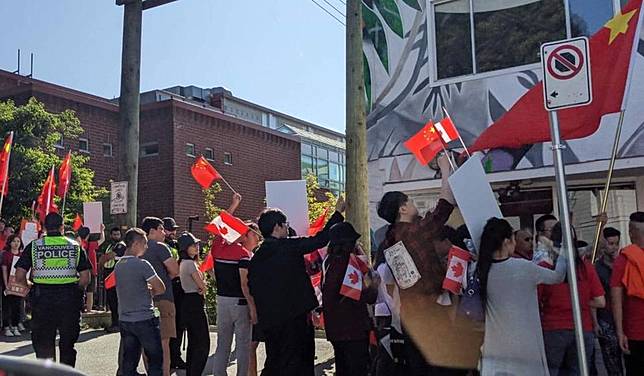 But when the 80 or so worshippers tried to leave the church at about 4.15pm they found the building surrounded by the pro-China group. Chiu said there were more than 100.
Chiu, in an interview at the church about an hour afterwards, said about 20 police were already in attendance. Photos on social media show officers from the Vancouver Police Department's public safety unit filming proceedings, standing guard at the door and speaking to protesters.
Chiu said the prayers had been advertised as a public event on Facebook.
"There were VPD (Vancouver Police Department) outside warding off people from the area, there were people waving Chinese flags," Chiu said. "They were obviously here trying to intimidate us."
Group photo at the end of the protest, as the Mainland Chinese group surrounded a church where pro-Hong Kong democracy protesters went after the protest outside the Vancouver PRC consulate. Hong Kongers were given a police escort. #vanpoli #bcpoli #cdnpoli #vanRE #FreeHongKong pic.twitter.com/p78Xaf3vEF

" theBreaker.news (@theBreakerNews) August 18, 2019
He said he was unaware of anyone having called police and he suspected officers had followed the pro-China group from a counter-protest at the consulate. But he said he was grateful they were there.
"We would have felt unsafe to just walk out of the door," he said, adding that police escorted worshippers through the group. "I did not dare to walk outside when these people were surrounding us."
This is bullying and intimidation. It tramples on freedom of religion, freedom of religious assembly, freedom of expressionChris Chiu, prayer meeting co-organiser
The Vancouver Police Department did not immediately respond to an emailed request for comment.
Chiu was unaware of any of the pro-China group trying to enter the church. But the situation was "intimidating, when you are surrounded by a whole group of people waving their flags like that", he said.
"This is bullying and intimidation. It tramples on freedom of religion, freedom of religious assembly, freedom of expression. In the future, are we going to organise any more public prayer meetings for Hong Kong, if this is what's going to happen?"
It was the third prayer meeting for Hong Kong at the Tenth Church, but the first to have been attended by pro-China protesters.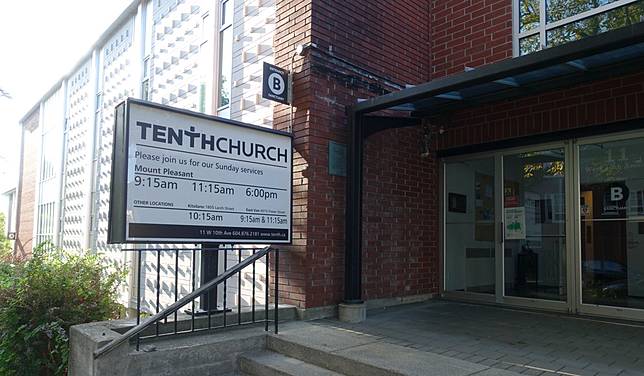 "We were praying for human rights in Hong Kong. For freedom and democracy in Hong Kong," Chiu said.
Photos shared on social media by local journalist Bob Mackin showed trucks from a landscaping firm at both the consulate protest and outside the church.
A person who answered the phone at the firm declined to explain the reason for the church protest.
"You're from a Hong Kong newspaper? Then I don't have to respond to you," he said in Cantonese, before hanging up.
There was a series of Hong Kong-related protests and counter-protests in Vancouver over the weekend. Hundreds of people supporting the Hong Kong protest movement faced off for several hours on Saturday with a big crowd of pro-China protesters outside a major subway station.
Copyright (c) 2019. South China Morning Post Publishers Ltd. All rights reserved.