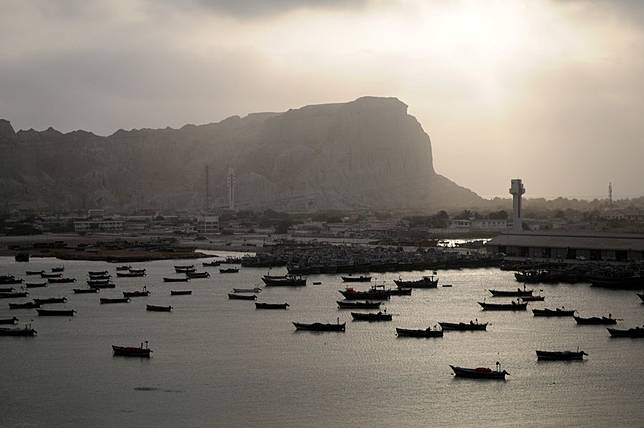 Fishing boats berth in the bay at Gwadar Port in southwest Pakistan's Gwadar, July 2, 2016. (Xinhua/Ahmad Kamal)
Balochistan Governor Amanullah Khan Yasinzai said the China-Pakistan Economic Corridor (CPEC) is a game changer and will bring economic development to Pakistan, particularly to the province.
ISLAMABAD, July 11 (Xinhua) -- Political representatives said on Friday that the projects under the China-Pakistan Economic Corridor (CPEC) will bring peace, prosperity and development in Pakistan's southwest Balochistan province.
The webinar, convened by prominent Islamabad-based think tank the Emerging Policymakers' Institute, was attended by the representatives of Balochistan's mainstream political parties, the Chinese ambassador and Chinese companies undertaking development projects in the province.
Speaking at the video conference event, Balochistan Governor Amanullah Khan Yasinzai termed the multi-billion-dollar project a game changer for the entire region which he said would bring economic development in Pakistan, particularly in Balochistan.
Workers install solar photovoltaic panels for the Zonergy 900 MW Solar Project in Bahawalpur, Pakistan, Aug. 28, 2015. (Xinhua/Ahmad Kamal)
Chinese Ambassador Yao Jing said CPEC will change the fortune of the province while highlighting the importance of Balochistan to Pakistan.
Many projects under CPEC are under construction and the Pakistani people will reap the benefits in years to come, Yao said, adding that China and Pakistan have a close friendship and China will stand besides Pakistan through thick and thin.
The political parties' representatives reiterated their commitment to making CPEC a success and pledged to expand the role of Balochistan and increase opportunities for the province in CPEC.
The participants also appreciated the responsible role that China has been playing in combating COVID-19 at home and abroad, and thanked the Chinese government for the help it has extended to Pakistan to fight against the pandemic.■