New agreement to leave European Union may not be the best one dealfor Britain, but after three years of talking time has now come to act for the sake of country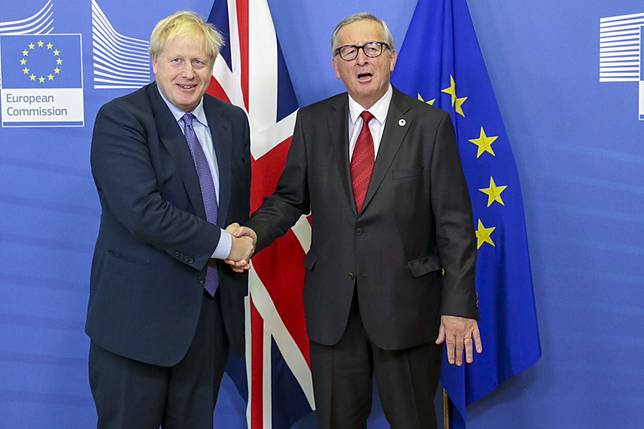 Seeking a Brexit deal was like climbing Mount Everest, British Prime Minister Boris Johnson told members of his party last week. If that is the case, he has reached the summit. A new deal has been struck. But that is not the only mountain Johnson must climb before Britain is able to leave the European Union. Today, he faces an even tougher objective " winning support for it from parliament. A special Saturday sitting of the House of Commons will determine the fate of the last-minute agreement reached between the British government and EU officials after frantic negotiations. Time is running out if Johnson is to make good on his "do or die" pledge to secure Brexit by the October 31 deadline.
He deserves credit for making the concessions necessary to seal a deal with the EU. Many thought he had no intention of reaching an agreement and was determined Britain should leave without one. Now the deal has been done, the ball is back in parliament's court. But it is far from certain that Johnson will win enough votes. After all, his predecessor Theresa May failed three times to win backing from lawmakers for her own agreement.
The new deal leaves most of May's plans intact. But crucial changes have been made on arrangements for Northern Ireland, which had previously proved a stumbling block. Those changes mean Johnson is unlikely to be able to rely on support from the Democratic Unionist Party. That will leave him needing votes from opposition Labour Party MPs, hardline supporters of Brexit and members of his own parliamentary party he expelled for previously refusing to support the government. It is likely to be a tight decision.
How would a no-deal Brexit impact British Overseas Territories?
The new deal is not necessarily the best one for Britain. Some argue it is worse than the one struck by May, as the country will be further removed from EU rules. But the Brexit saga has already dragged on for three years. Britain needs to resolve it, one way or the other. And the global economy would benefit from the certainty an agreement would provide. If the deal goes through, it will remove the grave threat of Britain crashing out with no arrangements in place. That alone is a reason for lawmakers to support it. And if it passes, the tough task of thrashing out a trade deal can finally begin.
Copyright (c) 2019. South China Morning Post Publishers Ltd. All rights reserved.