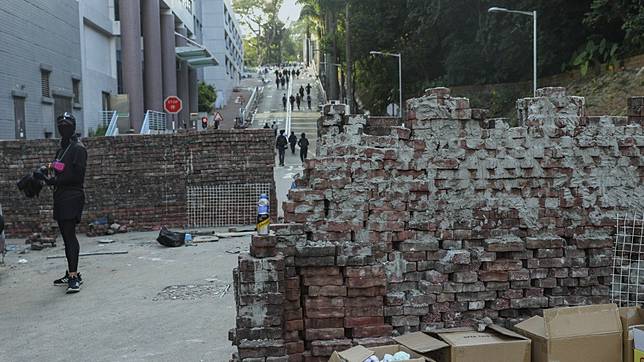 Visitors and staff trying to enter a university in Hong Kong that was the site of a fiery battle between protesters and police this week have encountered a makeshift checkpoint.
Protesters wearing black who guard the booth " made of bamboo sticks, umbrellas and a door from a trashed car " have roughly searched through any visitor belongings and questioned the purpose of their visit to the Chinese University of Hong Kong (CUHK) in Sha Tin.
A plank at the checkpoint has the words "CU arrival" scrawled on it.
The protesters claimed their intention was to prevent plain-clothes police officers from getting onto the campus, but it has resulted in many people, especially university staff, feeling disgruntled and saying they have a right to enter as an employee of the school.
Two days on from the fierce clashes on Tuesday night that saw an exchange of petrol bombs and tear gas between protesters and police, scorching and scarring the scenic campus overlooking the Tolo harbor, the university has been turned into a stronghold for the activists.
Barricades are no longer made of sticks and projectiles but strengthened by concrete and bricks. A charging booth for power banks and cellphones has been established.
First-aid stations have been set up in the sports center and a fitness room, while the sports field has been converted into a training camp for those intending to hurl petrol bombs to strengthen their throwing arm and improve their aim, using water bottles. It becomes a campsite by night.
Protesters have also occupied the unstaffed Chung Chi Tang canteen since Tuesday to prepare meals.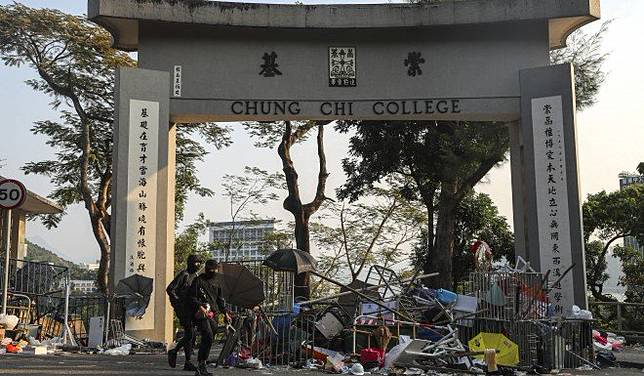 A menu that originally featured only white rice with sausages, luncheon meat and eggs has expanded its repertoire, as more food was donated by supporters, some of whom also stick around to cook, wash up and do laundry.
"Yesterday we used stored ingredients in the kitchen, but we are now using meat, vegetables and rice freshly brought by volunteers," said a full-time chef volunteering at CUHK, who only gave her name as Siu Wai. "So it's safe to eat, not too salty and freshly made."
Most of the volunteers in the canteen on Thursday had culinary experience, she added.
Similar scenes could be found at other universities.
A "struggle canteen" was set up at Polytechnic University and run by dozens of protesters, who cooked a variety of meals including barbecue pork and fries, which they took outside for their comrades.
According to interviews conducted by South China Morning Post reporters, protesters at Chinese University were a mixture of outsiders and students. Some claimed to have been from Education University, Baptist University and other higher education institutions, while others claimed to be secondary school students.
A frontline protester, who did not study in Hong Kong and gave his name as Sky, described defending the campus from police as a war and said it was different from the cat-and-mouse games they had played with the force on the streets.
The landscape of the campus had given them advantages and leveled the playing field, said the 23-year-old, who was born in mainland China and raised in Hong Kong.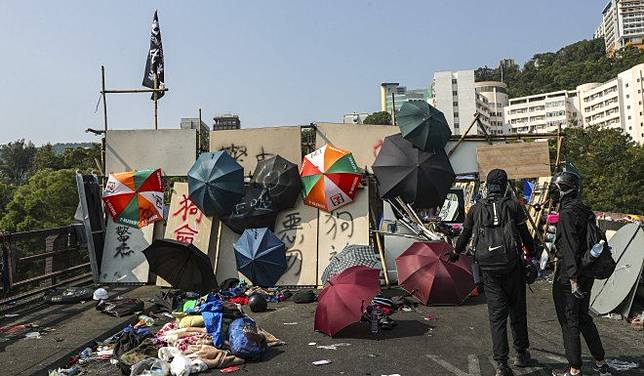 "There are 'parents' bringing supplies, such as food, daily necessities and materials to make petrol bombs," he said, referring to supporters of the cause.
The frontline protesters have also gained the support of moderate students and graduates, who never imagined they would be assisting or even making petrol bombs.
Indian-born full-time students Kajal, 20, and Shruti, 19, helped deliver water, food, pliers and bottles to the frontline late on Tuesday.
"That's the only contribution we can do. This is also our campus," Kajal said. "The police entered the campus without permission or a warrant. I think it's unjust."
CUHK alumnus Apple Chan, in her 30s, was among hundreds stuffing small towels into bottles on a "production line" at a roundabout on Tuesday night. She was a first-timer and had to be shown how to insert a towel and which bottle worked best for a petrol bomb.
"I never imagined I would be making petrol bombs," she said. "I was so angry when police walked into CUHK. I could not even work, so I left early and came here."
But Dr Wilson Wong Wai-ho, associate professor of CUHK's department of government and public administration, described the latest development as "the worst crisis our university has faced since it was founded in 1963."
With the protesters' taking over the campus, they would increase the risk of police getting tough, he said. He lamented that many alumni had returned to the campus in the hope of defending it.
"Unfortunately, our campus has been hijacked by radical protesters and I am worried something ugly will happen soon," Wong said.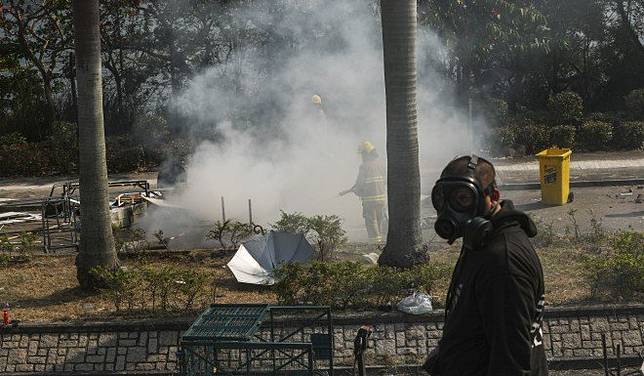 CUHK has a track record of leading Hong Kong's student activism.
When the university was maliciously renamed "rioters' university" on a Google map in June, when the movement against the now-withdrawn extradition bill first erupted, many of its alumni and students had taken it as a compliment.
The sentiment was still evident as protesters spray-painted the school bus with the phrase on Wednesday.
Many of its students were involved in protests in the late 1960s as part of the Chinese Movement that demanded the colonial government designate Chinese as an official language alongside English.
A wave of activism rose again in the early 1970s, as the US government returned to Japan the sovereignty of the disputed Diaoyu Islands, known as Ryukyu Islands in Japanese. Both China and Japan claim sovereignty over the islands.
Its students also played an active role in the fight for direct elections to the Legislative Council, Hong Kong's legislature, in 1988 and the Occupy protests in 2014.
CUHK political scientist Ma Ngok, also an alumnus of the school, said the university had always stood in stark contrast to its peers, especially the University of Hong Kong in Pok Fu Lam.
"HKU has a colonial background and classes are taught in English. Most of its students are from top schools and are more elitist and pro-establishment," he said.
"But in CUHK, students are mostly from the lower class and new development towns. They have a strong tradition of sympathizing with the grassroots. Many visiting scholars soon realize the distinction it has with other institutions."
Ma added what was happening in CUHK was unprecedented in the city's history.
"It was all about making your voice heard on the streets in the past, but now protesters are trying to defend against physical intrusion," he said. "Such militancy has not been seen in Hong Kong's history before."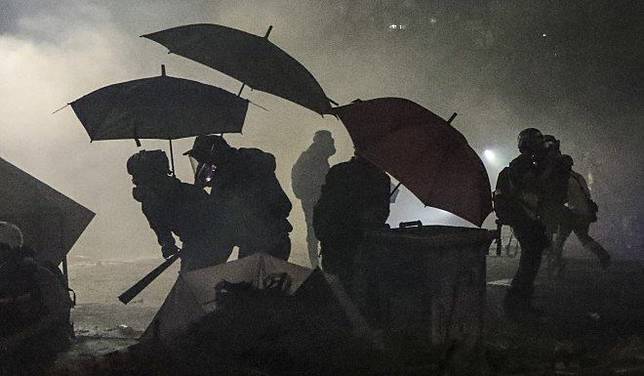 By Thursday night, a large but closed-door meeting was held among the demonstrators on whether they should leave campus and join other protests outside as police had not taken action against them for two days in a row.
The number of people remaining on campus had dropped significantly from the day before.
A protester admitted the occupation could not last indefinitely but that the resources they had on campus were abundant for now.
Jesse Wong, a third-year architecture student, also decided to leave out of safety concerns, despite supporting the cause.
"There are some non-CUHK students here and frankly it's getting quite chaotic," he said.
But a female protester said: "We are worried that once we leave we won't be able to come back."
Additional reporting by Gary Cheung.
Copyright (c) 2019. South China Morning Post Publishers Ltd. All rights reserved.