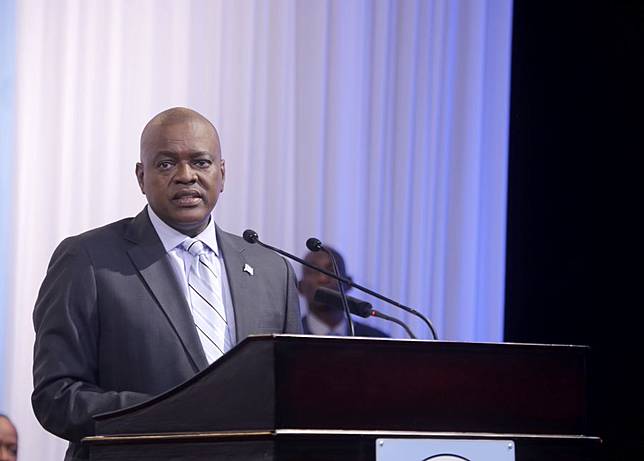 Botswana's President Mokgweetsi Masisi speaks during a media briefing on the coronavirus pandemic in Gaborone, Botswana, March 19, 2020. (Xinhua/Tshekiso Tebalo)
Botswana President Mokgweetsi Masisi has announced a 168-million-U.S. dollar relief fund as a state of public emergency is soon to take effect due to the COVID-19 pandemic.
GABORONE, April 1 (Xinhua) -- Botswanan President Mokgweetsi Masisi has announced the establishment of a COVID-19 relief fund amounting to two billion pula (about 168 million U.S. dollars)
In his statement on the declaration of the state of the public emergency in Botswana regarding the COVID-19 outbreak in Gaborone, Botswana's capital, Masisi said the fund is aimed at providing relief to citizens of Botswana during the planned lockdown, which begins from the midnight of April 2.
During the lockdown period, all individuals across the country will be expected to adhere to a more severe form of social distancing while movement out of the home is only for those performing essential services and transporting essential goods.
"I wish to remind you that government has established the COVID-19 Relief Fund and put an investment of 2 billion pula, as seed money into it," announced Masisi, who encourages individuals and the private sector to contribute to this fund, as part of their social responsibility.
Botswana is ramping up screening, testing and containing efforts following the announcement of the first three confirmed cases of COVID-19 on March 30.
"Government has put in place interventions under the COVID-19 Relief Fund, key of which is to ensure the provision of psychosocial support to all those affected," said Masisi.
Other critical mitigating measures in place are monetary in nature while others will necessitate policy adjustments, he said.
Masisi said his government will provide a wage subsidy for businesses mostly affected by COVID-19 to enable them to retain employees.  ■