Masked mobs set fire to a railway station exit and beat man unconscious after marchers defy police ban to press the government to answer their demands
At least eight wounded, three seriously, in a day of petrol bombs, water cannons, rubber bullets and tear gas
What started as an illegal but peaceful march descended into chaos and violence on Sunday as radical protesters battled riot police in the commercial heart of Hong Kong.
Masked mobs hurled petrol bombs at police, set the exit of one railway station ablaze and vandalised the facilities of another station. Riot police fired tear gas and rubber bullets in return and called in water cannons to disperse the crowds.
Throughout the evening, the two sides clashed in Admiralty, Wan Chai and Causeway Bay in some of the world's busiest and most expensive commercial streets. Most of the shops and malls in the areas closed early in anticipation of trouble as the city entered its 15th weekend in a row of social unrest.
The lawlessness escalated into confrontations in Fortress Hill and North Point, with some white-clad people clashing with protesters dressed in black. Police tried to separate the two groups and took some away, but the brawling continued.
Some journalists, including two Post reporters, were also attacked by the men in white. Throughout the night, the two rival camps brawled with each other in North Point streets, leaving several people bleeding and wounded.
Earlier in the day on Gloucester Road in Wan Chai, a middle-aged man said to be a government supporter was kicked, punched and stomped unconscious by protesters. He was sent to Queen Mary Hospital in Pok Fu Lam and his condition later improved from "critical" to "serious".
In total, at least eight people were wounded, three seriously.
The Hospital Authority said nobody died.
The protests against the now-withdrawn extradition bill began peacefully in the afternoon as tens of thousands of people defied a police ban and gathered outside the Sogo department store in Causeway Bay before marching to Chater Garden in Central.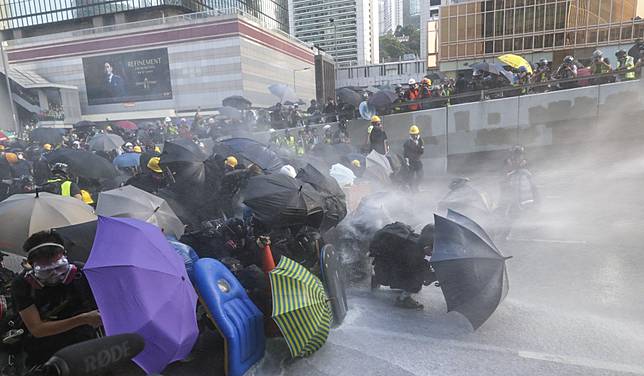 They shouted slogans and raised an open palm, symbolising their five demands, which include granting an amnesty to accused rioters and the creation of an independent inquiry into the police handling of the protests.
But as the march moved to Wan Chai and Admiralty, masked mobs vandalised railway stations, smashing windows, destroying surveillance cameras and blocking entrances with water-filled barricades amid accusations that the city's rail operator, MTR Corporation, had cooperated with police.
Hundreds of the radical protesters then marched to the government headquarters on Harcourt Road and laid siege to the complex at around 5pm. Unable to break through the water-filled barricades surrounding the complex, they threw bricks and about a dozen petrol bombs at riot police stationed inside. Police responded with tear gas and rubber bullets.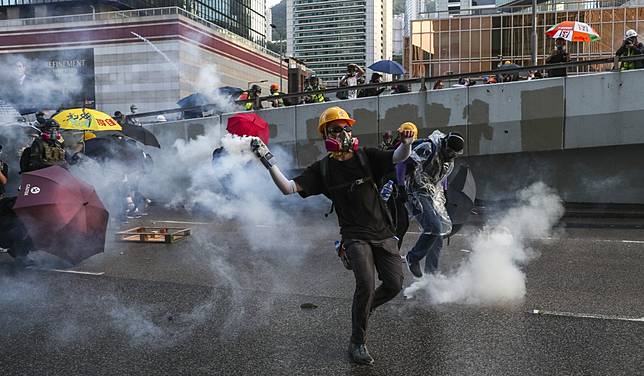 After a lengthy stand-off, police called in a water cannon vehicle for support. The protesters backed off but quickly regrouped and hit back with more petrol bombs, with one landing on the vehicle and briefly setting it on fire.
Police then changed to the more powerful blue-dye water sprays and called in another water cannon vehicle to help, together driving the protesters away from Harcourt Road.
Many retreated to Wan Chai where some set an MTR station entrance ablaze. They also scattered and lit rubbish on the entertainment district's main thoroughfare.
As night fell, the protesters spread out and clashed with police in various parts of Hong Kong Island. Police called in armoured vehicles to clear road barricades set up by the protesters while the MTR closed Admiralty, Wan Chai and Causeway Bay stations.
The city's most serious social unrest " triggered by a proposed extradition bill " showed no sign of ending, even with Chief Executive Carrie Lam Cheng Yuet-ngor's decision earlier this month to formally withdraw the controversial changes.
Earlier in the day before the march turned violent, tens of thousands of protesters took to the streets to tell the government that they would not stop until all their demands were met.
"This is the first rally since the withdrawal of the extradition bill. That's important because we need to let the government know that our other demands have not been met," protester Terence Pang said, joining the rally in a wheelchair.
"I'm most concerned about having universal suffrage " that's the root of all our problems."
About 100 people also went to the British consulate in Admiralty and demanded London take concrete action to safeguard the Sino-British Joint Declaration, which became the basis of Hong Kong's return to Chinese sovereignty. The protesters claimed Beijing violated the agreement which promises the city a high degree of autonomy.
Other protesters tried to appeal to Washington for help. Holding a banner supporting US President Donald Trump's 2020 re-election bid, one marcher said he hoped Trump would take the matter up with Beijing.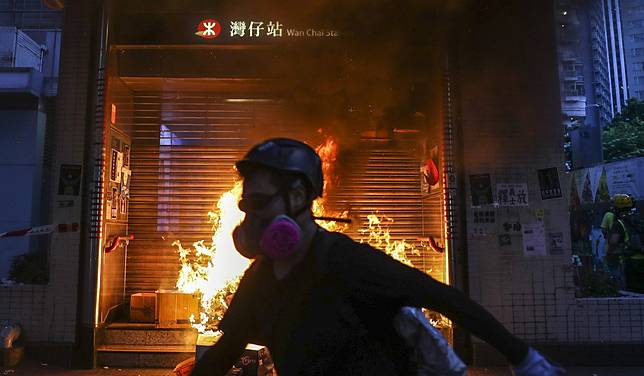 "We hope Trump can help in passing the Hong Kong Human Rights and Democracy Act in the US Congress as a way to protect against China's encroachment," the 40-year-old office worker said.
"Trump previously implored Beijing to handle Hong Kong humanely. We hope he remains committed to that position."
Close to midnight, the Hong Kong government released a statement to strongly condemn the radical protesters for their violent acts.
"Some radical protesters threw petrol bombs and bricks at the government headquarters, and burned a national flag, challenging national sovereignty. The use of violence is not the way to resolve problems and the government is displaying great sincerity in setting up a dialogue platform to communicate with citizens," the statement read.
The MTR Corp also expressed anger and condemnation over the actions of protesters. It said protesters threw petrol bombs at Wan Chai and Causeway Bay stations, while Tin Hau and Admiralty stations were vandalised. The rail giant said it was unsure if Wan Chai station could be opened in time to serve commuters on Monday morning, in the wake of the serious damage.
Copyright (c) 2019. South China Morning Post Publishers Ltd. All rights reserved.