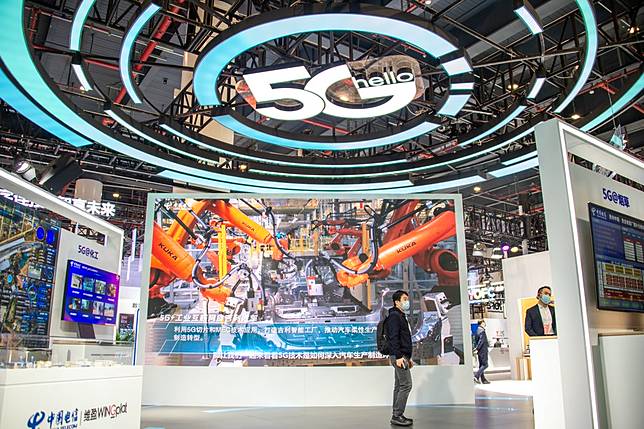 Photo taken on Nov. 20, 2021 shows the venue of China 5G+ Industrial Internet Conference in Wuhan, central China's Hubei Province. (Xinhua/Wu Zhizun)
BEIJING, Sept. 4 (Xinhua) -- From production to management and consumer experience, China's industrial internet has accurately addressed the weak links of small and medium-sized enterprises (SMEs) in industrial transformation and upgrading.
With prominent strength in data analysis, the industrial internet is further invigorating the industrial, supply and value chains, matching demand and supply, allocating resources and creating new business opportunities.
HIGHER EFFICIENCY WITH LOWER COSTS
At a logistics company located in Shenzhen, south China's Guangdong Province, trackless autonomous handling robots have replaced manual labor in sorting goods, a move that has greatly reduced mistakes and raised the efficiency of work.
This solution emerged after the company published its request for a technological upgrade on the cloud collaborative research and development (R&D) platform of an internet design firm called Uniorange.
In response to the companies' request, experts from the platform quickly formed a project team and offered a solution through coordinated research and design, which helped the company increase work efficiency by 30 percent in around three months.
"We have gathered nearly 400 experts from different fields at home and abroad, and more than 100 partners with overall integration capabilities," said Zhao Yingfang, general manager of the platform. "When SMEs post their needs, these experts and partners can invest and take part in relevant projects, providing full-chain services from R&D to production."
So far, the platform has assisted over 50,000 micro, small and medium-sized enterprises from 22 sectors to solve problems in production and operations, promoting digital transformation and high-quality growth.
While addressing small businesses' weak links in production and operation, the industrial internet has expanded its reach to the supply chain, searching for more opportunities and resources for SMEs.
On the super virtual factory platform of technology firm SVFACTORY, the operation and real-time production data of various enterprises is constantly updated and displayed with the support of big data, artificial intelligence, cloud computing and other technologies.
Addressing the scattered production capacity of SMEs and consumer demand, SVFACTORY uses the platform to analyze first-hand consumer data, determine market demand and turn it into many small orders for various SMEs. It can also match SMEs with downstream suppliers of production materials if needed.
In one case, SVFACTORY analyzed the products, equipment and technology of an R&D firm making battery-power equipment, advising them to make certain innovative products. The move helped the company use nearly 40 percent of its idle production capacity during the off-season.
Operating for around one year, the super virtual factory platform has incorporated the production capacity data of more than 700 enterprises. In 2022, it sent hundreds of orders to hundreds of SMEs, helping make use of idle production capacity worth over 400 million yuan (about 58.04 million U.S. dollars).
Achieving a dynamic balance between supply and demand not only helps enterprises reduce costs and increase efficiency, but also facilitates their long-term and healthy development, said Zhang Zhiqi, president of SVFACTORY.
The industrial internet is empowering thousands of businesses through the construction of pan-intelligent infrastructure, which offers important support for the modernization of industrial and supply chains, said Li Wei with the China Academy of Industrial Internet.
BETTER EXPERIENCE IN MORE SCENARIOS
As a key foundation for China's digital economy, the industrial internet has facilitated the integration of the digital economy with more sectors and scenarios of the real economy, resulting in better consumer experiences.
Walking through many restaurants and corporate canteens in China, one can see live video images from the kitchens, giving an insight into their sanitary conditions. The technology employs an application called Cha Ankang, which was developed by the JinherNetwork.
Designed as an intelligent supervision platform mainly focusing on food and drug safety, the application resolves SMEs' difficulties in ensuring the frequency and quality of safety-risk self-inspection.
As of May 2022, it had been applied to 3.36 million catering enterprises and 230,000 school canteens in 317 prefecture-level cities across the country, serving regulatory authorities, enterprises and consumers.
According to Luan Runfeng, president of JinherNetwork, every day the application helps around 3 million market entities prove their qualifications in product, equipment and fire safety, covering the fields of catering, food production and distribution, as well as drug retail.
The development of the industrial internet at home and abroad has shown that the focus of digital transformation has turned from efficiency to value, and progress has gone beyond enterprises to the industrial and value chains, said Yu Xiaohui, head of the China Academy of Information and Communications Technology.
Data from the Ministry of Industry and Information Technology shows that China boasts more than 3,100 5G+ industrial internet projects and over 150 platforms with strong industrial and regional influence.
China's industrial internet has covered 45 key sectors, creating six typical applicaton scenarios. The added value of the sector reached 4.13 trillion yuan in 2021, industry data shows.
"I am surprised that almost all of the 100 entrepreneurs who I visit or receive each year are interested in digital transformation," said Chu Jian, founder and head of the Ningbo Industrial Internet Institute. "To them, digital transformation is not simply a popular trend of growth, it is what their companies really need." ■