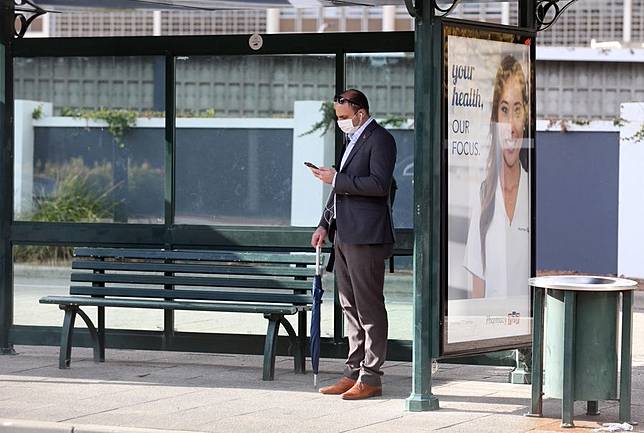 A man wearing a face mask waits for a bus at the CBD of Perth, Australia, March 30, 2020. (Photo by Zhou Dan/Xinhua)
-- Australia calls on 40,000 former health professionals, to offer nurses specialized training
-- Pakistan resumes limited international flight operations
-- Fiji to lock down capital city
-- Tonga, Vanuatu unveil stimulus package
HONG KONG, April 2 (Xinhua) -- The following are the latest developments of the COVID-19 pandemic in Asia-Pacific countries.
CANBERRA/SYDNEY -- According to the Health Department of the Australian government, as of 3 p.m. Thursday, there have been 5,133 confirmed cases of COVID-19 in Australia.
The number of deaths in Australia has increased to 24 after two women in their 60s and 70s respectively became the fifth and sixth people to die in Victoria on Thursday.
The country will spend 4.1 million Australian dollars (2.4 million U.S. dollars) on online courses for 20,000 nurses to prepare them for deployment in intensive care units.
It has also rolled out a plan to quickly add over 40,000 former health practitioners to join the frontline battle against COVID-19.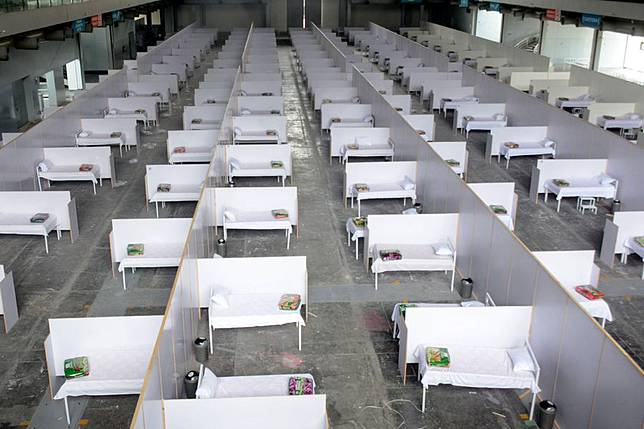 Photo taken on April 1, 2020 shows an isolation facility for COVID-19 patients being set up at the Expo Center in eastern Pakistan's Lahore. (Photo by Sajjad/Xinhua)
ISLAMABAD -- Pakistan on Thursday resumed its international flight operations at a limited scale only for special flights subject to the prior permission from the Aviation Division.
Following the resumption, a flight of the Pakistan International Airlines carrying over 350 passengers of Canadian origin departed for Toronto from the Allama Iqbal International Airport in the eastern city of Lahore on Thursday.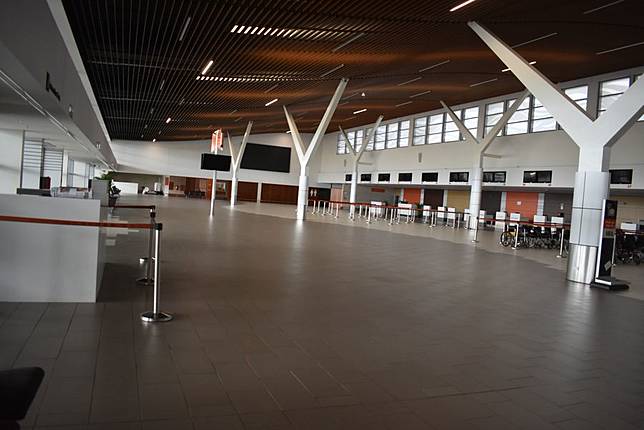 Photo taken on March 28, 2020 shows the empty terminal of Nadi International Airport in Fiji. (FIJI SUN/Handout via Xinhua)
SUVA -- Fiji announced on Thursday to lock down the capital city of Suva from early Friday morning following two more COVID-19 cases have been confirmed.
Fiji's Prime Minister Voreqe Bainimarama said the sixth confirmed case is a 21-year-old woman and the seventh confirmed case is her 33-year-old husband.
Tonga's government announced on Thursday a 60-million-Pa'anga (25.2-million-U.S. dollar) economic and social stimulus package as part of its efforts to fight the COVID-19.
Meanwhile, Vanuatu's government also has announced a 4-billion-Vatu (33.6-million-U.S. dollar) stimulus package to support the country's economy during the COVID-19 global pandemic.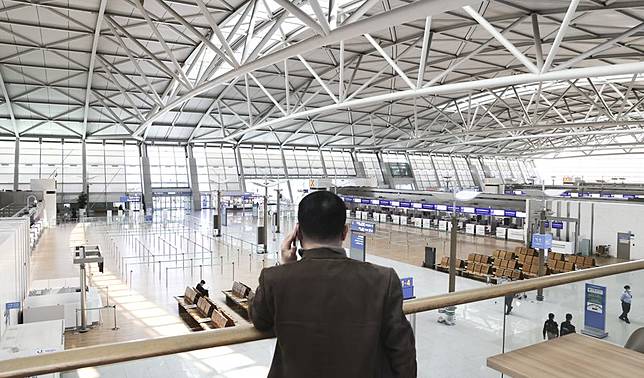 The Incheon International Airport wears a deserted look due to the COVID-19 pandemic in Incheon, South Korea, March 30, 2020. (NEWSIS/Handout via Xinhua)
SEOUL -- South Korea reported 89 more cases of the COVID-19 compared to 24 hours ago as of midnight Thursday local time, raising the total number of infections to 9,976.
Four more deaths were confirmed, lifting the death toll to 169.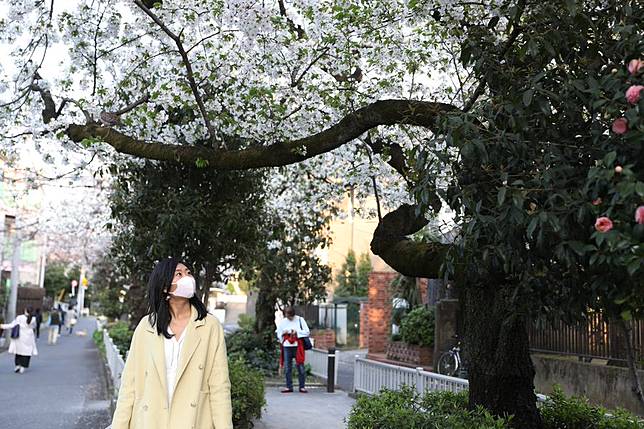 A woman wearing mask looks up to admire the cherry blossom by the street in Tokyo, Japan, March 22, 2020. (Xinhua/Du Xiaoyi)
TOKYO -- The total confirmed cases in Japan has reached 2,524, according to the latest figures released Thursday morning.
The death toll in Japan from the pneumonia-causing virus currently stands at a total of 82 people, according to the health ministry, with the figure including those from the virus-hit Diamond Princess cruise ship that was quarantined in Yokohama, close to Tokyo.
Of the 2,524 confirmed COVID-19 infections in Japan, the majority are still in Japan's capital city of Tokyo, which has confirmed 587 cases.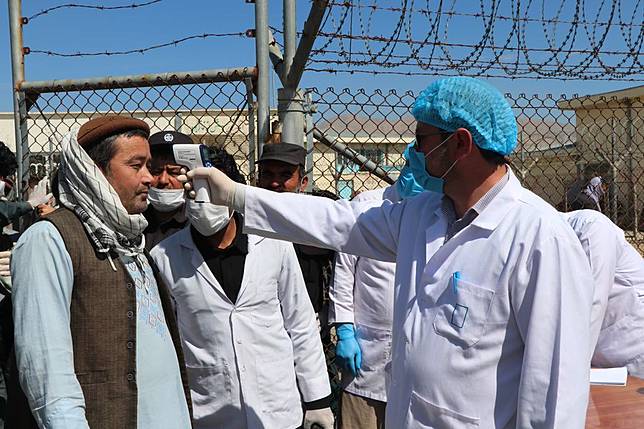 A health worker checks the body temperature of a prisoner at a provincial jail in Dushi district of northern Baghlan province, Afghanistan, March 30, 2020. (Photo by Elaha Sahel/Xinhua)
KABUL -- The Afghan authorities on Thursday confirmed 43 new COVID-19 cases, bringing to 239 the total number of patients in the country since the outbreak of the disease in mid February.
All the new cases were locally-transmitted ones as the patients did not have travel history abroad.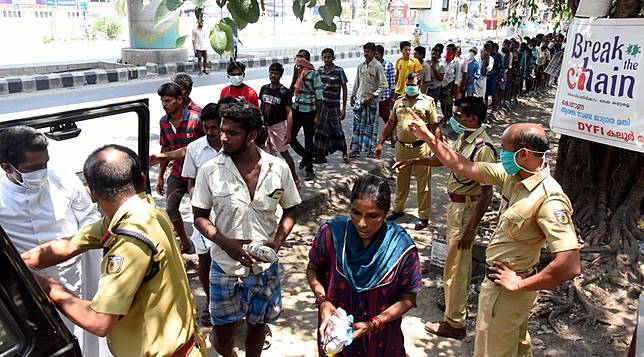 People wait in line to receive free food during the nationwide lockdown in a bid to contain the spread of novel coronavirus in Kochi, India, April 1, 2020. (Stringer/Xinhua)
NEW DELHI -- The death toll of COVID-19 in India has risen to 50 as the total confirmed cases reached 1,965, the health ministry said Thursday.
On Wednesday morning, the number of infections was 1,834 and the death toll was 41.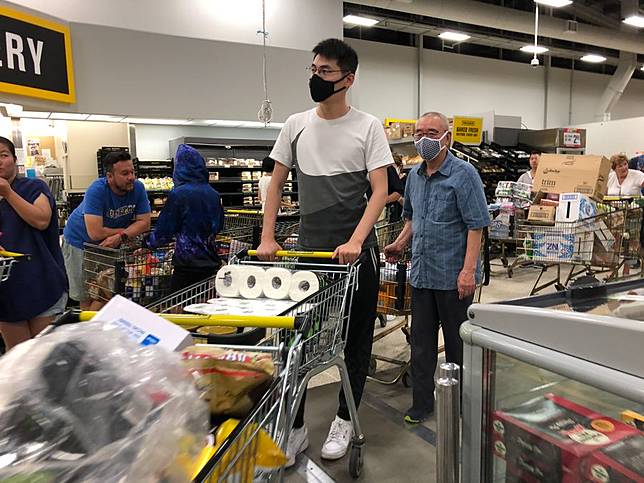 File photo shows people shopping at a supermarket in Auckland, New Zealand, taken on Feb. 28, 2020, the day when the first case of COVID-19 was confirmed in New Zealand. (Photo by Li Qiaoqiao/Xinhua)
WELLINGTON -- New Zealand reported 76 new confirmed and 13 new probable cases of COVID-19 on Thursday, bringing the total number of confirmed and probable infections to 797.
There were no additional deaths reported and 92 people had recovered.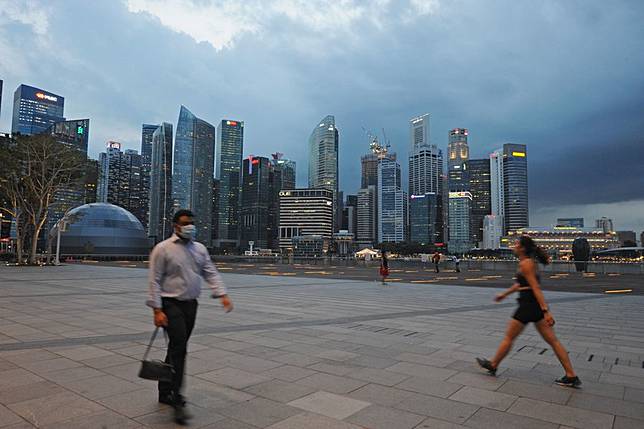 People walk along the promenade outside Singapore's Marina Bay Sands on April 1, 2020. (Photo by Then Chih Wey/Xinhua)
SINGAPORE -- Singapore's Ministry of Health reported the fourth death of COVID-19.
As of Wednesday, Singapore has recorded 1,000 confirmed cases.■