Since mid-July, Sa Sa is down 23 per cent, while Chow Sang Sang has fallen 24.5 per cent
Visits by mainland Chinese tourists have collapsed - and they normally drive luxury sales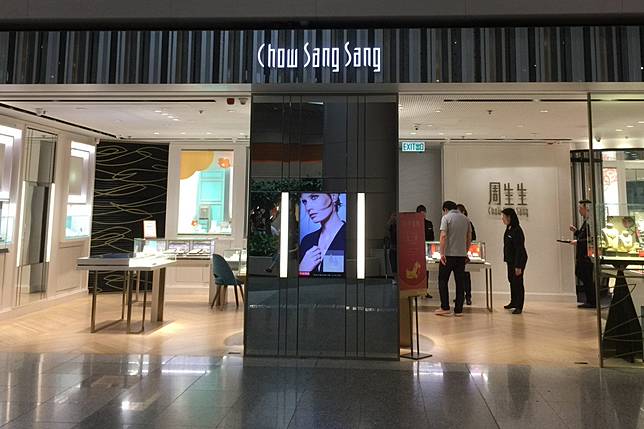 The outlook for Hong Kong retail " from sales of Mickey Mouse pure gold pendants to cosmetics and high end fashion " is pretty grim. Protests, headed into their 16th week with no end in sight, have hammered related stocks.
Just take a peek inside stores like Sa Sa, Chow Sang Sang or Sogo and you can see why analysts advise investors to avoid shares in the sector. Sometimes clerks outnumber shoppers.
Protests have led stores and even entire malls to shut down early. Mainland tourists " who normally drive luxury sales " aren't visiting nearly as much. And even locals, fearful they may see a cut in their work hours or even their position, are thinking twice about buying luxury items.
"I don't know how it will end finally, but before it ends, those stocks related to the domestic economy will get hurt," said Kenny Wen, wealth management strategist at Everbright Sun Hung Kai.
"The latest figures for retail sales are free falling. No one will buy retailers now, even though they are cheap. We don't see any specific factor driving the stock prices to go up significantly in the near future," Wen said.
Hong Kong tourism suffers worst downturn since Sars outbreak in 2003
Amid ongoing protests, tear gas and pepper spray are routinely deployed by police. Protesters hurl petrol bombs. The city's airport " one of the world's busiest " cancelled flights on two consecutive days. Sundays " when the largest protests have been held " turn into traffic nightmares.
Particularly vulnerable are companies with a high reliance on Hong Kong, like skin care and cosmetics chain Sa Sa International Holdings and jeweller Chow Sang Sang, according to experts, while other retailers have posted poor earnings and profit warnings, citing the protests. Share prices are plummeting as investors get out, but long term " when things may have quietened down " analysts predict a bounceback.
Sa Sa is down 23 per cent since July 21, when men wearing white shirts attacked protesters and regular subway travellers in Yuen Long MTR station, near mainland China. Chow Sang Sang has lost 24.5 since then.
As protest images transformed from seas of colourful umbrellas to protesters battling water cannons, market sentiment turned bleak.
"My stance is downbeat for the time being, I'm waiting until better valuations," said Louis Wong Wai-kit, director of Phillip Capital Management. "Investors need deeper discounts to offset the risks they are taking."
Wong and Louis Tse Ming-kwong, managing director of VC Asset Management, singled out Sa Sa International Holdings as especially feeling the heat.
The cosmetics chain, which counts Hong Kong and Macau as its biggest market, with 85 per cent of total sales, posted a profit warning to the city's stock exchange on Wednesday. Sa Sa said sales in Hong Kong and Macau were down 28 per cent in August compared to last year, and 14 per cent on a monthly basis from September 1 to 15.
Several dozen Hong Kong retailers likely to fold as protests hit sales
The weak figures were "caused by continuous social incidents in Hong Kong", as well as the US-China trade war and a depreciation of the yuan. It said reductions in rent and "staff costs" are needed.
Following the announcement, investment bank Goldman Sachs lowered its target price for Sa Sa from HK$1.8 to HK$1.5, saying its high exposure in Hong Kong made it vulnerable to the turmoil.
Meanwhile Citibank said it expected a sharp decline in Sa Sa's sales in Hong Kong and Macau to continue into the second half of the financial year, leading to a loss for the entire company due to fewer visitors because of protests.
Already the stock's 14-day relative strength index sits at 28. A reading below 30 indicates a stock is oversold.
The chain is one example of how a weakening economy and fall in the number of mainland tourists are hammering businesses.
Tourism levels fell 40 per cent in August, according to financial secretary Paul Chan Mo-po. He recently warned of a possible recession in the July-September quarter, and downgraded the government's gross domestic product (GDP) growth forecast for the year to anywhere between 0 and 1 per cent, from 2-3 per cent previously.
"We are entering into a recession," said VC Asset's Wong. "As long as that continues, retailers will continue to be pressured."
Jewellers are not likely to see a turn around any time soon, according to Catherine Lim, consumer products analyst at Bloomberg Intelligence.
"Jewellers' second half profits are likely to be hurt by the drop in Chinese visitors," she said.
Even without the protests, Hong Kong jewellery sales would have felt pressure due to the weakening yuan, Lim noted, which cuts into mainlanders' purchasing power. Also, spot gold prices have shot up about 19 per cent this year, making gold jewellery more pricey all while people are increasingly worried about the slowing economy on the mainland and in Hong Kong.
Chow Sang Sang reported a double digit drop in same store sales growth in June, saying that "massive demonstrations against the extradition bill clogged the streets and dampened consumer sentiment", in a filing to the stock exchange. It said "hard work" was needed to match the high base it achieved in the second half of 2018.
The troubles for Chow Sang Sang deepened in July and August, with a 20 per cent and 30 per cent decline in monthly same store sales growth respectively.
Both Nomura and HSBC lowered their target prices.
Nomura trimmed the jeweller from HK$14.8 to HK$10 and downgraded its rating to "neutral" from "buy". HSBC lowered it from HK$22.4 to HK$12.4 and maintained a "buy" rating.
Chow Sang Sang's 14-day relative strength index has fallen from 47 in mid-July, to 31, indicating investors are bailing out.
Same store sales growth for rival Chow Tai Fook Jewellery Group in Hong Kong and Macau for the full year ending June 30 came in below Goldman Sach's estimates, due to macro uncertainties and reduced tourist consumption. Goldman said it expects volatility ahead for Chow Tai Fook stores in Hong Kong.
With Prada out, can Russell Street outshine Fifth Avenue as costliest retail strip?
Although mainland China accounts for 64 per cent of the company's revenue, Wen at Everbright Sun Hung Kai said investors should "forget about it".
Bloomberg analyst Lim said ongoing protests "could accelerate the shift in spending by Chinese travellers, who are likely to spend more on foreign goods at home " where import taxes are falling " as well as in other countries, away from Hong Kong."
Meanwhile, clothing brands Bossini International Holdings and Giordano International posted weak full year and half year earnings, respectively, partly because of the protests.
The stocks have lost 4 per cent and 20.6 per cent, respectively, since July 19.
Department store group Wing On Company cited "fragile consumer sentiment amid uncertain local market conditions and the mass demonstrations since June" as impacting store sales in the first six months of the year.
Its net profit dropped 28 per cent during that period, while revenue lost 8 per cent.
Meanwhile Lifestyle International Holdings posted a 45 per cent increase in net profit for the first half of the year, but political unrest "took a toll" on its Hong Kong retail, which it said is set for a challenging second half. The retail operator said unrest has contributed to reduced traffic footfall and sales revenue in subsidiary Sogo department store in Causeway Bay.
Sogo, which has closed early multiple times amid protests, recorded a 4.8 per cent decline in sales revenue for the first half of the year, and a 37 per cent fall in overall traffic footfall.
Handbag retailer Milan Station Holdings also said it has a "prudent" view about business performance in the second half, in part due to social unrest, while the only decrease in global sales for cosmetics brand L'Occitane, in the three months ending June 30, was in Hong Kong.
"Mainland travellers drive luxury. It will take time for them to come to Hong Kong again," said Wen.
"Even if the protests settle down I think it is a long lasting problem for the travellers to come back. The mainlanders need to come back for retail to come back. They are so important."
Additional reporting by Deb Price
Copyright (c) 2019. South China Morning Post Publishers Ltd. All rights reserved.