One was struck by water pouring through a shopping mall roof, and by police using water cannons, the other by the fate of trees flattened by Typhoon Mangkhut
Both blend video footage and everyday objects in a way that compels reflection on current events in Hong Kong and what it means to be a Hongkonger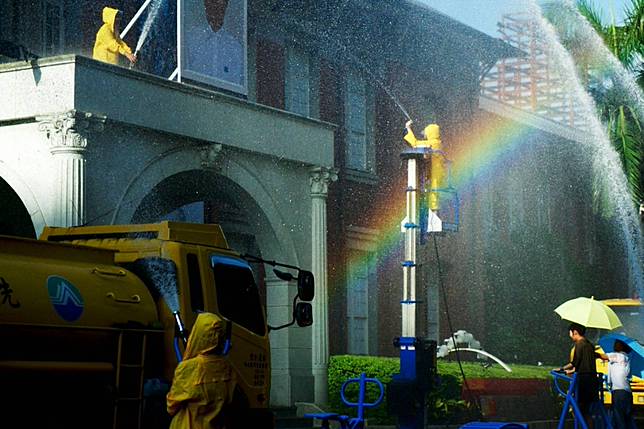 Cockroaches, remnants of trees mutilated by last year's Typhoon Mangkhut, postcards of Hong Kong landmarks, polycarbonate acrylic sheets used to reinforce windows against storms, and footage from this summer's anti-government rallies and protests " objects and images representative of the city, both glaring and subtle, fill Blindspot Gallery's 7,000 sq ft industrial warehouse space.
Taken together they offer a timely narrative. They form the elements of an exhibition by two Hong Kong artists, "Liquefied Sunshine/Force Majeure", at the gallery in Wong Chuk Hang. The show, by South Ho Siu-Nam and Luke Ching Chin-wai, compels visitors to reflect upon Hong Kong's identity and unpack what it means to be a Hongkonger " and strikes a particularly deep chord at such a time.
The first things visitors to the exhibition see are 721 postcards of Hong Kong and Taiwan landmarks, almost fully obscured by white ink that mimics the effect of rain. This is Ching's Liquefied Sunshine (2014-2015), and accompanies a video installation, Weather Report: Liquefied Sunshine (2014-2015), in which the artist subjects Hong Kong and Taiwan landmarks to torrential rainfall to emphasis the destructive power of water " and of politics.
He intends this artificial weather to create "a kind of magical space where multiple layers of fiction and reality intertwine".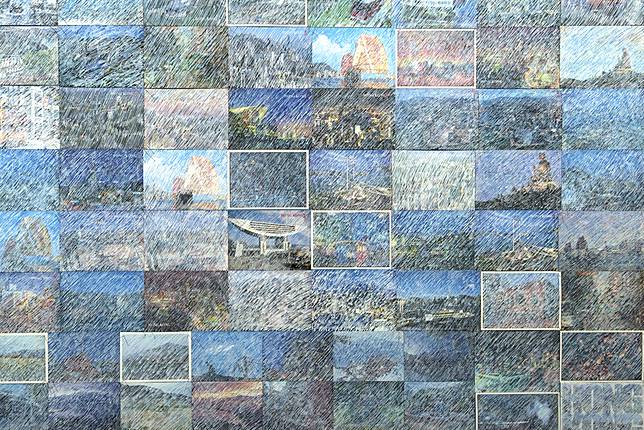 Ching explained the inspiration behind the work. "There were two images that lingered in my mind. First, the use of water cannons to disperse protesters in the 2014 'sunflower movement' in Taiwan (against a free-trade pact with mainland China), and second, the rain falling through the ceiling of the Festival Walk mall (in Hong Kong's Kowloon Tong neighbourhood during Typhoon Mangkhut in 2018).
"The former was a political storm and the latter a natural phenomenon. As both are so far removed from daily life, it makes me think of artificial rain … generated by a symbol of political power."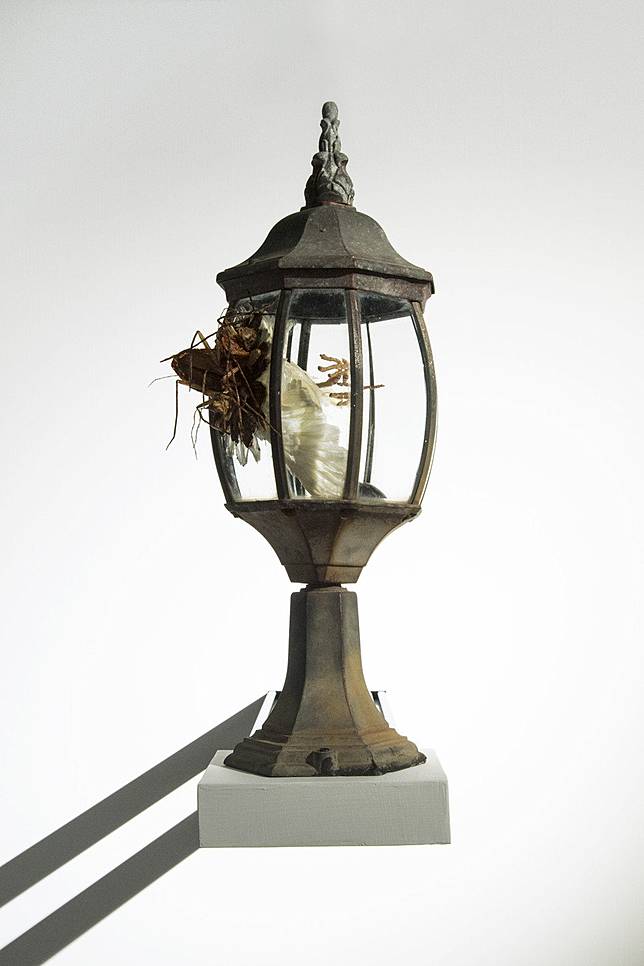 The irony of Hong Kong police using water cannons against protesters this summer, thereby making his work all the more relevant, is not lost on the artist. "I feel such a strong sense of dejA vu. What's happening right now becomes the subject of my older work."
The sense of dejA vu is reinforced by Ho's series of poignant black and white photographs, The Whiteness of Trees (2018), which documents the destruction wrought by Typhoon Mangkhut. Shooting quickly before government workers removed mangled trees from the city's roads, Ho captured the images in areas such as Tin Shui Wai, where he grew up, Sha Tin and Fo Tan, where his studio is.
Ho likens the trees to people of Hong Kong, especially those living in older districts. "The general displacement of people living in older districts is similar to the way the trees, which were like old inhabitants of the city, were immediately cleared out. There was no attempt to consult environmental experts who could perhaps have suggested means to allow slightly healthier trees to stabilise and heal," he says.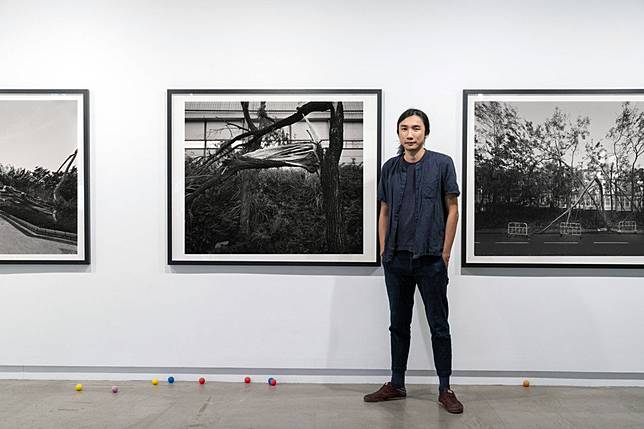 He raises the question of accountability by invoking force majeure, a term in a legal contract that absolves parties to it of liability in the event of unforeseen circumstances such as natural disasters. While Mangkhut was just such a disaster, its force and the damage it wrought had not been foreseen " as is the case with the current protests in Hong Kong. Ho applies force majeure to current events in Hong Kong, and asks who is accountable for them.
Ho intended a video installation depicting footage of this summer's rallies and marches to show the evolution of protests not just since the 2014 "umbrella movement" occupation of Hong Kong streets, but the changing character of the protests that began in June. The protesters' slogans, demands, and the targets of their anger have all changed, he notes.
Soft balls representing the rubber bullets fired by police are piled in front of a video screen, while the polycarbonate acrylic sheets protesters use as protective shields trigger nostalgia in Ho. "When I see the PC acrylic sheets, I feel a sense of protection. I grew up in a public housing estate, where they were used to shield the kitchen and bathroom (windows) from typhoons," he says.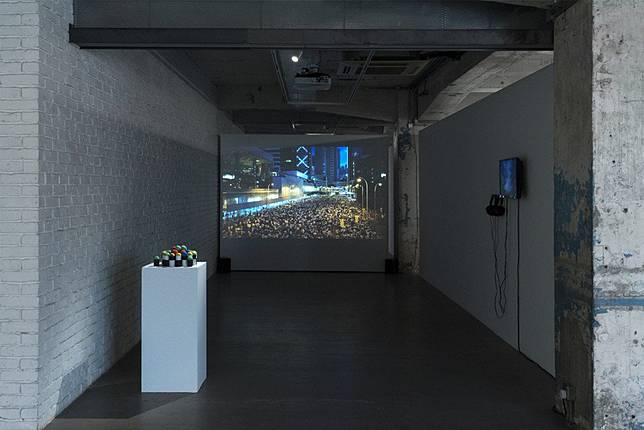 The juxtaposition of the two artists' work is intended to stimulate discussion of social and political developments in Hong Kong.
The exhibition was rooted in the typhoon theme, gallery founder and director Mimi Chun says. "We didn't predict it would open against the backdrop of the current political movements. It is a strange coincidence, but very timely," she says.
It also makes Blindspot one of the first commercial art galleries to hold a show that addresses the current protests.
Liquefied Sunshine/Force Majeure, until November 2 , Blindspot Gallery, 15/F, Po Chai Industrial Building, 28 Wong Chuk Hang Road, Wong Chuk Hang, Hong Kong. Open Tues-Sat 10am-6pm. Closed Sundays, Mondays, and public holidays.
Copyright (c) 2019. South China Morning Post Publishers Ltd. All rights reserved.