Closing stations, curtailing services were 'hard decisions' taken in consultation with relevant departments, corporation says
Massive number of repairs, shortage of spare parts mean disruption and inconvenience likely to continue for weeks to come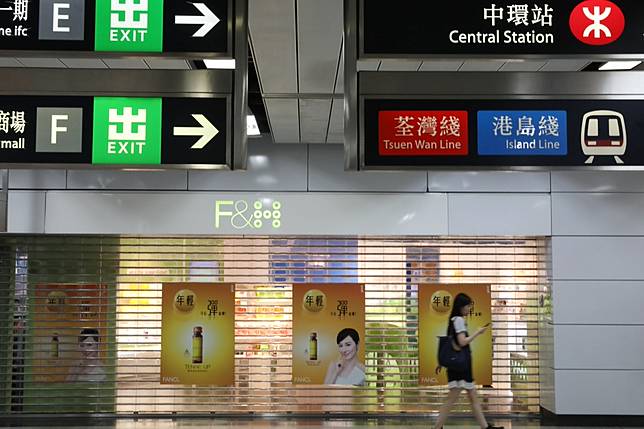 Hong Kong commuters can expect to be affected by sharply reduced MTR services for the rest of October as the city's rail operator grapples with extensive damage caused by anti-government protesters at several stations.
Some critics have accused the MTR Corporation of helping the government to impose a "de facto curfew" on the city by ending train services early, acharge the rail giant rejects.
The past two weeks of reduced services have left commuters scrambling for alternative means of getting about, which mean much longer journey times. The MTR is Hong Kong's main mode of public transport, handling almost 6 million passengers every day.
Secretary for Transport and Housing Frank Chan Fan said on Friday train services could return to normal "in a couple of weeks", provided there was no more rampaging at stations.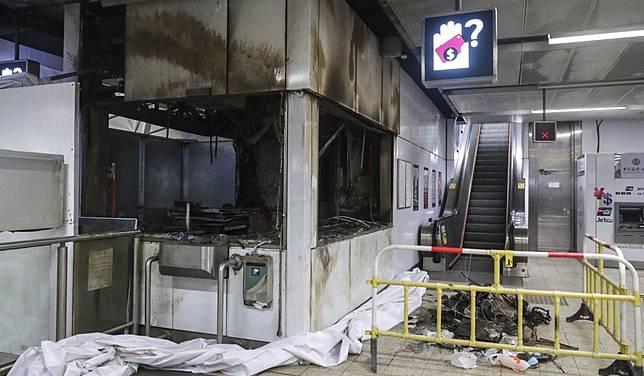 The MTR Corp said that, as of October 13, protesters had caused extensive damage at 85 out of 94 heavy rail stations and 57 of 68 light rail stations, setting fires, smashing up station equipment and ripping out fixtures. More than 1,800 turnstiles, 800 ticketing and add-value machines, 900 CCTV cameras, 100 lifts and escalators and 90 sets of roller shutters were seriously damaged.
The vandalism resulted in the complete shutdown of the entire network on October 5, for the first time in its 40-year history.
Although protesters had targeted the rail operator since August, accusing it of kowtowing to Beijing, the violence exploded that weekend after Chief Executive Carrie Lam Cheng Yuet-ngor announced the government was invoking a colonial-era emergency law to ban face coverings in public.
MTR rumbles back to life " but offers no date for full restoration of services
Damaged stations reopened gradually from October 6, but with rail services ending from as early as 6pm for repairs to be done. Since October 11, services have been stopping at 10pm, instead of running until about 1.15am.
On Thursday, the rail operator said it would decline political advertisements across the network for upcoming district council elections, to minimise the risk of conflict and safeguard passengers, staff and facilities.
Unhappy that train services are not yet back to normal, Quentin Cheng Hin-kei, spokesman for commuter concern group the Public Transport Research Team, said: "The early closures of MTR services effectively serve as a curfew.
"I think this arrangement is to facilitate the government to curb demonstrations as it discourages people from staying out late."
He did not think that the repairs needed to take so long.
"I can accept that the MTR closed early for the first few days to conduct repair works, but I don't see the need now to close all services early for so many days," he said. "It could have closed certain severely damaged stations early, but not all."
Pointing out that the South Island line was unscathed by vandalism, he asked: "Why couldn't the MTR resume normal closing hours for those stations?"
Cheng said the early closures caused great inconvenience to Hongkongers, especially those who work far from home.
"There have been long queues at bus stops at night and people who live in isolated districts such as Tseung Kwan O have to take several public transport modes to go home," he said.
Dismissing the allegation that services had been disrupted unnecessarily, an MTR Corp spokesman said closing stations and curtailing services were "hard decisions".
"Doing so will cause inconvenience to the commuters and impact our revenue, as well as the revenue of our tenants, which is not something we want to see," he said.
He said the early closures were necessary considering the massive number of facilities needing to be fixed, and the MTR Corp took the decision after a joint risk assessment involving relevant government departments.
He said the company was running out of spare parts too, meaning some stations might not be able to resume services the day after damage is inflicted, or for an even longer time afterwards. He appealed for passengers to understand if such situations arose.
Activist and share market analyst David Webb argued that repairs could be done during operating hours, especially for turnstiles and ticketing machines.
"The continued early closures look unnecessary. It is obvious that a partial de facto curfew is being imposed via the MTR system to try to reduce protests," he said.
Webb said shareholders' interests had also been affected by the early closures, which inevitably reduced the corporation's revenue and profits, including those from the railway and the rental income from its commercial areas.
Pro-establishment lawmaker Michael Tien Puk-sun, a businessman and former chairman of the Kowloon-Canton Railway Corporation, said he had become increasingly unhappy with the early closures of the rail system.
"The MTR told me that it would only close all services early the next day if its stations were seriously attacked at night. But for the past few days, there has been no vandalism, so there is no reason for the MTR to close early for such a prolonged period," he said.
He did not think it was valid to say the early closures were necessary because repair work needed more time.
"The MTR is losing my support and understanding for closing all services for no reason," he said.
Hong Kong Federation of Railway Trade Unions vice-chairman Tam Kin-chiu said he agreed with the measures taken by the company because of the extent of the damage and also the fact that some of the repairs could only be done after the system closes.
The union represents about 4,000 MTR employees, including train drivers and station staff. With the damage and disruption, many frontline workers have been working overtime to conduct checks, manage crowds and handle passengers.
"I urge the protesters not to damage the facilities any more. Otherwise, everyone will have to pay a heavy price for the inconvenience," he said.
The disrupted services are also affecting shops and restaurants in Hong Kong, which are forced to close early because fewer people are staying out late and staff need to get home.
MTR rolls out sturdy sliding gates at station exits in bid to prevent further vandalism
Simon Wong Ka-wo, president of the Hong Kong Federation of Restaurants and Related Trades, said the retail and dining scene was badly affected especially at nightlife hotspots such as Mong Kok, Causeway Bay, Tsim Sha Tsui and Lan Kwai Fong in Central.
"Since the eruption of protests in June, business of the dining sector has plummeted by 35 per cent. The early closures of the MTR undoubtedly deal another blow to the sector because people need to rush home early," he said.
Some shops have begun closing early to let their staff return home by train. "The bars and pubs are hardest hit, as people avoid staying out late," he said.
However, Wong defended the rail operator, saying many factors had to be weighed in deciding when to restore normal services.
Noting that radical protesters usually launch their attacks at night, he said: "If the MTR resumes normal closing hours, it must consider the risk of vandalism and whether it can provide normal service the next morning."
Copyright (c) 2019. South China Morning Post Publishers Ltd. All rights reserved.