As well as putting themselves in danger, those reporting on violent clashes in the city have suffered harassment after personal details were revealed online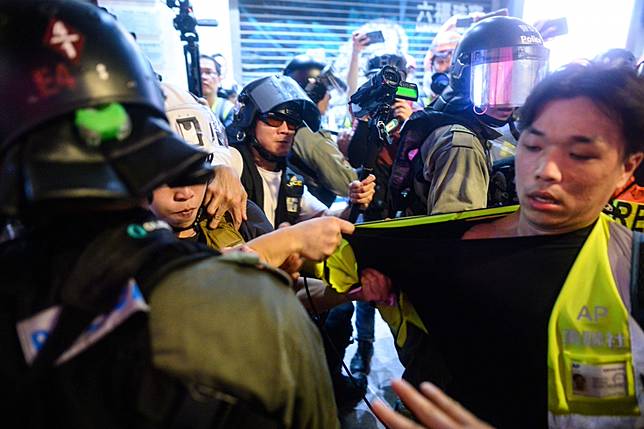 Journalism is not without its dangers, especially in conflict zones around the world. A heavy death toll in the line of duty attests to that. Reporters usually have to go to troubled places to be at risk.
But now trouble has come to Hong Kong. Elements of rolling anti-government mass protests have resorted to violence. Journalists trying to do the job readers, listeners and viewers expect of them are familiar figures on the front lines or even in contested territory between police and protesters.
Not surprisingly some bear the scars of collateral damage from pitched battles. Thankfully, none has been seriously injured or killed.
But journalists have not escaped a sinister manifestation of the cyber theatre of the civil unrest " doxxing, or the online disclosure of personal details including addresses, phone numbers, social media accounts and photos that leads to them being harassed.
Used against police and even their families, such abuse of privacy is a direct challenge to law and order. Used to intimidate journalists it shows contempt for a core value enshrined in the Basic Law, freedom of the press, which holds authority accountable for abuse of power.
Regrettably, as we have reported, almost 20 journalists and staff from a Chinese-language newspaper and a reporter from an online news portal, alongside more than 70 activists and protesters have been doxxed by an anti-protest website. One of the Post's reporters has also been doxxed and harassed.
Our photographers and video journalists have been physically attacked. Verbal abuse of frontline reporters is common. Rightly, the privacy commissioner has expressed grave concern and the Hong Kong Journalists Association has called for an investigation.
Apple Daily journalists among about 90 people doxxed by anti-protest website
Journalists doing legitimate reporting should not be subject to such harassment. Having to worry about it can make it harder to do their job properly. That said, they need to meet high professional standards to avoid providing an excuse to target them. Society is very divided and politically charged.
In such a partisan atmosphere people often do not appreciate the importance of professional objective journalism and the safeguard for everyone's rights implied by press freedom. Professional journalists are the public's eyes and ears, without which the truth may not be made known.
Copyright (c) 2019. South China Morning Post Publishers Ltd. All rights reserved.