London-based, family-run, British wallcovering brand de Gournay is known for its exquisite hand-painted wallpaper, so it's no surprise that the home of the company's director, Hannah Cecil Gurney, showcases the brand's gorgeous wallcoverings or upholstery in every room.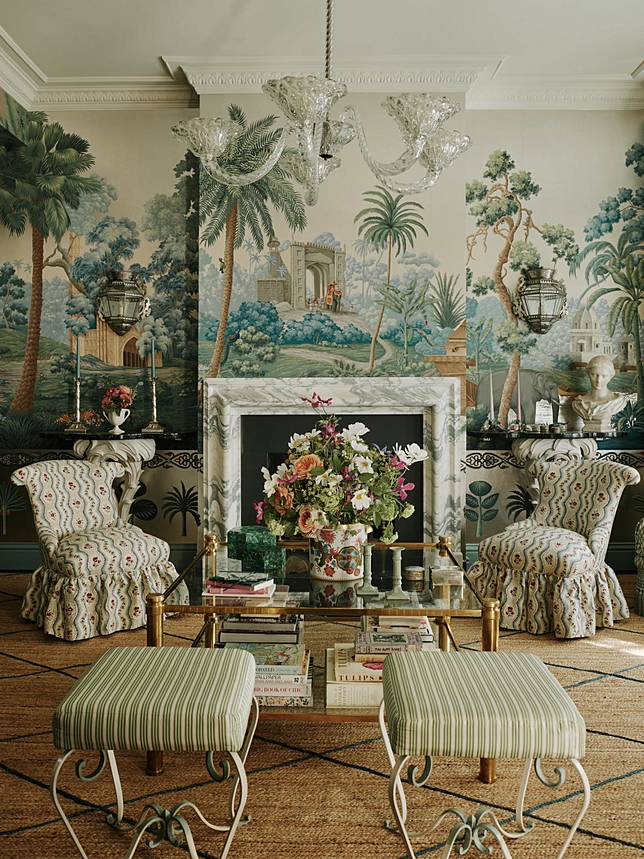 Located in Battersea Park, not far from de Gournay's London showroom, the house is a well-proportioned, three-storey, south-facing Victorian, that Cecil Gurney – who also happens to be daughter of the brand's founder Claud Cecil Gurney – shares with her husband Eddie Harden, their four children, and two dogs.
The mouldings and architraves within the property had been removed by the previous owner, and upon first seeing the house, Cecil Gurney described the rooms as being "like bland shoeboxes". She reinstated much of the original architectural details, and also added a side return to create a large eat-in kitchen.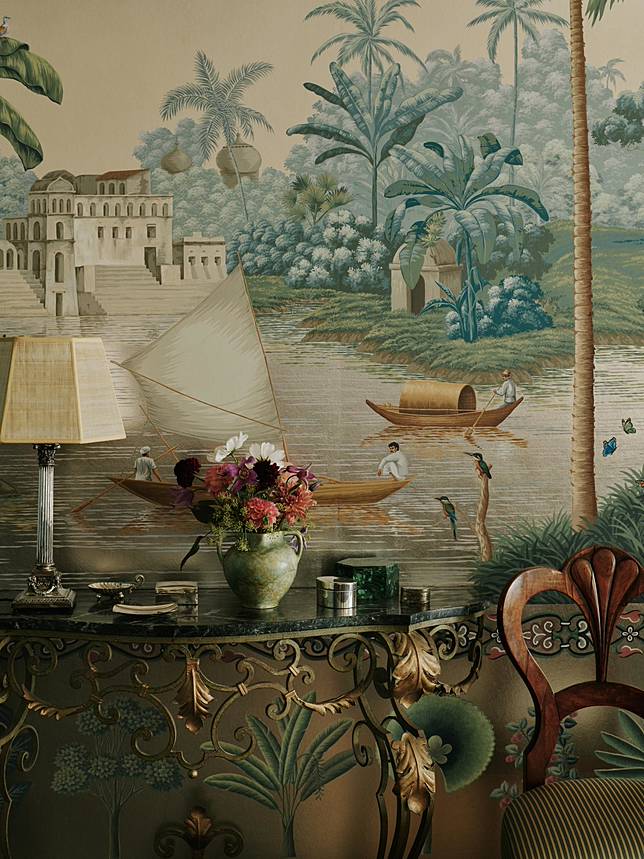 "It was a slow process, with the work starting and stopping for a few years, but as a result, we got a better understanding of how, as a family, we actually use the space, and what works for us in the long term," she says.
From the main door, one enters a large open plan drawing room where bespoke joinery across one wall conceals a short flight of steps that lead down to a large kitchen and dining room with a sitting area and bar.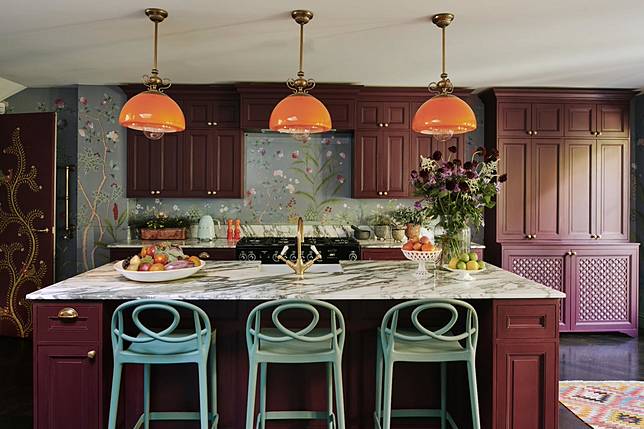 Another flight of steps leads up to a first-floor landing, where there is a guest bathroom and a study and rest area at the reverse. Above this study and rest area is a nursery and bathroom.
From this level, another flight of stairs leads up to the master bedroom and bathroom. On the top floor are two children's bedrooms and a shared bathroom. From the kitchen and dining room, another set of stairs leads down to a newly constructed basement playroom and adjoining utility room.
Cecil Gurney confesses that she is "colour obsessed" and believes colours and patterns have the power to transform the mood of any room. Every single space in the house showcases de Gournay's hand-painted wallcoverings and hand embroidery.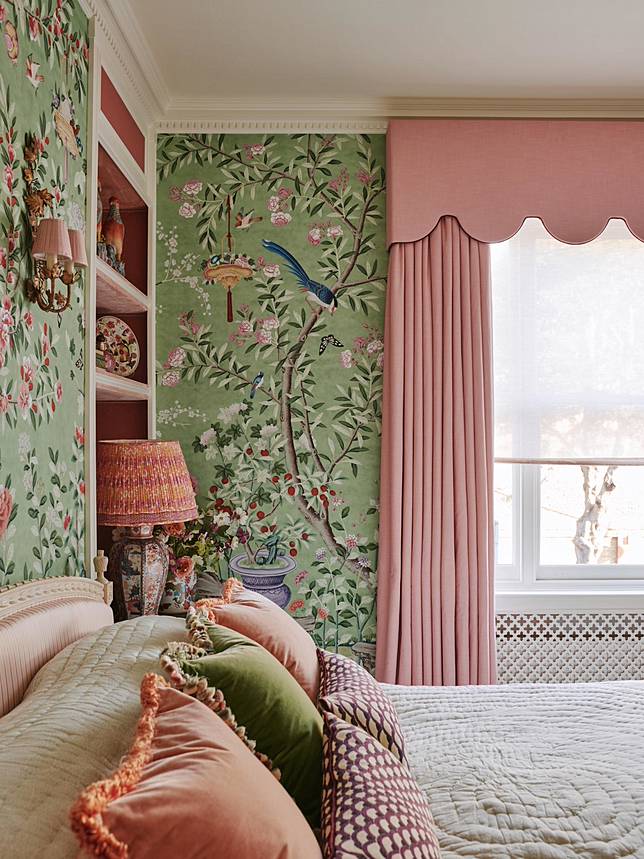 "The previous wallpaper in my drawing room was a very dark chocolate brown inspired by the Coromandel screens that had belonged to Coco Chanel. I decided to refresh this space with a new wallpaper – de Gournay's hand-painted "River Scenes of Bengal" on Tarnished Silver gilded paper – which completely opens the room, making it feel three times larger than its actual size," she says.
In the study and rest area, the walls are upholstered in a hand embroidered floral motif on wool sateen designed by Italian-born furniture and textile designer Alessandra Branca, which includes an enormous sofa in navy blue velvet.
The house has an unusually large master bathroom, with walls clad in de Gournay's "Flamingos" scenic wallpaper. This is one of Cecil Gurney's favourite spots.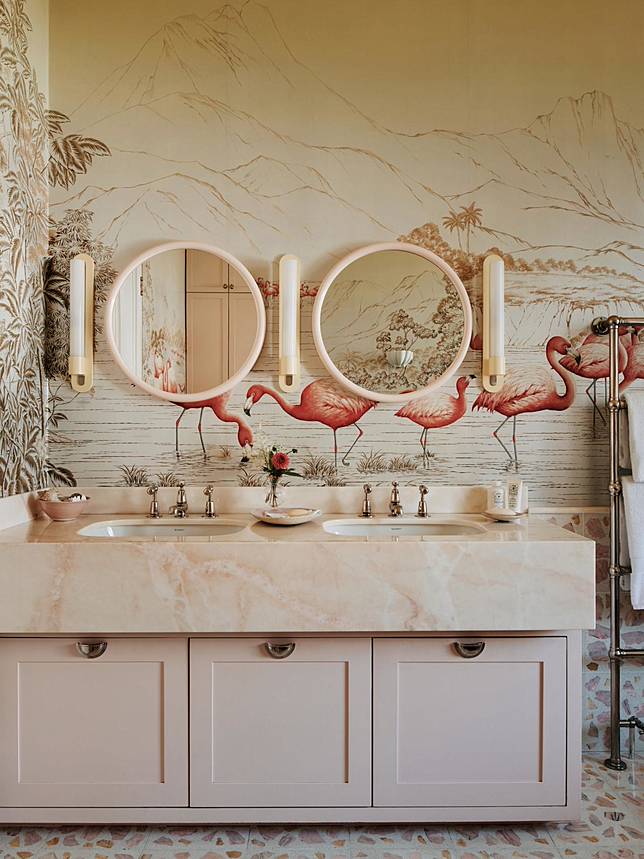 "It is the one room in the house where the children's toys don't seep into; where it's always quiet. And I love having a hot bath in the double-width Laufen tub at the end of the day. It is so relaxing to lie here surrounded by hand-painted flamingos set against distant mountains. You would never dream you were in Battersea – it's really so transportive," she says.
Throughout the house, she has used antique and bespoke furniture along with artisan rugs, lights, and décor, with carefully curated upholstery, bedding, and drapery to create a sumptuous fairy tale world.
She says she feels very lucky that she gets to meet so many talented interior designers through her job as director of de Gournay.
"Their work is such an endless source of inspiration," says Cecil Gurney, whose travels have also allowed her to connect with suppliers of amazing home furnishing and décor products from around the world.
"I worked on the interior design of my home myself because I felt it would be a wonderful experience to gain insight into the world of interior designing. I also wanted to work slowly over several years to allow the space to evolve."
She sees her home as proof that one can create stunning, yet liveable residences, with the liberal use of wallpaper.
"Clients tell us they worry the medium is too precious, but what de Gournay specialises in are antiques of the future. Many people fawn over wallpapers from 300-year-old historical installations, but there is no reason people won't be doing the same with our products three centuries from now.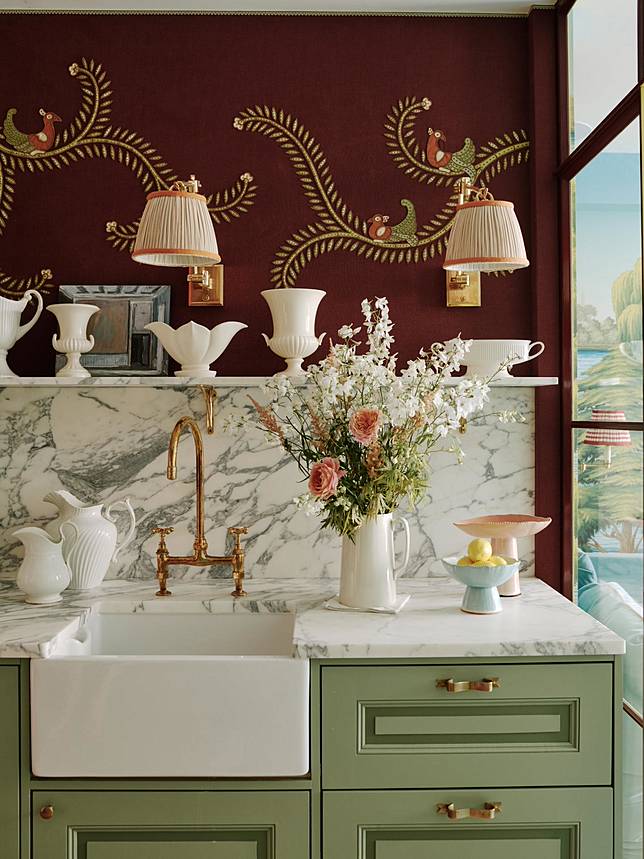 "I also wanted people to see our designs used in a relaxed family home in London, with children and dogs running around," adds Cecil Gurney, who addressed the issue of maintenance by covering the "Sans Soucis" chinoiserie wallpaper in the kitchen with a protective glaze for durability.
"You can have form and function, and I wanted people to see that."
Photo courtesy of Christopher Horwood