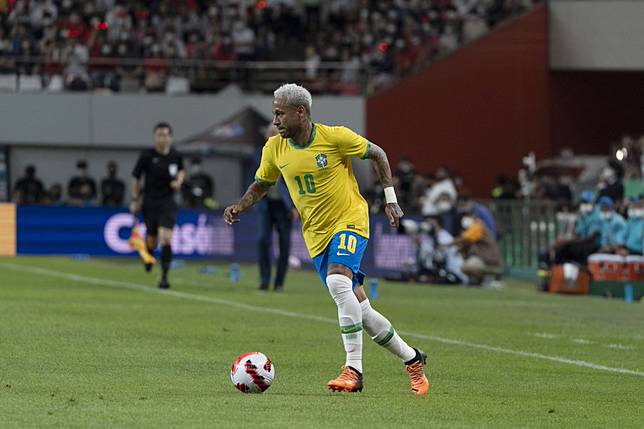 Brazil's Neymar Jr controls the ball during a friendly match against South Korea in Seoul, June 2, 2022. (Photo by James Lee/Xinhua)
Mixed fortunes fell on traditional powerhouses during the final international break ahead of the 2022 FIFA World Cup.
BEIJING, Sept. 28 (Xinhua) -- During the final international break ahead of the 2022 FIFA World Cup, Argentina and Brazil both registered easy wins as they travel to Qatar with eyes on the trophy, while some European teams are left hanging in the air with a lot to ponder.
Here are the winners and losers from the final international break:
Winners:
1. Argentina
With two comfortable 3-0 wins over Honduras and Jamaica in the United States, the Albiceleste's unbeaten streak in international football has reached 35, just two games shy of Italy's 37-game record set between 2018 and 2021.
Lionel Messi started against an aggressive Honduras and came on as a substitute in the 55th minute against Jamaica. A brace from each game and several chances created, 35-year-old Messi seemed to have found his best form ahead of his fifth World Cup.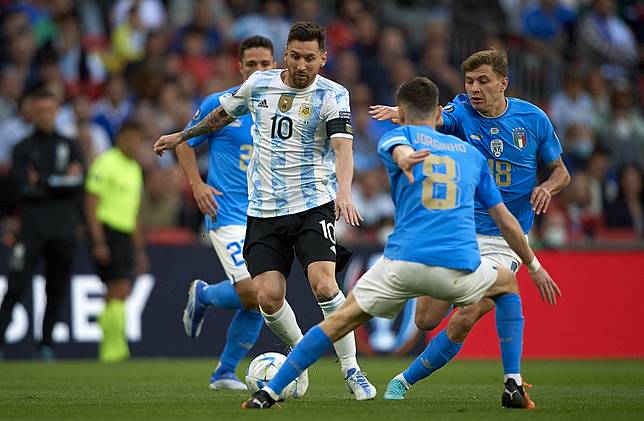 Lionel Messi (2nd L) of Argentina vies with Jorginho (2nd R) of Italy during the Finalissima 2022 match in London, June 1, 2022. (Photo by Pablo Morano/Xinhua)
Despite a sparkling attacking chemistry, questions still remain for Lionel Scaloni's side in defense and substitutes. Starting right-back Gonzalo Montiel only played two games at Sevilla so far this season with a total time of 154 minutes, while possible game-changers Angel Correa and Angel Di Maria have both been struggling for game time at their respective clubs.
2. Brazil
While Argentina's shot at World Cup glory looks promising, its South American neighbor Brazil is also aiming for the trophy. Neymar first led Brazil to a 3-0 win over Ghana with two assists, and scored a penalty in a 5-1 rout of Tunisia a few days later, becoming the third South American player to have scored 75 international goals after Messi and Pele.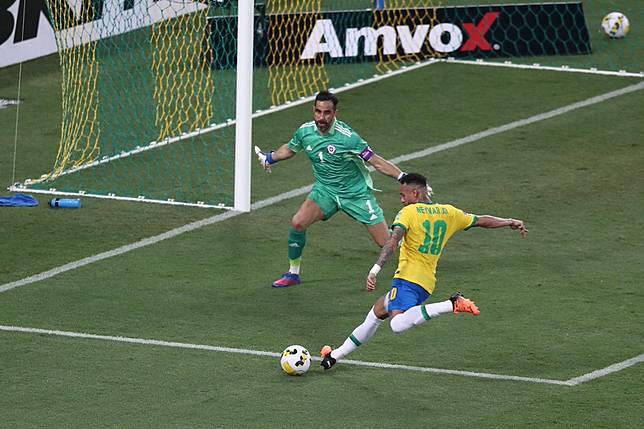 Neymar Jr (R) of Brazil shoots during the 2022 FIFA World Cup Qualifier against Chile in Rio de Janeiro on March 24, 2022. (Xinhua/Wang Tiancong)
Besides an all-fit Neymar, Tottenham forward Richarlison and FC Barcelona's new signing Raphinha each scored a brace in two different games, extending Brazil's unbeaten record to 15 games and winning run to seven.
The five-time world champion is one of the title favorites, as core players like Casemiro, Alisson are top-class in their positions, with the addition of young talents such as Vinicius Jr and Rodrygo.
3. Croatia
Croatia's best World Cup result was second place in Russia in 2018 after losing to France 4-2 in the final, but no teams would look down upon them.
37-year-old Luka Modric scored the opening goal in the sixth minute, lifting Croatia 3-1 over Austria in the final group game to advance to the semifinals of the Nations League A, alongside Spain, Italy and the Netherlands.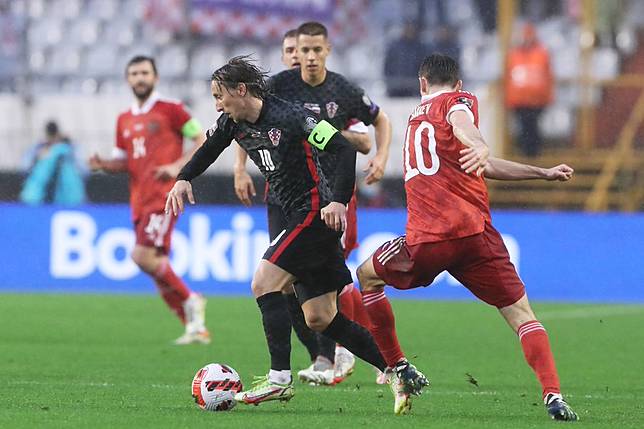 Luka Modric (front L) of Croatia vies for the ball during the FIFA World Cup Qatar 2022 Qualifying Group H football match against Russia at Stadium Poljud on Nov. 14, 2021 in Split, Croatia. (Sanjin Strukic/Pixsell via Xinhua)
Croatia has a world-class midfield consisting of Modric, Chelsea's Mateo Kovacic and Inter Milan's Marcelo Brozovic, which is one of the best box-to-box midfield trio in the world, although there's a certain disparity in the front and back lines compared to top-tier teams.
Having been drawn into Group F with Belgium, Canada and Morocco, it would be fairly easy for Croatia to make it to the knockout stage, but how much further they could go would be relying on Modric's performance.
4. South Korea and Japan
A flying Son Heung-min continued his excellent club performance in the national team, as the Tottenham striker scored a free kick to earn South Korea a 2-2 draw with Costa Rica last Friday, and then helped his team beat Cameroon 1-0 with a first-half header on Tuesday.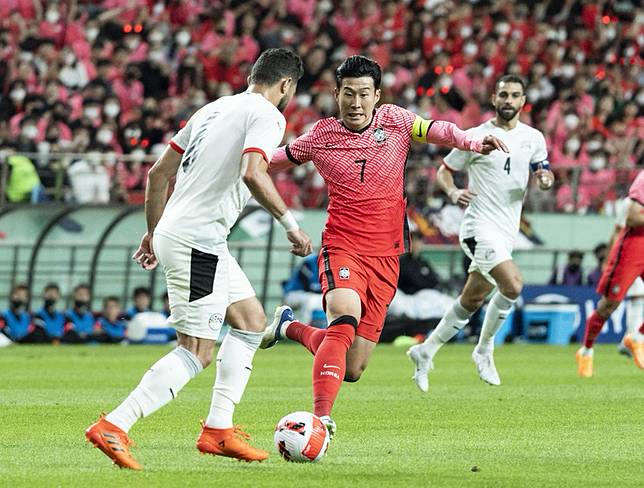 Son Heung-min (2nd L) of South Korea breaks through during a friendly match against Egypt in Seoul, June 14, 2022. (Photo by James Lee/Xinhua)
Meanwhile in Dusseldorf, Germany, Japan pocketed a 2-0 win over the United States with goals from Daichi Kamada and Kaoru Mitoma last Friday, but was then held to a goalless draw by Ecuador days later.
South Korea has been drawn in Group H with Uruguay, Ghana and Portugal, while Japan is in Group E with Germany, Spain and Costa Rica. Despite the somehow challenging groups, a win and a draw each against fellow World Cup qualifiers should give both South Korea and Japan more confidence in becoming dark horses in Qatar.
Losers:
1. England
A 1-0 defeat to Italy on Friday saw England relegated from their Nations League group. A few days later, despite fighting back from two goals down to a 3-3 draw against Germany, the Three Lions finished their Nations League campaign with a six-game winless run at bottom of the group.
Center back Harry Maguire conceded a penalty and made another crucial mistake in the build-up to Germany's second goal, which brought him more criticism especially after head coach Gareth Southgate insisted on putting him in the starting eleven, despite the fact that Maguire had only played 10 minutes in Manchester United's last four league games.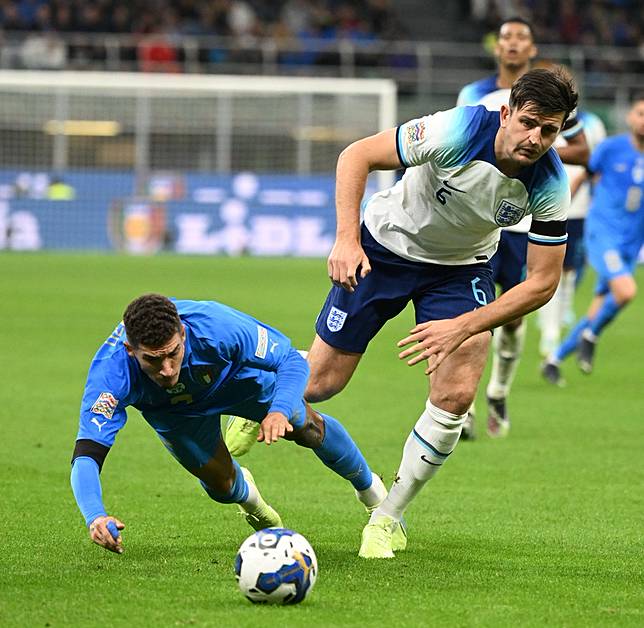 Italy's Giovanni Di Lorenzo (L) vies with England's Harry Maguire during the League A Group 3 match at the 2022 UEFA Nations League in Milan, Italy, Sept. 23, 2022. (Photo by Federico Tardito/Xinhua)
As the 2020 European Championship runner-up, England scored just two goals from open play in the last 540 minutes of international action. Their last victory came in a friendly against Cote d'Ivoire in March, which left Southgate plenty to solve in the next few weeks.
2. France
Defending champion France is probably facing its longest-ever injury list at the moment, as Karim Benzema, Paul Pogba, Ousmane Dembele, N'Golo Kante, Adrien Rabiot, Hugo Lloris, Kingsley Coman, Jules Kounde, Lucas Hernandez, Theo Hernandez and Presnel Kimpembe are all currently absent.
Without a bunch of starting players, France only ended the Nations League A campaign third in Group 1 with one win, two draws and three losses. But head coach Didier Deschamps doesn't have a lot to worry about, as most of the injured players are expected to return before the World Cup.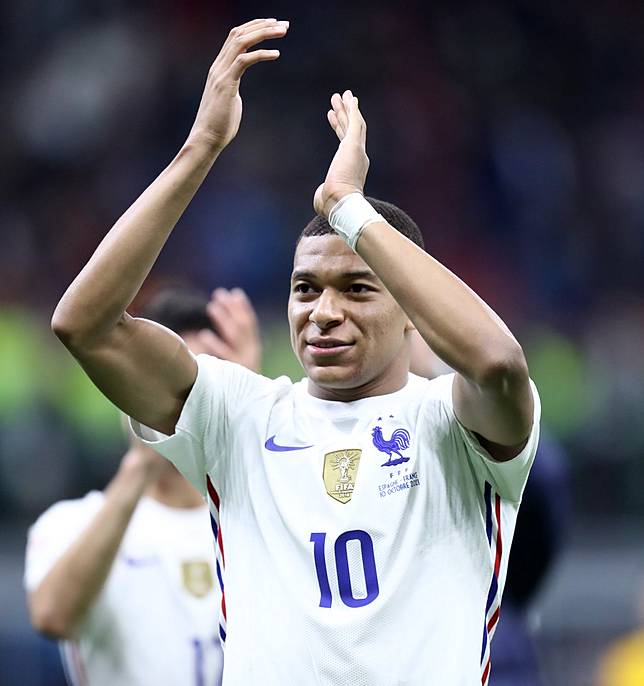 France's Kylian Mbappe celebrates after the UEFA Nations League final match against Spain in Milan, Italy, Oct. 10, 2021. (Str/Xinhua)
As long as Kylian Mbappe could keep on with his momentum, help build up the atmosphere around the team and earn enough support from his teammates, France could still become the first team to defend the World Cup since Brazil in 1962.
3. Portugal
Cristiano Ronaldo's side only needed a draw at home against Spain to make the Nations League A semifinals, but Alvaro Morata's late strike led Spain to a 1-0 win to knock Portugal out of the final four.
Spain controlled possession, but it was Portugal who had more scoring chances in the first half. Ronaldo didn't have much to deliver as his best chance came in the opening minutes of the second half, but his one-on-one attempt was denied by Spanish goalkeeper Unai Simon.
Cristiano Ronaldo (L) of Portugal reacts during the League A Group 2 match against Spain at the 2022 UEFA Nations League in Lisbon, Sept. 27, 2022. (Photo by Pedro Fiuza/Xinhua)
While Portugal had to swallow an eliminating defeat in their final international game ahead of the Qatar World Cup, their group opponents Ghana, Uruguay and South Korea all booked a victory.
Just starting in three out of eight games played at Manchester United this season, Ronaldo only scored a penalty in the Europa League. It's highly questionable if the Portuguese captain could bring out his best in less than two months given such little playing time.
Will Ronaldo survive the group in his possible last dance? ■