Sight of troops helping to clear roadblocks was bound to draw mixed response in Hong Kong
No denying the symbolic implications behind this surprise episode at such a sensitive time in a city overrun by chaos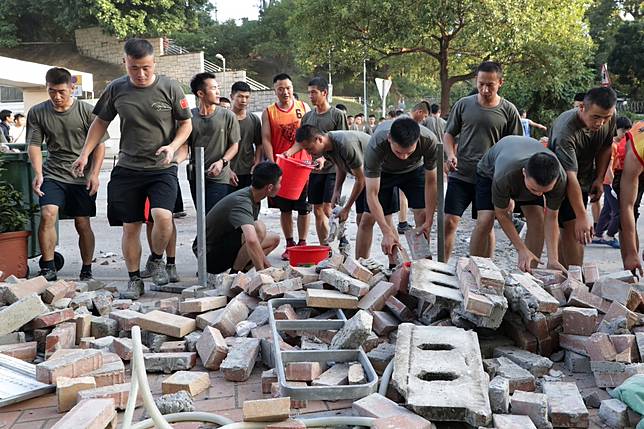 It was a relatively quiet Saturday afternoon until the usually closed and guarded gate of PLA's Hong Kong Garrison barracks in Kowloon Tong suddenly swung open and around 50 Chinese soldiers trooped out.
Local residents and reporters gathered outside the Baptist University campus nearby, which had been occupied earlier by black-clad radicals who had blocked the surrounding roads, watched in surprise as the soldiers were ordered by a middle-aged man apparently in charge to clear the debris and roadblocks.
It marked a dramatic turn of events amid the escalating social unrest that had turned the city upside down last week, with radicals paralysing traffic and transforming university campuses into battle grounds to fight off police.
Speculation had been rife that Beijing might finally resort to drastic action and deploy the People's Liberation Army.
Then came the PLA " not with weapons but buckets and brooms, not in uniform but in T-shirts and shorts -" to "assist Hong Kong residents to clear the roadblocks and restore traffic to normal", as the garrison later stated in its official blog.
Such a dramatic and unusual move was bound to draw mixed responses " applause and praise from one side, and alarm and condemnation from the other.
The city's opposition lawmakers jointly issued a statement to strongly condemn it as an act by the PLA that totally ignored both the Basic Law and the Garrison Law " the two stipulating that China's military should not "interfere in local affairs", but upon the request of the local government, could help with the "maintenance of public order and in disaster relief".
The government later stated that the garrison had undertaken a "voluntary community activity" and had not been asked to help.
Was it interference or community activity? Six month into the crisis, it is more of a political debate.
The pan-democrats had to make something of a political gesture of it, but given the fact that the PLA has participated in many community services such as donating blood and helping clean up after the passage of Typhoon Mangkut last year, the garrison countered that this was merely more of the same. Plus it felt the need to ensure the smooth passage of vehicles to and from its own barracks.
But there is no denying the symbolic implications behind this surprise episode at such a sensitive time in a city overridden by chaos. It also came two days after President Xi Jinping's open call to "stop the violence and quell the unrest" as soon as possible.
Two aspects of the PLA action were telling enough: firstly, there was no sign of black-clad radicals throwing petrol bombs or bricks at the soldiers, which is what happened in other parts of the city when regular citizens also came out to clear the roadblocks; secondly the soldiers did not hide their identities, their T-shirts displaying their unit logos such as "Special Force, the Eighth Company", or "Xuefeng Special Operations Brigade"" Hongkongers soon realised these were some elite anti-terrorism troops.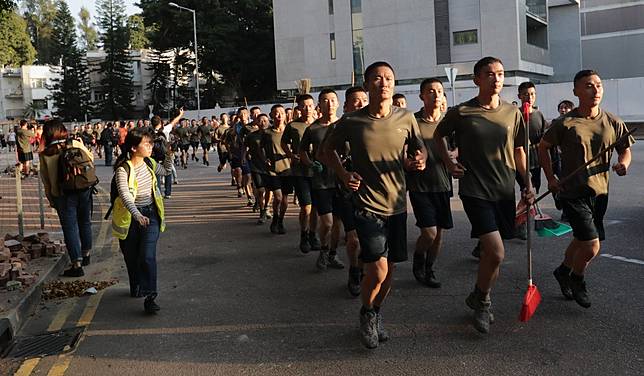 It was apparently a show of sovereignty, as well as a message of deterrence instead of a sign of immediate military action. And the peaceful manner in which it was conducted, helping neighbourhood residents, also signified a show of solidarity with and subtle morale boost for those trying to "rescue" the city themselves, at least in terms of restoring traffic, rather than wait for the government.
It raises the bigger question: where is this government anyway?
The underlying message of the PLA's hour-long roadblock-clearing operation certainly goes beyond a simple community activity " it could be the last wake-up call for this administration to get a grip on its leadership.
A military crackdown any time soon is not Beijing's preferred option as it expects Hong Kong to clean up its own mess. But will Beijing's remaining trust and patience run out?
Copyright (c) 2019. South China Morning Post Publishers Ltd. All rights reserved.