No one needs to hear Carrie Lam boast of her successes when the violence on the streets shows her agenda hasn't worked
That violence finally pushed her to tackle livelihood issues, but silence on the five demands won't calm Hong Kong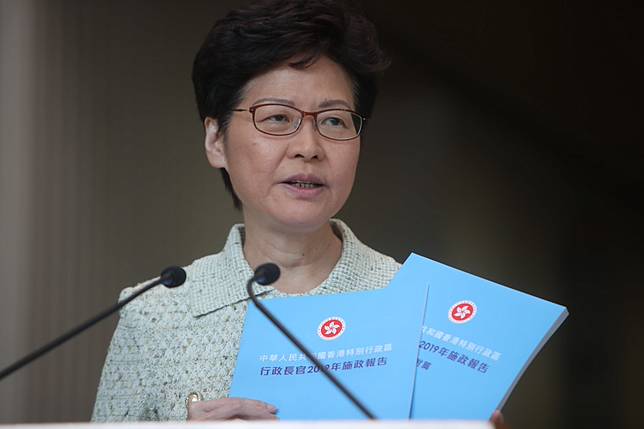 It must be a struggle to find a word for a leader who claims a 97 per cent success rate in her first two years in office when the city is reeling from its worst political crisis ever. Delusional? A better word is leitei. The literal translation is "off the ground" but in Cantonese the word means out of touch with reality.
Just how out of touch Carrie Lam Cheng Yuet-ngor is can best be measured in tear gas, rubber bullets, protests " peaceful and violent " and hundreds of young people who face years in jail for joining an uprising now in its fourth month.
Yet two days after radical protesters trashed the city, she boasted she had succeeded in achieving nearly all of the 500 policy initiatives she tasked herself with in the past two years.
I am unfamiliar with much of her initiatives but if her perfect record had improved lives, Hong Kong should be the world's most contented city. Maybe Lam should rename Hong Kong "Shangri-La" as her next initiative.
But the reality is Hongkongers are not living in nirvana. They are living in a hellhole she created. Even teenagers are throwing petrol bombs, clashing with the police and singing songs of freedom. Lam's approval rating has plunged to levels unseen before.
Yesterday, she tried again to make Hong Kong a happy place by using her annual policy speech to announce another 220 initiatives. Opposition legislators heckled her, forcing Lam to deliver the speech via video.
Does she still not get it? Most people no longer want speeches boasting about achievements. What they want can be counted on five fingers. It's called "five demands, not one less". This is what people, young and old, are chanting across town.
Make Hong Kong a democracy, if you can hear the angry people sing
No policy speech in recent memory had such potential to shape history, coinciding with Hong Kong's gravest political crisis ever. Lam could have recast herself by promising to try to make Beijing understand the deepest of Hong Kong's many deep-rooted problems is not housing but a fear of eroding autonomy.
This fear has long-festered in the psyche of Hongkongers as they watched their freedoms being chipped away through Beijing-ordered policies, ranging from the disqualification of election candidates to a national anthem law that forces patriotism.
How can Hongkongers not fear eroding autonomy when Beijing used a sledgehammer against the National Basketball Association after one of its executives tweeted his support for Hong Kong freedom? How can people not fear what will come next after Beijing forced Cathay Pacific to fire staff for peacefully supporting protests?
Lam could have used her speech to reach out by telling Hongkongers she understands their concerns and will relay them to her bosses. Instead, she squandered a speech that could have reshaped events.
Beijing waits for tide to turn in Hong Kong's crisis, but can Carrie Lam afford to?
This does not mean her speech was entirely out of focus. People do care about livelihood issues such as finding land for the city's housing crisis and extra funding for health care, education, the elderly and the needy. Hong Kong's unfair society where a handful of tycoons dominate our lives has long been a major grievance.
These grievances should have been tackled but our leaders lacked the grit, allowing them to breed. It took teenagers hurling petrol bombs to force Lam into taking at least some action.
But even though she prioritised housing, her overall speech was a damp squib. Not a single word about the five demands or meaningful policies to make our society fairer. Will it quell some of the violence? I don't know.
But the five demands, particularly an independent inquiry and political reforms, are the priority now, not livelihood issues. Being forced to deliver her speech by video, the first time ever for a leader, is a shape of things to come.
Lam chose blue for the cover of her speech, hoping its contents will bring back blue skies. She ended by predicting a rainbow will replace the political storm. Talk about wishful thinking.
Michael Chugani is a Hong Kong journalist and TV show host
Copyright (c) 2019. South China Morning Post Publishers Ltd. All rights reserved.