They are found to have aflatoxins or ochratoxin A, toxic compounds produced by fungi
For two nutmeg products, the amount of aflatoxins exceeds regulatory limits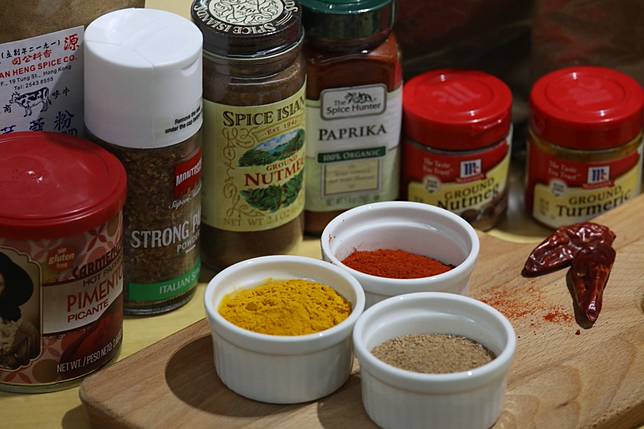 Hong Kong's consumer watchdog has found 23 spice products sold in the city contained substances that could cause cancer, with the amount in two goods exceeding local regulatory limits.
The Consumer Council revealed on Tuesday that more than half of the 44 dried spices tested were found to have either aflatoxins (AFs), ochratoxin A (OTA) or both.
AFs and OTA are mycotoxins produced by fungi, and carcinogenic, according to the International Agency for Research on Cancer (IARC).
It urged manufacturers to improve their production to minimise the chances of mycotoxin contamination during the process and to preserve the finished products in good condition.
"It's hard for consumers to tell which spices are problematic, so a quality check is very important," the council's chief executive Gilly Wong Fung-han said.
Among the 15 spices found to have AFs, the amount in two nutmeg products, often used to make western pastries such as pumpkin pies " went beyond the upper limit set by the Centre for Food Safety's regulations of 15 micrograms per kilogram (mcg/kg).
The IARC said AFs were linked to liver cancer and may affect unborn babies.
Deep-fried vegetable chips could contain twice the amount of carcinogen in potato chips, Hong Kong consumer watchdog warns
Ground Nutmeg from McCormick, marked as from the United States, contained 17.7mcg/kg of AFs.
Of the 17.7 micrograms of AFs, 12.4 micrograms were B1-type AFs " the most toxic kind of such mycotoxins " which exceeded the European Union's maximum limit of 5mcg/kg.
Another nutmeg product from Yuan Heng Spice Co was found to have 17.5 micrograms of AFs, of which 14.6 micrograms was the B1-type substance.
The council has asked the local food authorities to follow up.
The study found these and two other spice products exceeded the stricter cap of 10mcg/kg set by the European Union.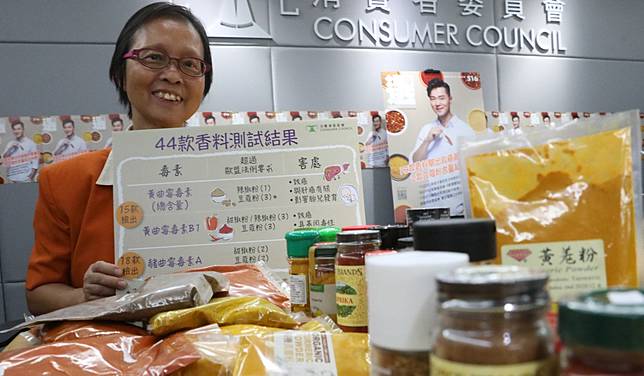 An agency representing McCormick argued the council's findings were abnormal, saying another test report by an independent laboratory suggested the product had less than five micrograms of B1-type AFs per 100kg. It said a small sample might produce unreliable results and that safety was its first priority.
Yuan Heng Spice Co's agency representative said its investigation suggested there had been problems when stocking the products and the company had recalled and destroyed the batch of goods in question.
Nora Tam Fung-yee, from the council's research and testing committee, insisted the test was conducted in accordance with international standards but admitted results from different batches might vary.
Vegetarian 'meat' in Hong Kong not as healthy as manufacturers claim, and one product contains animal traces: consumer watchdog
But Wong said no matter whether the manufacturers agreed with the results or not, they were responsible for finding out the cause of the problem and to check whether the products were safe to sell.
Meanwhile, the council's tests also found 18 out of 44 samples contained OTA, which could cause cancer. They included capsicum spp. spices and turmeric which are essential for making curry, as well as nutmeg products.
The council noted there was currently no regulatory oversight on the maximum concentration of OTA in spice products.
Wong said the European Union had such regulations and another international body also had a recommended upper limit, so Hong Kong should keep up with the times and the test results warranted attention.
In Hong Kong food culture, the application of spices is not in high quantity … So relatively, the seriousness is not that highGilly Wong, the Consumer Council's chief executive
"But we want to bring a little bit of comfort to consumers. In Hong Kong food culture, the application of spices is not in high quantity. Unlike other Asian countries which consume curry more and use it more frequently. So relatively, the seriousness is not that high," she said.
The council urged consumers to inspect the product packaging with care and check whether the spice was mouldy or had an unusual appearance.
It added once opened, the spice should be tightly closed and stored in a cool dry place.
Copyright (c) 2019. South China Morning Post Publishers Ltd. All rights reserved.