BEIJING, Sept. 24 (Xinhua) -- Here are the latest Chinese sports headlines over the past week:
1. China off to flying start at Women's Basketball World Cup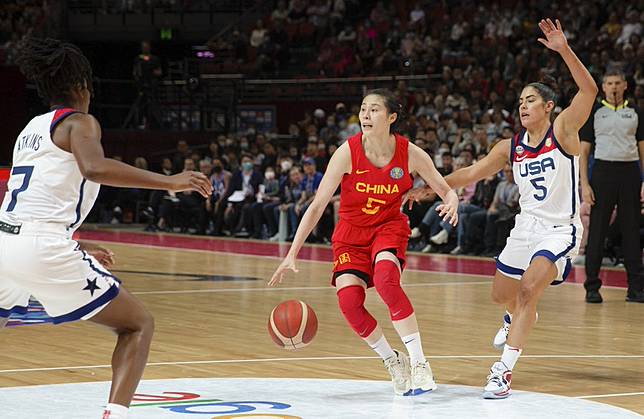 Wang Siyu (C) of China drives the ball with the defense of Kelsey Plum (R) of the United States during a Group A match at the FIBA Women's Basketball World Cup 2022 in Sydney, Australia, Sept. 24, 2022. (Photo by Hu Jingchen/Xinhua)
An aggressive Chinese team had a flying start as they enjoyed a crushing 107-44 victory over South Korea in the opener of the FIBA Women's Basketball World Cup held in Sydney, Australia on Septermber 22.
The next day, China outclassed Bosnia and Herzegovina 98-51 to register their second straight victory, as the two teams met for the first time on the world stage.
In their third game, however, China lost to defending champions the United States 77-63, despite a late surge in the second half.
2. CBA season tips off on Oct. 10 with regular season increased to 42 rounds
Zhu Rongzhen (2nd R) of Liaoning Flying Leopards shoots the ball during the final match between Zhejiang Lions and Liaoning Flying Leopards at the 2021-2022 season of the Chinese Basketball Association (CBA) league in Nanchang, east China's Jiangxi Province, April 26, 2022. (Xinhua/Wan Xiang)
The 2022-2023 season of the China Basketball Association (CBA) league will officially tip off on October 10, the CBA announced on September 23.
The first phase of the upcoming regular season will be played in a championship format at the Huanglong Sports Center and Hangzhou Stadium in Hangzhou, Zhejiang Province, with nine rounds of matches scheduled between October 10 and 30.
Twenty teams will participate in the new CBA season, which features a total of 42 rounds during the regular season.
3. Hangzhou Asian Games marks one-year countdown
Areial photo taken on Dec. 27, 2021, shows a view of China Hangzhou Esports Centre, a venue of the 19th Asian Games Hangzhou 2022 in Hangzhou, east China's Zhejiang Province. (Xinhua)
With all competition venues completed and test events held, Hangzhou is set to host a green and smart Asian Games as the "City of Heaven" commemorated one year to go to the opening of the postponed 2022 Games on September 23.
The 19th edition of the multi-sports Games, second in size only to the Summer Olympics, was scheduled to take place from September 10-25 in the capital of Zhejiang province. The COVID-19 pandemic forced the organizers to postpone the Games in May and then determine new dates - Sept. 23 to Oct. 8, 2023.
4. China finalizes roster for 2022 Women's Volleyball World Championship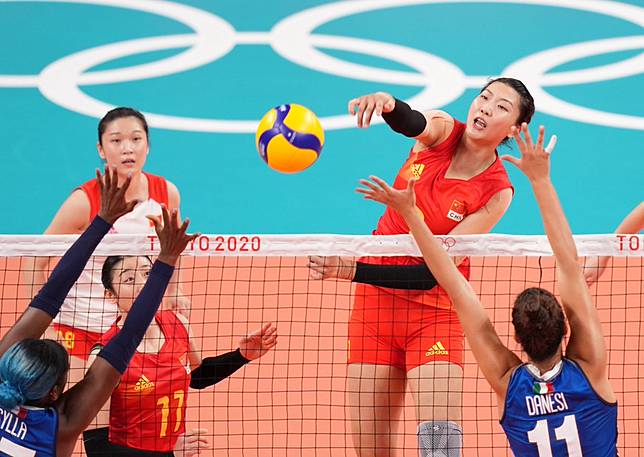 Yuan Xinyue (top) of China spikes the ball during the women's volleyball preliminary round match between China and Italy at Tokyo 2020 Olympic Games in Tokyo, Japan, on July 31, 2021. (Xinhua/Yang Shiyao)
China finalized its 14-strong roster for the 2022 FIVB Women's Volleyball World Championship, with eight players as well as head coach Cai Bin set to make their debuts at the worlds.
Veteran Yuan Xinyue will make her third appearance, but Zhu Ting and Zhang Changning are absent from the squad due to injury.
The Women's World Championship will take place from September 23 to October 15 in the Netherlands and Poland. According to the Chinese Volleyball Association, the team arrived on September 18 in Arnhem, the Netherlands, where they will play their Group D matches against Brazil, Japan, Colombia, Argentina and the Czech Republic.
5. Chinese footballer Wu Lei listed in 2022 Golden Foot Award nominations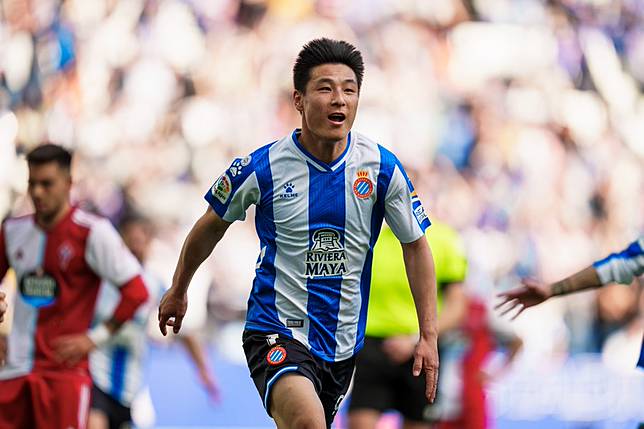 Espanyol's Wu Lei celebrates his goal during a La Liga match between RCD Espanyol and RC Celta in Cornella, Spain, April 10, 2022. (Photo by Joan Gosa/Xinhua)
Chinese international Wu Lei has been listed in the 2022 Golden Foot Award 30-man nominations alongside Lionel Messi, Karim Benzema and Neymar, the organizing committee revealed on September 18.
The men's candidates for its 20th edition this year includes a slew of stars such as Messi, Benzema, Neymar and Robert Lewandowski. Other Asian players on the list include South Korea's Lee Chung-yong and Son Heung-min.