Blame US exceptionalism for the seemingly widespread view of some US experts and Trump advisers that China threatens American values and freedoms – a threat the US needs to eradicate for good. Such a 'Washington consensus' is far from the truth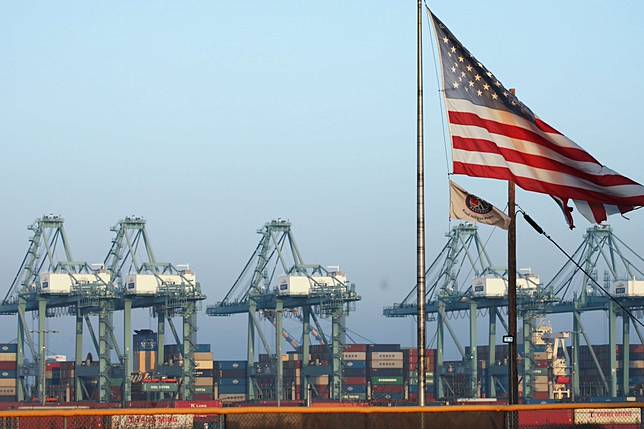 Watch the BBC's documentary Rivals " an assessment of the state of relations between the United States and China " and the irresistible conclusion is that the US faces a unique, existential threat that requires urgent and decisive action, to curb China's rising power and protect the US from its mendacious efforts to undermine the freedoms that the US stands for.
Expert after expert is interviewed to press the same conclusion. For example, General Robert Spalding, who was at the heart of drafting the US national security strategy and the author of Stealth War, How China Took Over while America's Elite Slept, said: "This is the most consequential existential threat since the Nazi party in WWII."
Weave in such expert views with those of the Hudson Institute's Michael Pillsbury, Samuel Huntington in his 1996 book Clash of Civilisations, University of Chicago's John Mearsheimer in his interview with Peter Navarro on "strangling China and the inevitability of war", and the works of Trump advisers such as Steve Bannon and Navarro in his books including The Coming China Wars, and it is easy to feel the force of a "Washington consensus" to put China in its place.
The message is that the perceived China threat is not simply a product of a paranoid White House but deeply embedded across US society, and that views will not change whether Donald Trump wins the 2020 presidential election or whether Democrats or Republicans control Congress.
The message aims to justify not just a tariff war, but systematic efforts to hobble China and its uniquely threatening economic and political system, to block Chinese access to US technology, to block Chinese international investment, and to block their academics from working in US universities. This is a Manichaean battle between the forces of good and evil in which the US is called upon, as the "exceptional power", to use all its moral and material means to contain China's malevolent progress.
US exceptionalism is not a new idea, as Cato Institute's John Glaser explores in a recent piece. For John Winthrop, governor of the Massachusetts Bay Colony in 1630, it would be America's responsibility as "a nation guided by God's Providence" to act. For Ronald Reagan, it would be America's responsibility as "the last best hope of man on earth, a haven of democracy and freedom in a world of tyranny". If it were Madeline Albright, Bill Clinton's secretary of state, she would excuse US exceptionalism just as eloquently: "If we have to use force, it is because we are America; we are the indispensable nation."
For those of us sitting in a different part of the globe, who do not see the world or China in such Manichaean, black and white terms, this emerging "consensus" is both ignorant and alarming. So it has been encouraging of late to see some strong resistance to it.
And I am not just talking about the 96-year-old Henry Kissinger speaking last week at an event hosted by the National Committee on US China Relations in New York, though his thoughts were sage as ever: "There is no doubt many aspects of the evolution of China are challenging to the US (but) a permanent conflict between them cannot be won. There will be a catastrophic outcome if it leads to a permanent conflict … It is no longer possible to think that one side can dominate the other."
Kissinger's thoughts echo the open letter to US President Trump and Congress titled "China is not an enemy", released in July by 100 leading US academics, foreign policy experts and business leaders: "Although we are very troubled by Beijing's recent behaviour, which requires a strong response, we also believe that many US actions are contributing directly to the downward spiral in relations."
Their letter made seven propositions which challenge the US military-intelligence "consensus".
First, the current approach to China is fundamentally counterproductive.
Second, Beijing is not "an economic enemy or an existential national security threat".
Third, efforts to decouple China from the US and the global economy "will damage the United States' international role and reputation and undermine the economic interests of all nations".
Fourth, the fear that Beijing will replace the US as a global leader is "exaggerated".
Fifth, the letter argues that China faces huge hurdles in becoming a dominant military power, and the "best way to respond to this is not to engage in an open-ended arms race (but) to work with allies to maintain deterrence".
Sixth, while China does not comply with Western democratic norms "it is not seeking to overturn vital economic and other components of that (global) order from which China itself has benefited for decades".
And finally, America's best approach to China is to create enduring coalitions with other countries, built on strengthening US capacity to serve as a role model for others.
In short, there is no "Washington consensus". Capturing the sentiments of Jeffrey Sachs from Columbia University in his new book A New Foreign Policy: Beyond American Exceptionalism, we have as much to worry about bad behaviour in the White House and its "new and vulgar strain of American exceptionalism" that is having such a powerful corrosive impact on respect for the US and its extensive "soft power", as we have to worry over China's disruptive ambitions.
For sure, China has a distinct civilisation and its own ways of wanting to do things that diverge from our own. But there is nothing in this to fear unless we wilfully make it so. There is nothing wrong in different societies or cultures having different ways of solving our common problems. On the contrary, these can bring fresh thinking, and challenge habitual practices that can over time lose fitness for purpose.
How the West can best manage China's re-emergence as a great power
For China's part, President Xi Jinping seemed sensitive to this at the recent Conference on Dialogue of Asian Civilisations in Beijing: "We should hold up equality and respect, abandon pride and prejudice, deepen our knowledge about the differences between our own and other civilisations, and promote harmonious dialogue and coexistence between civilisations."
For those in the Trump administration who seem to see the world as a Manichaean conflict between the forces of good and evil, it seems China is not to be understood, but to be quashed.
Surely this is foolish. At least a large community of US thought leaders have come out to agree " and to confirm, encouragingly, that there is no "Washington consensus".
David Dodwell researches and writes about global, regional and Hong Kong challenges from a Hong Kong point of view
Copyright (c) 2019. South China Morning Post Publishers Ltd. All rights reserved.
查看原始文章