Tariff war between the world's two largest economies has rippled through the semiconductor industry tied to the global roll out of 5G
Singapore, South Korea and Taiwan have seen sharp drops in growth this year due to declining electronic exports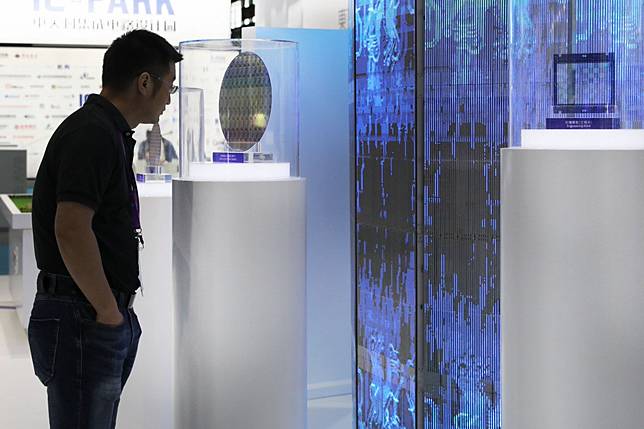 For the first seven years she designed semiconductors, Cindy Tam was never able to explain exactly what she did for a living to her family.
"The best they could understand was that it was something relating to computers," said Tam, the engineering manager of Hong Kong-based chip designer, Canaan Semiconductor.
That has changed over the past year, as the US-China trade war morphed into a battle over technology and US President Donald Trump banned Chinese telecoms giant, Huawei, from buying vital American-made chips, offering Tam an easier way of telling her parents what she did for work.
"It was very difficult until the Trump-Huawei situation happened," she said. "After that, I could say: 'I am working on those chips that the US is trying to block companies selling to Huawei.'"
More than any other industry " with the possible exception of soybeans " Trump has dragged semiconductors into the global spotlight. Now, the fortunes of the two seemingly incongruous commodities have become entwined. Soybeans and Huawei are unlikely bargaining chips in China-US trade talks.
But insiders say it is hard to discern exactly what impact the trade war is having. Both sectors have also suffered extreme supply chain shocks since July 2018, with the trade war coinciding with a major slowdown in electronics.
Ted Kok, owner of Canaan Semiconductor and Tam's boss, said that his company actually benefited from trade tensions until this year, as it was taking business from Chinese competitors who were subject to US tariffs.
"We sell more, but compared to 2017 we have around 70 per cent fewer customers. Half of them have closed down, the other half is trying not to produce any new products," said Kok, whose chips are used in watches, phones and amplifiers, and who said that the sector's problems are not tariffs alone.
Semiconductor sales accounted for a staggering 92 per cent of Korean export growth, a single product dependence more akin to an oil nationRory Green
Outside Hong Kong, large semiconductor-producing economies including Singapore, South Korea and Taiwan have also started feeling the pinch.
All three, which count China as a major trading partner, have seen sharp drops in growth this year, showing the twin perils of being overexposed to the electronics sector and the world's second largest economy.
On Tuesday, Singapore announced its non-oil exports fell 8.9 per cent in August, led by a 25.9 per cent decline in electronics, the largest exports after machinery and equipment. Electronic exports, of which semiconductors form a big chunk, have now fallen every month this year. In all but one of those months, the slump has been double-digit.
In South Korea last year "semiconductor sales accounted for a staggering 92 per cent of Korean export growth, a single product dependence more akin to an oil nation", said Rory Green, China and North Asia economist at TS Lombard.
With prices of some semiconductors falling more than 40 per cent this year, it is no surprise that Korea's exports have also fallen in every month of 2019.
"A lot of the downturn is tech-driven, as the drop is due to semiconductor contraction and also exports to China, which is also mostly (due to a fall in) semiconductors," said Natixis economist Trinh Nguyen of the Tiger economies.
The semiconductor sector is in part a victim of its own success. The slump can be partially be traced to the huge penetration of devices like smartphones, tablets and PCs in China, where people became first-time purchasers over the last decade.
"You cannot expect to have the same growth in demand in these segments when 83 per cent of the people in China, for example, have a smartphone," said Carlos Casanova, Asia-Pacific economist at Coface.
This has been exacerbated by a slower technology cycle " as new smartphone and tablet models are released, the upgrades are becoming more incremental.
In 2019, fewer people replace their phones. Apple shares fell this week after underwhelming pre-orders for its new iPhone 11. Reviewers said the new iPhone offered only minor improvements on older models.
You cannot expect to have the same growth in demand in these segments when 83 per cent of the people in China, for example, have a smartphoneCarlos Casanova
A few years ago, when each new phone upgrade almost guaranteed a technological breakthrough, the replacement cycle was shorter.
As a result, consumer electronics boomed and semiconductor prices soared, causing chip manufacturers to ramp up production. But as it slowed, prices fell accordingly. For example, the price of DRAM semiconductors, often used in graphics cards and video game consoles, is predicted to fall 42 per cent this year by research firm Gartner.
This has left manufacturers trying to shift a glut of chips at cut-price rates.
"Right now is the moment of oversupply, so the price is getting lower and the whole supply chain is trying to lower their inventory," said Ben Lee, an industry analyst for Gartner in Taipei. "They are now trying to dump the components."
Hopes have been pinned on the emergence of 5G technology, which would power smart manufacturing, autonomous vehicles and artificial intelligence. It requires huge memory capacity, driving semiconductor demand and offering a shot in the arm for Asia's export hubs.
But here the impact of the trade war is clear. Companies and governments have been holding back on 5G infrastructure investment due to the US-China stand off. Sources confirmed that this year alone, one major semiconductor firm has shelved plans for a new fabrication plant in Singapore, while a second company has postponed another factory upgrade because of the trade war.
It now looks like the global roll-out could well be regional, as Washington lobbies other nations to ban Huawei from their transition to 5G.
For those in the industry, there is frustration that the recovery has been "blocked" by Trump " especially with goods such as smartphones and laptops made in China set to be slapped with US tariffs on December 15.
The US is trying to block 5G, but it will be important in the years to come, and in some industries it already isAng Wee Seng
Ang Wee Seng, executive director of the Singapore Semiconductor Industry Association, said it was "very frustrating" that Trump was holding the industry hostage.
"The US is trying to block 5G, but it will be important in the years to come, and in some industries it already is " it is just a matter of time," Ang said.
The view that the next wave of wireless infrastructure is just around the corner permeates the debate. However, in the age of Trump, analysts' forecasts often come with a "trade war-dependent" caveat.
It makes it difficult to predict an electronics recovery and revival in the fortunes of Asia's Tiger economies in the near future.
"We were expecting this year to be the big replacement year, but increasingly it seems like maybe next year if not 2021. It is just a matter of time," said Casanova, the economist. "I mean, not even Trump can fight technological innovation."
For more insights into China tech, sign up for our tech newsletters, subscribe to our Inside China Tech podcast, and download the comprehensive 2019 China Internet Report. Also roam China Tech City, an award-winning interactive digital map at our sister site Abacus.
Copyright (c) 2019. South China Morning Post Publishers Ltd. All rights reserved.
查看原始文章