All 25 debutants saw their shares jump as an immediate buying spree took hold as trading opened at 9.30am
Regulators letting market forces play a decisive role is a breakthrough, says PwC partner and member of IPO review committee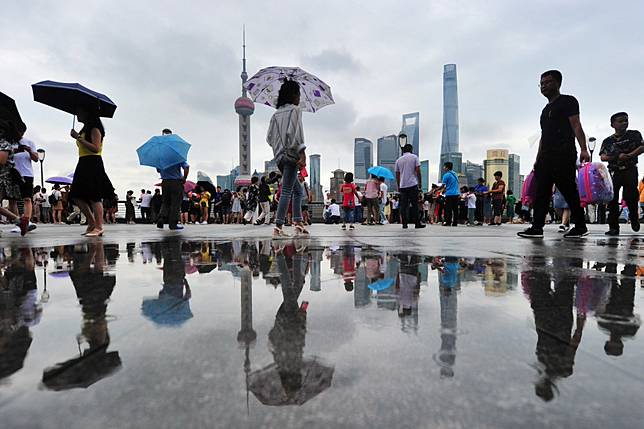 The Shanghai Stock Exchange's new Star Market got off to a suitably stellar start on Monday morning as all 25 debutants saw their shares jump.
The firms, spanning industries from microchips and biotechnology to artificial intelligence, were greeted by an immediate buying spree as trading opened at 9.30am.
Anji Microelectronics (Shanghai) got off to the best start as its shares opened 287 per cent higher than the initial public offering price.
By 10am, trading in eight companies had to be suspended for 10 minutes after they surged 30 per cent from their opening prices.
To curb over-speculation in the new market, the Shanghai exchange will halt trading for 10 minutes if a company's stock jumps or falls 30 per cent from its opening price during the first five days of trade. Another 10-minute suspension will be imposed if the rise or fall hits 60 per cent during intraday trading.
The new Nasdaq-style board, which debuted on Monday, underscores a profound shift in China's securities sector. But for many retail investors who have lost years of savings on the stock market, the Nasdaq-style board also represents an opportunity to recoup some of their money.
Hailed as a milestone in the transformation of China's capital markets, Star Market is expected to draw strong buying interest. The 25 companies that debut with the board are perceived as highly profitable and their shares are expected to soar.
Everbright Securities had forecast the 25 companies will see their shares surge 29 per cent on average on the first day of trading.
But Chen Qun, a retiree and experienced small equities investor, expected them to rise by a higher margin. "They are going to jump by at least 50 per cent and will continue to rise in the coming week," said Chen, who has more than 500,000 yuan (US$72,780) invested in mainland China-listed stocks. "A nearly 30 per cent gain on the first trading day will make them good buys, and I will certainly snap up shares."
About four million qualified retail investors with no less than 500,000 yuan in investment capital have registered to trade shares on the new market, according to China Business News. More than 100 million individual stock traders buy and sell on the regular mainland China bourses.
Star Market was ordered into existence by Chinese President Xi Jinping in November last year. It is aimed at helping Beijing sustain economic growth by funding technological innovation rather than through massive infrastructure spending. China's regulators have spent the past eight months preparing the ground for Monday's launch.
Star Market presents a new funding platform for Chinese start-ups amid the US-China trade war. Tensions between the world's two largest economies spread to the technology sector in May, when US President Donald Trump signed an executive order banning the use of equipment made by China's Huawei Technologies, the world's largest maker of 5G telecoms equipment.
"The launch of the new board is a fresh sign China has shifted its focus from quantity and pace to quality in driving economic growth," said Yu Peihua, general manager of mutual fund AXA SPDB Investment Managers. "China is highlighting the role of the capital market in bolstering technology companies, and encouraging them to conduct technological innovation."
The companies debuting on Star Market on Monday are involved in chipmaking, biotechnology, artificial intelligence and new materials " areas in which China wants to develop quickly. As of last week, 148 companies had applied to raise funds on Star Market through initial public offerings.
In May, Wu Qing, Shanghai's vice-mayor, said the city was mapping out a strategy called the Shanghai Programme, and would offer tax incentives and funding to key start-ups. The strategy is aimed at helping Chinese companies develop key technologies that might be cut off by US embargoes.
"Since it is part of the national strategy to support the companies due to list on the new market, it is certain their prices have huge potential to rise," said Chen, the small equities investor.
She is one of millions who lost savings during a roller-coaster in mainland China's A shares market. In mid-2015, a stock market rout wiped out US$5 trillion in capitalisation in just two months, leaving millions of small players with big losses.
Shares tend to surge by at least 30 per cent on debut in mainland China, as investors think they have been underpriced in the bookbuilding process.
"Initial trading in stocks listing on the board is likely to be very active, given the high profile of the new market," said Zhou Ling, a hedge fund manager with Shanghai Shiva Investment. Enthusiasm among investors could threaten Star Market's debut, he added.
But the Shanghai exchange has introduced rules to cool any buying frenzy when trading starts on the board. Companies can trade freely for the first five days and will be subject to a 20 per cent limit from the sixth day of trade.
Companies that debut on the regular board are allowed to trade with a 44 per cent daily limit on the first day, and thereafter are allowed to rise or fall by 10 per cent.
Meanwhile, the launch of Star Market could also lead to an escalation in competition between exchanges in mainland China and Hong Kong.
In April 2018, Hong Kong revamped its IPO rules to attract mainland Chinese firms, allowing companies with dual-class share structures and pre-revenue biotechnology start-ups to go public.
With Star Market, Beijing has, for the first time, allowed unprofitable technology companies, including pre-revenue biotechnology start-ups, to list in Shanghai.
Foreign-funded mainland Chinese companies using variable interest entities structures have also been welcomed through the issuance of Chinese depositary receipts, ratcheting up pressure on Hong Kong as it looks to regain the crown of the world's top IPO market.
Chinese regulators have adopted a new, registration-based IPO mechanism for Star Market. Under the new system, companies are required to fully disclose their earnings and operations in their IPO applications.
The Shanghai exchange will assess their documents before green-lighting their IPOs. Most significantly, the regulators will let the market decide the worth of the companies.
Over on the main board, the China Securities Regulatory Commission reviews IPO documents to ensure companies can sustain their earnings growth after listings. It also has a final say on the pricing of shares.
"The regulators will let market forces play a decisive role in IPOs," said Wang Xiao, a PwC partner who is also a member of the IPO review committee for Star Market. "It is a breakthrough in the nearly 30-year history of China's stock market."
Copyright (c) 2019. South China Morning Post Publishers Ltd. All rights reserved.
查看原始文章