Retailers close shops as travel banned in eight Hubei province cities
Many factories in Wuhan shut for Lunar New Year holiday, and questions remain whether quarantine will delay resumption of manufacturing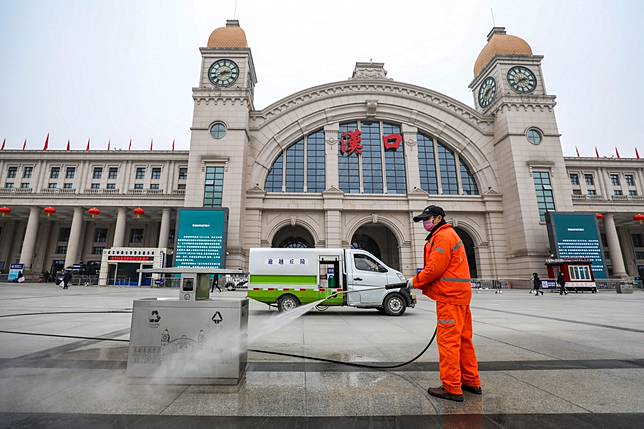 From Ikea to personal care manufacturer Beiersdorf, businesses are shutting their doors and telling employees to stay home in Wuhan, the epicentre of a viral outbreak that has killed more than three dozen and spread from China to as far away as the United States.
But, the question for corporate leaders is whether a travel ban in Wuhan and seven other cities in Hubei province amid fears over the spread of the coronavirus will keep workers home after the Lunar New Year holiday break, stifle the transport of goods from the logistics and manufacturing centre and keep consumers on the sidelines.
The businesses most directly affected, so far, have been transport and tourism-related industries with airlines cancelling flights, hotels waiving cancellation charges and travellers staying home during what is normally one of the busiest travel times of the year in the mainland. Some three billion trips were expected within China this year during the 40-day Lunar New Year holiday travel period.
"The 2002-2003 experience from Sars (severe respiratory acute syndrome) disease suggests that if we assume a similar scenario, we could see some short-term impact on consumption and tourism for a few months, but it is unlikely to impact manufacturing/industrial sectors," Suresh Tantia, senior Asia-Pacific investment strategist at Credit Suisse, said. "During the Sars breakout in late 2002, the public awareness rose in February-April 2003. During these months, China's retail sales growth moderated, but exports/imports and fixed asset investment were stable."
The Sars epidemic in 2003 afflicted more than 8,000 people in 37 countries worldwide and killed 299 people in Hong Kong.
Tanita said policymakers in China may be forced to step up monetary and fiscal easing to support growth if there is a slowdown in consumption in the mainland.
Banks advise caution in travel as Wuhan coronavirus outbreak worsens
The coronavirus outbreak in Wuhan has infected more than 1,100 people and resulted in at least 41 deaths with confirmed cases reported in mainland China, Hong Kong, Macau, Japan, Singapore, South Korea, Taiwan, Thailand and the United States.
Local officials have barred travel to and from eight cities in Hubei province: Wuhan, Huanggang, Ezhou, Chibi, Xiantao, Qianjiang, Zhijiang and Lichuan.
Trains, buses and ferries in and out of Wuhan were stopped at 10am on Thursday. Didi, the Chinese ride-sharing service, also said in a statement that it would halt services in Wuhan at noon on Friday at the request of local authorities.
Wuhan, a city of 11 million people, is an important logistics and manufacturing hub in central China, located equidistant from Shenzhen to Beijing in the south-north corridor, and from Shanghai to Chongqing in the east-west conduit.
It serves as an important transport link for China, both by air and the nation's network of high-speed railways. At the end of 2018, there were 430 high-speed trains that stopped in Wuhan daily, according to city data. The city's airport handled 2.9 million passengers in November, the most recent data available.
The city also is a major transshipment point along the Yangtze River, connecting Shanghai to China's vast interior. Nearly three billion tonnes of cargo " it costs a third less to move cargo by water versus over land " moved along the Yangtze River last year, according to China's Ministry of Transport.
Restricted movement in and around Wuhan could "have broader effects on the movement of goods and people", Shaun Roache, S&P's Asia-Pacific chief economist, said.
"A second complicating factor is that the city is also a key player in China's auto industry. Wuhan hosts production facilities for seven major domestic and foreign manufacturers, and for hundreds of auto parts suppliers. Complicated supply chains and just-in-time production could mean that production outages in Wuhan factories have broader spillover effects," Roache said.
Chinese tech firms react to Wuhan outbreak with slew of measures
Wuhan is home to nine car factories, including joint ventures with Honda and French carmakers PSA and Renault, and dozens of auto-parts suppliers. China's third largest carmaker, Dongfeng Motor is based there.
Dongfeng already halted production for the Lunar New Year holiday as previously planned on Thursday.
"The impact will be assessed after the weeklong holiday," a Dongfeng Peugeot Citreon official said.
Jefferies said on Friday that the outbreak could affect four plants operated by Dongfeng and its joint venture partners, with Honda's joint venture mostly likely facing the biggest disruption.
"Retail volume will be disrupted mildly, but production underutilisation could weigh on 1H20 earnings," analysts Alexious Lee and Fion Xuan wrote in a research note downgrading the company's stock to a hold.
For other manufacturers in the area, a big question will be how long the travel ban lasts and whether it will affect the ability of workers who have travelled home to other parts of China for the holidays to return and for factories to resume operations.
"We are monitoring the situation closely as employee safety is our top priority," a General Electric spokeswoman said. Wuhan Boiler Company became part of GE Power in 2015 after GE completed its acquisition of Alstom's power and grid business.
Manufacturers in the Wuhan area include Chinese smartphone maker Xiaomi, electronics component maker BOE Technology Group and German conglomerate Siemens.
"Siemens adheres to the guidance from relevant authorities, and has furthermore put in place a series of measures to protect the health of our workforce," the company said.
On Friday, China's Ministry of Human Resources and Social Security said companies had to pay and could not fire infected persons, suspected sufferers or people in close contact with them if they could not work. Companies who "suffer difficulties" in operations can, through negotiations with staff, adjust the pay, rotate shifts and shorten working hours of staff to prevent lay-offs, the ministry said, and eligible enterprises may also receive subsidies.
A spokeswoman at Beiersdorf, the Hamburg, Germany-based maker of personal care products under brands such as Coppertone, Labello and Nivea, said workers at its Wuhan unit " which houses its China supply chain hub and a regional research and development centre " have already been working from home ahead of the Lunar New Year holiday as the virus spread.
"They are all safe so far," she said. "We have established a group-wide coordination team to monitor the situation and will take measures if necessary."
SAP said its operations, as a technology company, can continue to operate virtually as needed. "So in the near term we do not foresee any significant impact to our business," the German software company.
How coronavirus outbreak in 'China's thoroughfare' could hit economy
A major concern for economy watchers in China is how the outbreak in Wuhan will affect consumer spending as retailers close their doors and people potentially shun going out to eat or visit the cinema. Several films expected to debut over the holiday period have been delayed as a result of the outbreak.
Ikea temporarily closed its store that employs 500 people in Livat Centre beginning on Thursday morning "considering the safety and health of our co-workers and customers", the company said. The 173,000 square metre (567,800 sq foot) shopping centre, which also has been closed, is located 12km (7 miles) from the city centre and features international retailers, such as Gap, Sephora and Zara.
"The experience of Sars suggests that while consumer spending is undercut in the months immediately following a viral outbreak, these losses can be recouped once the virus passes, as relieved consumers move ahead with delayed spending decisions," Imogen Page-Jarrett, a research analyst at The Economist Intelligence Unit, said. "In addition, the current presence of e‑commerce, which was a nascent industry during the Sars outbreak, also means that consumers have platforms on which to maintain their spending without visiting bricks-and-mortar establishments."
Additional reporting by Keegan Elmer, Daniel Ren and Ryan Swift
Copyright (c) 2020. South China Morning Post Publishers Ltd. All rights reserved.
查看原始文章