At least one warning shot was fired after three officers were chased and beaten by club-wielding demonstrators in Tsuen Wan
Crowd-control vehicles brought in after bricks and petrol bombs thrown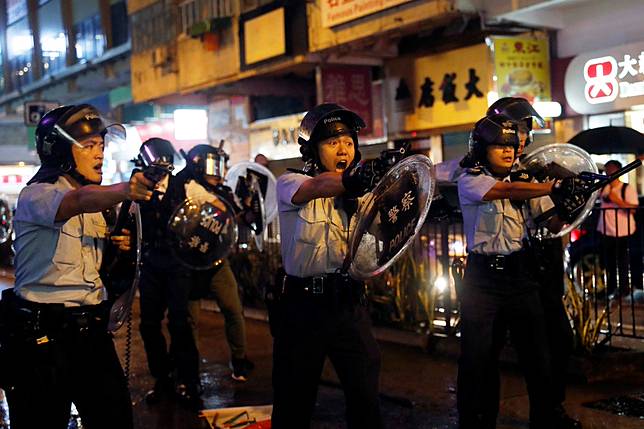 A gunshot was fired on Sunday and water cannon were deployed for the first time in Hong Kong's increasingly violent anti-government protests.
Three police officers, who were chased and beaten by a mob of club-wielding protesters, pulled their revolvers, with one firing at least one warning shot skywards at about 8pm on Sha Tsui Road in Tsuen Wan.
No one was injured by the gunshot. It was the first time a gun had been discharged since the protests triggered by the now-shelved extradition bill began 12 weeks ago.
Superintendent Leung Kwok-wing of New Territories South regional crime unit confirmed the incident, saying the warning shot was fired because "officers' lives were under threat". Five police officers were sent to hospital for treatment.
Water cannon were also used as riot police battled protesters who turned violent after a peaceful and lawful rally earlier in the day. Imported from France in May last year, the two purpose-built Mercedes-Benz vehicles were called into action to break up brick-throwing crowds occupying Yeung Uk Road and Texaco Road in Tsuen Wan.
It was the first time riot police had resorted to this crowd-control method and both sides acted with caution. Police shot a few salvoes but used the water cannon sparingly. The protesters, some of whom threw petrol bombs at officers, beat a hasty retreat once the vehicles moved in.
For a second successive day, Hong Kong had erupted into violence and chaos after a week's respite.
A government spokesman said on Monday morning it severely condemned the escalating violence of the protestors, which would push Hong Kong to the verge of a very dangerous situation. The police will seriously take enforcement actions.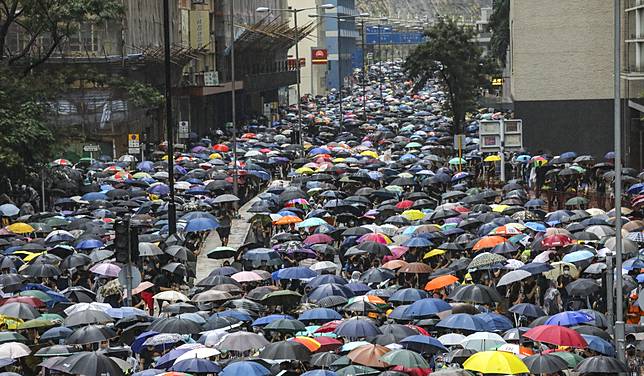 Police earlier approved the anti-government protesters' application to march from the Kwai Chung Sports Ground to Tsuen Wan Park, and despite stormy weather, thousands showed up.
Soon after the march began, some demonstrators broke off from the authorised route and occupied the major thoroughfare, building makeshift barricades and squaring off against riot police who arrived to reopen the road to traffic.
The crowd grew, and at 3.30pm a police source told the South China Morning Post that senior officers had agreed to deploy water cannon if the situation turned ugly.
As the tension rose, protesters began hurling bricks and at least eight petrol bombs at officers. At 5.30pm, police fired tear gas in an attempt to disperse the crowd.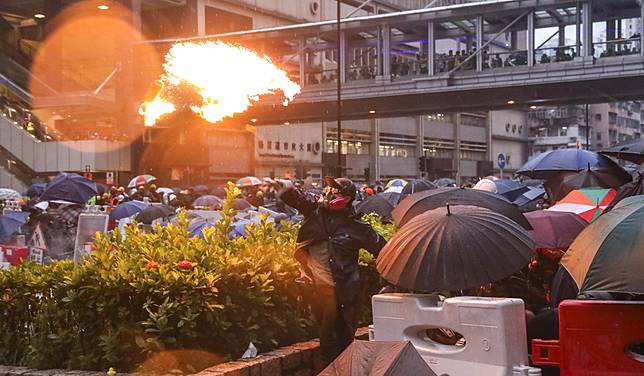 Wearing full protective gear, the protesters held their ground, setting fires on the road. Two water cannon vehicles were moved into position, while armoured vehicles were also deployed on either side to prevent the demonstrators from moving towards the side streets.
The water cannon vehicles each boast 15 high-pressure cannons that can fire more than 1,200 litres of water a minute over a distance of 50 metres. The water can be mixed with tear gas or liquid dye that would allow police to identify the main protagonists after they are dispersed. The police did not use the liquid dye in Sunday's operation.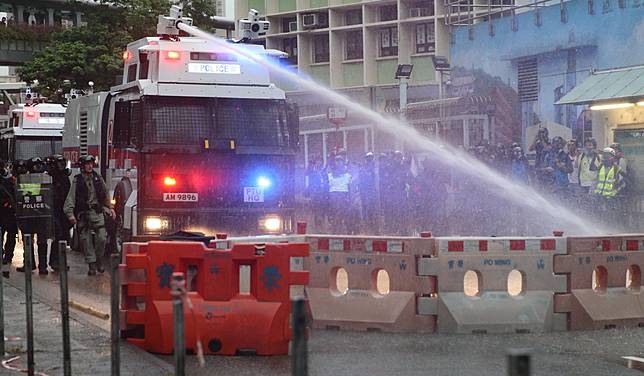 As soon as the water cannon vehicles arrived, the protesters retreated, and riot police moved in to clear the barricades from the road. The special tactical squad, also known as the Raptors, chased the protesters along Yeung Uk Road, making several arrests.
The protesters then regrouped at Tsuen Wan Park. Some went on to nearby Yi Pei Square, where they had earlier clashed with staff at a mahjong parlour. Several masked protesters pried open the parlour's iron gate with steel bars and smashed its windows. They surrounded police who had arrived to stop them and chased the outnumbered officers down the street. Amid all the chaos, three officers pulled their guns and pointed them at the protesters, who then dispersed.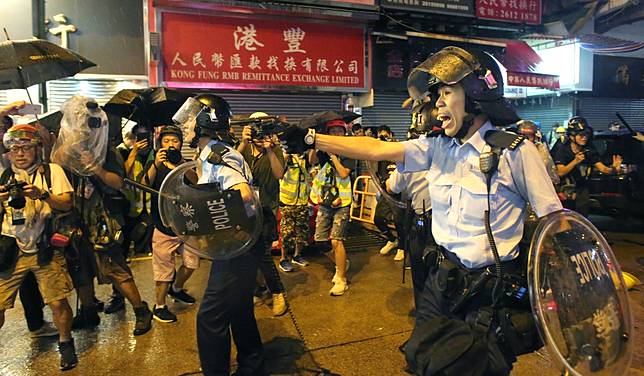 Later in the evening, some protesters went to Sham Shui Po to continue their fight with police, while scores of demonstrators went to the Cross-Harbour Tunnel in Hung Hom. They did not disrupt traffic, but vandalised toll booths and facilities.
Meanwhile, a photo published by Oriental Daily News showed a Chinese national flag lying sodden on the ground after it had been removed from a flagpole at the Kwai Chung Sports Ground.
At least eight people were injured in Sunday's mayhem.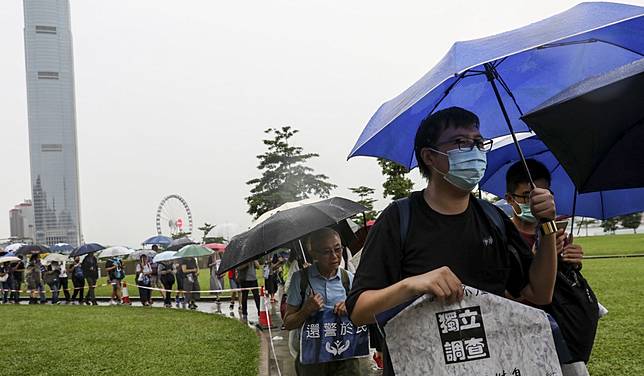 Earlier in the day, a few hundred people claiming to be relatives of police officers, along with supporters, gathered at Edinburgh Place in Central to call on the government to set up an independent inquiry into the use of police force.
They said the government should resolve the political crisis through political means, instead of hiding behind the police who were bearing the brunt of public anger.
But the four major police unions said the group was a rogue organisation and asked their members to tell their relatives not to join the event. An internal memo circulated among police officers claimed the Police Relatives Connection, which organised the Edinburgh Place rally, had been set up by people associated with the anti-government protests.
The city's embattled leader Carrie Lam Cheng Yuet-ngor, meanwhile, was nowhere to be seen despite the unprecedented level of chaos and violence on the streets. On Saturday, she posted a message on social media saying, "Everyone is tired and let's find a solution through dialogue".
But on Sunday, with a gunshot fired and water cannon vehicles on the streets, a return to calm in the city any time soon looked unlikely.
Copyright (c) 2019. South China Morning Post Publishers Ltd. All rights reserved.
查看原始文章