Japan's economy already contracted in the fourth quarter of 2019 due to a sales tax increase in October with the government drafting a record budget for 2020
Japanese factories depend on Chinese-made components, while retailers depend on big-spending Chinese tourists, both of which have been disrupted by the outbreak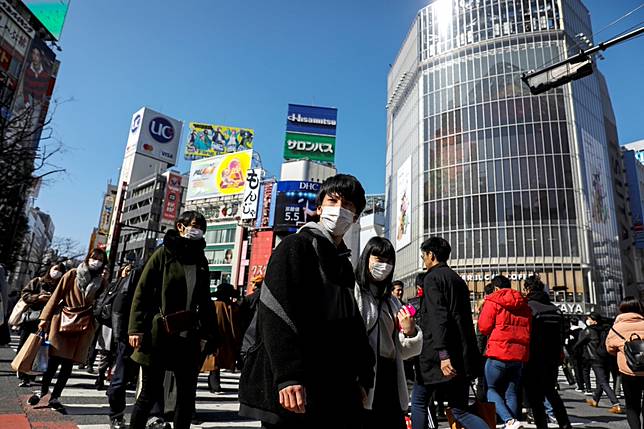 The rapid spread of coronavirus infections is posing a major threat to Japan's already weakened economy, which contracted in the final quarter of 2019 after a sales tax increase dampened consumer spending.
It is too early to say for sure whether Japan will slip into recession, but there are increasing concerns that economic growth may post a second consecutive decline in the first quarter of 2020, hit by slower production and consumption.
The government has already drafted a record 102.7 trillion yen (US$933 billion) budget for the upcoming 2020 financial year, starting in April, which includes 13.2 trillion yen (US$120 billion) in economic stimulus measures, but at this point, there is no prospect for any additional fiscal or monetary policy response.
The Bank of Japan, the nation's central bank, also has only limited scope for expanding monetary stimulus, since its highly controversial negative interest rate policy cuts profit margins for lenders and income for savers.
It is more important to focus on containing the virus. You must fix the leaking faucet first, instead of worrying about what damage the leaked water will causeShinichiro Kobayashi
It has also been buying massive amounts of government bonds and exchange traded funds, leaving the financial system awash with cash, but inflation is still far below its 2 per cent target.
"The government may offer emergency funding to small businesses and provide subsidies to firms that are maintaining employment," said Mitsubishi UFJ Research and Consulting economist Shinichiro Kobayashi. "But it is more important to focus on containing the virus. You must fix the leaking faucet first, instead of worrying about what damage the leaked water will cause."
Prime Minister Shinzo Abe on Wednesday urged the public to "cancel, postpone or scale back national-scale sports and cultural events for the next two weeks" He also announced on Thursday that all schools would be closed from Monday until the spring break, which usually starts around March 25 and ends around April 5.
But on Friday, Japan's health minister Katsunobu Kato said there was a chance schools could be closed longer than one or two weeks, depending on the spread of the coronavirus outbreak.
If the government fails to contain the spread of the deadly virus within a few months, there is a risk that Tokyo may have to cancel the 2020 Olympic Games which are expected to take place from July 24 to August 9. It is estimated Japan will spend a total of 1.06 trillion yen (US$9.6 billion) on the Olympics and Paralympic Games.
The 2002-2003 severe acute respiratory syndrome (Sars) crisis infected more than 8,000 people worldwide, leading to 774 deaths, mostly in China and Hong Kong, with no deaths reported in Japan.
In contrast, the coronavirus has already led to over 180 domestic cases and four deaths in Japan in addition to over 700 cases on the Diamond Princess cruise ship, while the total number of cases worldwide has surpassed 83,000 with over 2,800 deaths.
"There were global pandemic risks in the past during the Sars and bird flu outbreaks, but Japan has never been directly confronted by virus infections like this," added Kobayashi.
The consensus among Japanese economists is that domestic demand will slump in the first quarter, but pent-up demand among consumers who are now avoiding restaurants and resorts should lead to a rebound in spending that will support growth in the second quarter, on the assumption that the virus outbreak is under control by April.
"The downside risk is that if the virus shows no signs of abating, prompting people to hold off on spending during the cherry blossom viewing season (in early April) and the golden week holidays (in early May), they may give up spending and save money instead, in which case pent-up demand may disappear," Kobayashi said.
It is not the first time that Japanese manufacturers have been hit by supply chain breakdowns, but the uncertainty over when Chinese factories will be able to bring production fully back online and when consumers will resume international travel is posing an unprecedented threat to domestic production that depends on Chinese-made components and to Japanese retail sales that increasingly rely on visitors from overseas, particularly big-spending Chinese tourists.
China's (gross domestic product) accounted for just 4 per cent of the world output in 2003 (during the Sars outbreak) but its share rose to 16 per cent in 2018Akiyoshi Takumori
"China's (gross domestic product) accounted for just 4 per cent of the world output in 2003 (during the Sars outbreak) but its share rose to 16 per cent in 2018," Akiyoshi Takumori, chief economist at Sumitomo Mitsui DS Asset Management, said. "The share of Chinese among foreign visitors to Japan also surged to 30.1 per cent by 2019 from 8.6 per cent in 2003."
Massive flooding in Thailand in 2011 wreaked havoc on the supply chain networks of Japanese carmakers and electronics firms just as they were recovering from the drag from the March earthquake and Fukushima nuclear meltdown. In 2012, bilateral territorial disputes over small islands prompted Chinese consumers to boycott Japanese products, hitting exports immediately, although in each case, there were no Chinese cities under lockdown or factories that shutdown.
Last year, Japan's gross domestic product grew just 0.1 per cent in the third quarter from the previous three months, and contracted 1.6 per cent in the fourth quarter, triggered by a sales tax increase to 10 per cent from 8 per cent that took effect at the start of October. It was the largest fall in growth since the 1.9 per cent plunge in the second quarter of 2014, when the sales tax was last raised to 8 per cent from 5 per cent.
In the wake of a global credit crunch and a plunge in world trade, Japan's economy slumped 2.4 per cent in the final quarter of 2008 before suffering a sharper 4.8 per cent dip in the first quarter of 2009.
On Friday, official data showed Japan's factory output rose more than expected in January.
Factory output rose 0.8 per cent in January from the previous month, a faster expansion than the 0.2 per cent gain in a Reuters forecast. This followed a downwardly revised 1.2 per cent rise in the previous month, the first advance in three months.
Manufacturers surveyed by the Ministry of Economy, Trade and Industry expect output to gain 5.3 per cent in February and slump 6.9 per cent in March, the data showed.
The February forecast was based on company's plans for the month up to February 10, meaning that output cuts due to the coronavirus after that date are not included in the forecast, a ministry official said.
I'm aware of views that if the virus spreads, it could have a huge impact on the economy. We're therefore watching developments carefullyShinzo Abe
"The level of production is still low. It is possible that February output may show a decline," he told the South China Morning Post.
At this point, however, the ministry upgraded its view for the first time in six months, saying production is "taking one step forward and one step back while it has a weak tone." Last month, it simply said production had a weak tone.
Also on Friday, Japanese Prime Minister Abe repeated his earlier remarks that the government would take policy steps if needed to ensure the coronavirus outbreak does not inflict damage to the economy.
"I'm aware of views that if the virus spreads, it could have a huge impact on the economy," Abe told parliament. "We're therefore watching developments carefully."
Additional reporting by Reuters
Copyright (c) 2020. South China Morning Post Publishers Ltd. All rights reserved.
查看原始文章