Pro-establishment lawmaker Junius Ho expects about 36,000 people, including those from mainland China, to join 'Clean Up HK' mission across city on Saturday
Protesters in their counteraction called 'Lennon HK' plan to restore the walls at night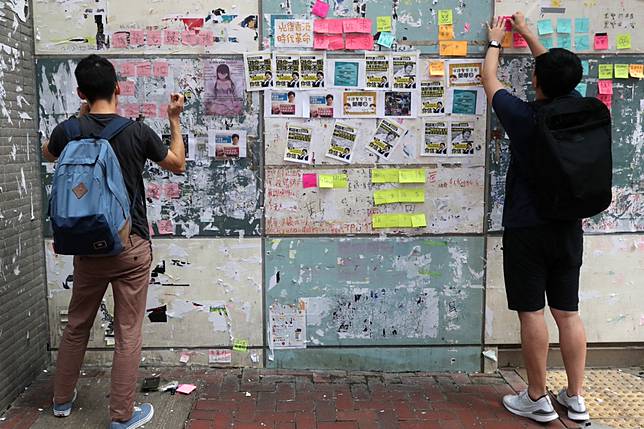 Hongkonger Kwok passes a pedestrian subway outside Tai Po Market MTR station every day, and each time he voluntarily restores Post-it notes and fliers on the city's largest Lennon Wall, bearing messages in support of the anti-government protests.
Kwok " who wanted to be identified only by his surname " is a 26-year-old student who lives in Tai Po, a residential district in northern Hong Kong. He says he occasionally sees people tearing up the notes and fliers, and torn pieces lie strewn on the ground, but he is not worried about it.
"We all have reached this consensus that tearing things is OK for us, as we will just put them back and restore the wall's lost glory," he says. "But if anybody crosses the line and attacks us first, I think we have the right to protect ourselves."
Kwok's remarks somewhat echo the response of many other pro-democracy protesters who help to maintain numerous Lennon Walls that have sprung up across Hong Kong, as pro-establishment lawmaker Junius Ho Kwan-yiu has urged the government's supporters to clean up the city from the various signs of the protests.
Ho, who has become a controversial figure in the protest movement that has engulfed Hong Kong for about four months, has urged residents to join the "Clean Up HK" mission on Saturday to "protect the environment, tear off the trash that affects the city, clean the walls, and cleanse the hearts of the people".
In response, protesters have announced on social media their action named "Lennon HK", describing their plans to restore the walls on Saturday night.
"The significance of the Lennon Walls lies in their resistance from oppression," the online post states.
But Ho announced on his Facebook page in the early hours of Saturday that "for the sake of safety, we will not clean Lennon Walls, only street litter."
"We will not clash with anyone, and we will clean up the environment in a peaceful, rational manner," he said.
Ho also said in the post that the clean-up action was legal, and would focus on clearing litter, illegal fliers and abandoned items from public areas.
About 36,000 people " some from mainland China " would join the action, he added.
The original Lennon Wall was set up in the 1980s in Prague in the Czech Republic, which was covered with graffiti and lyrics inspired by the Beatles.
A Lennon Wall with colourful Post-it notes next to a staircase at Hong Kong's legislature in Admiralty was a landmark feature during the 2014 Occupy movement, where people made their voices heard by sticking the notes on the wall.
But the ongoing protests " the city's biggest political crisis since its handover from British to Chinese rule in 1997 " have seen more Lennon Walls appear not only in landmark and popular areas, but across 18 districts. The walls have been the flashpoints for violent clashes in recent months.
How Hong Kong's Lennon Walls became showcases for art and design
A 50-year-old man allegedly stabbed three people, including a journalist, at a Lennon Wall in a tunnel between King Lam Estate and Chung Ming Court in Tseung Kwan O in August. He was later arrested.
Last Saturday, clashes broke out between protesters and pro-Beijing supporters after the latter cleared a Lennon Wall near Amoy Plaza shopping centre in Kowloon Bay. Another such wall was also cleared in Fortress Hill.
But despite Ho's clean-up call, protesters were not found to be present in large numbers to safeguard the walls.
On Thursday night at Tai Po's Lennon Wall, the Post did not see any organised activity to protect the structures despite observing for about 3 1/2 hours. Some pedestrians added new notes and a few others tore them down occasionally.
It was a similar scene at the Lennon Wall in Tseung Kwan O too.
The walls in Tai Po and Tseung Kwan O are better maintained, compared to those in Causeway Bay and Fortress Hill. Notes and fliers from the Lennon Wall on a footbridge in Causeway Bay have mostly been torn off.
Masked group defaces Hong Kong Lennon Wall in Tai Po
After witnessing the previous clashes, the city's district councils remain concerned about Saturday's clean-up action.
Kwun Tong District Council member Yip Hing-kwok says he is concerned about possible clashes, and will step up security in the area.
"We have no idea where and when they will go, but I hope they won't come here. We will increase supervisory staff in the shopping malls and residential areas, and ask shops to close early if necessary," he says.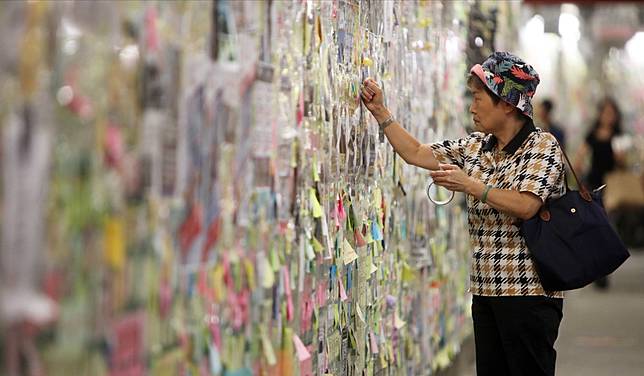 "I am particularly concerned as Tseung Kwan O's Lennon Walls caused clashes earlier," he says.
"Some residents have said they will not confront those who come to tear up the notes. They will put the notes back later," he says.
Police said on Thursday night they received a notice from the organiser about cancellation of the action. But Ho later clarified on Facebook that he only withdrew the application for a letter of no objection from police for the drive as he felt it would not require any clearance from the force. The clean-up drive will still take place on Saturday as scheduled, he said.
The Post has contacted Ho over the matter.
Copyright (c) 2019. South China Morning Post Publishers Ltd. All rights reserved.
查看原始文章