Plain-clothes police say better tactics are needed while extra equipment cannot protect them from people who want to 'take officers' lives by any means'
Source says officers have never been so angry, and the reason is because society glorifies radical protesters while putting all the blame on the force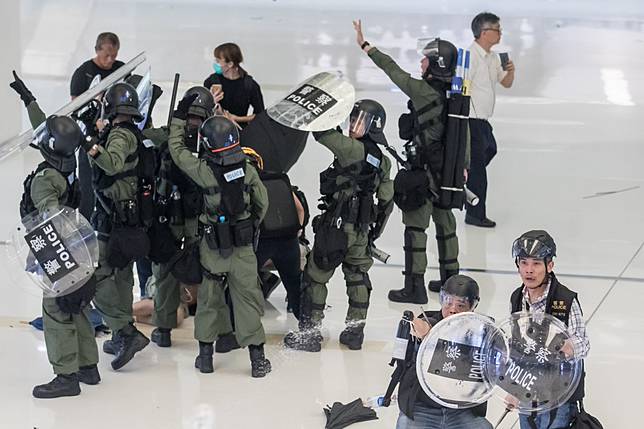 Anger among frontline police has reached boiling point as the Hong Kong public continues to see them as the enemy despite the escalating violence with extradition bill protesters leaving more than a dozen officers injured, insiders say.
Plain-clothes police officers told the Post on Tuesday that better operational tactics were needed and that extra equipment could not protect them from "zombie-like" protesters who acted as though they wanted to "take officers' lives by any means".
The frontline officers were referring to the unprecedented violence at the New Town Plaza shopping centre in Sha Tin on Sunday, when 13 police officers and 15 demonstrators were injured in vicious clashes following a large rally in the New Territories town.
A sergeant lost part of a finger while a constable was kicked off an escalator and brutally assaulted by youths as he fell to the ground. Two officers were initially in a critical condition after they were hit by hard objects, believed to be bricks, in the head and stomach respectively.
Four officers remained in hospital as of Tuesday evening.
The worsening violence and increasing desperation in the force sparked a meeting between the four police associations, representing junior officers, inspectors, overseas inspectors and superintendents, and the top brass on Monday.
An insider said officers had never been so angry, and it was not down to the frequent verbal assaults they endured, but because society glorified the radical protesters and put all the blame on the force.
"It seems everything the protesters do can be justified and forgiven, even when they attack us with rods and bite off one of our fingers. But whatever we do is wrong," said the source, who attended Monday's meeting.
"Many Hongkongers have lost their rationality. We, as law enforcers, uphold the rule of law but now we cannot even exercise the power given to us by the law.
"What else can we do?"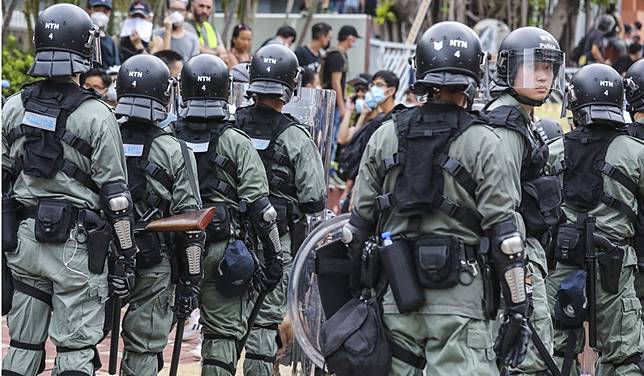 But he said morale was high.
Another senior officer, speaking about their frustrations, said it appeared the force had become the public enemy during the ongoing political fiasco over the now-suspended bill, adding that he dared not tell people: "I am a police officer."
He said some colleagues had even asked him whether they should declare police as their occupation in their children's school application forms.
They broke the law in front of us, but we were asked to let the lawbreakers goSenior police officer
He was saddened and frustrated with the force's tolerant approach to violent protesters during clashes at recent rallies.
"They broke the law in front of us, but we were asked to let the lawbreakers go. Protesters will think we are useless," he said. "They will become brazen and use more violent action next time."
The management also promised to improve protective gear for plain-clothes officers on the front line, mostly detectives who were there to collect evidence. These detectives, equipped only with a helmet and extendable baton, were often attacked by the mobs.
Protesters are demanding the complete withdrawal of the bill, which would have allowed the transfer of fugitives to mainland China and other jurisdictions with which Hong Kong has no extradition deal.
The Post spoke to two detectives who were deployed to New Town Plaza on Sunday. They both said better protective gear would not help as detectives normally worked in a small group and so were easy targets. What they needed were better tactics and for plain-clothes officers to stick closely with riot police.
How a peaceful rally led to bloodshed and chaos in Hong Kong mall
"When a few of us are surrounded and assaulted by 30 to 40 protesters with metal rods, umbrellas and bricks, better protective gear may just help us buy five more seconds from injury. Don't forget, the protesters grabbed our helmets. They really want to kill us," one detective said.
"We are not Wing Chun master Ip Man who could fight 10 karate black belts. Even an elite member of the Special Duties Unit could die in such a situation.
"What if a protester throws a petrol bomb at us?"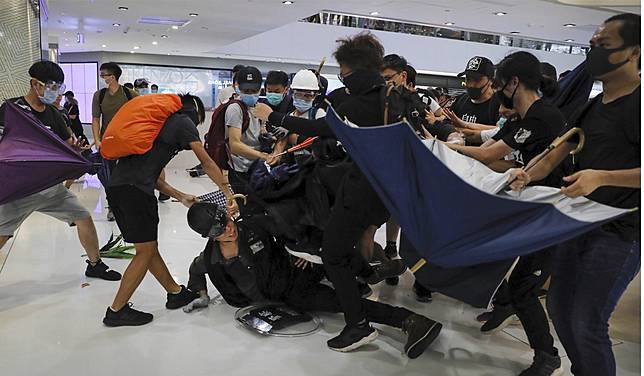 The second detective, whose legs were bruised in clashes, said protesters threw full plastic bottles from a height at his head and beat him up in the mall as he was helping people to leave. A cola bottle burst open on his helmet, he said.
"I was like a dartboard. Protesters kept throwing objects at me," he said. "It was like the movie Train to Busan. Protesters are like zombies. Any officers acting alone will certainly die in such violent clashes as protesters outnumber us and we are trapped."
Carrie Lam offers solace to injured police as protest violence intensifies
Police's personnel wing issued an internal notice on Tuesday evening, saying the force understood injured officers and their families had suffered emotionally and that it would provide every possible support.
The Hospital Authority also promised to give appropriate treatment to injured officers after some complained about impolite medical staff.
Separately, a private car was vandalised in Hung Hom on Tuesday morning with the words "F*** cop" sprayed on it. A police spokesman confirmed the incident occurred, adding it was not a police car and not thought to belong to an officer.
Copyright (c) 2019. South China Morning Post Publishers Ltd. All rights reserved.
查看原始文章