Roads reopen in Central and Sheung Wan and public transport resumes
Clean up continues as people arrive to start work in city's business district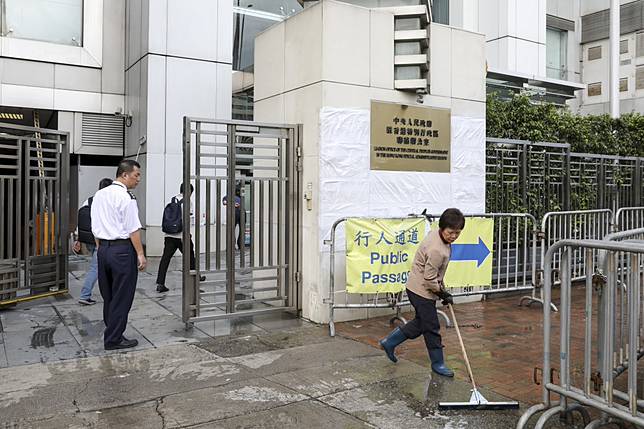 Hong Kong's business district slowly returned to normal on Monday after police and protesters clashed overnight.
Roads were cleared for vehicles in the morning, the MTR ran as usual, and rubbish was swept aside in the hours before people arrived for work in Sheung Wan and Central.
Services at Yuen Long MTR station also resumed normal service, and opened at 5.44am after being the scene of unprecedented late-night violence, in which men in white T-shirts attacked black-clad protesters and passengers, injuring 45 people, including journalists.
The pan-democratic district councillors in Yuen Long plan to stage a protest outside the area's police station at 11.30am on Monday, after some people accused officers of deliberately letting the assailants leave.
The separate outbreak of late-night violence took place while protesters in Wan Chai, Central and Sheung Wan were facing off with riot police. At around 10.30pm the attackers ran onto trains, and used rods to attack passengers and chased after anyone wearing black, witnesses said.
An online petition started by 34 people, including 25 doctors and seven educators, has demanded that police arrest those responsible for the Yuen Long attack.
They also asked the government to respond to the public demands made weeks ago, including forming an independent inquiry to look into the protests, and urged Chief Executive Carrie Lam Cheng Yuet-ngor to step down.
As of 8.40am on Monday, more than 2,600 people had signed the petition.
Yuen Long station had been closed at 11.55pm on Sunday at the request of police, and of the 45 people who were injured, one was listed as critical, five were serious, 16 were stable, and the remaining 23 had been discharged.
The Civic Party also condemned the violence in Yuen Long and accused the police of failing in their duties.
It said in a statement on Monday morning that many people had tried to contact the police for help after the attacks happened, but the calls were either disconnected, or officers had not arrived more than 30 minutes later.
The party also quoted some people who said they were told by officers on the phone, "not to go out if they were afraid".
"The Civic Party strongly condemns violent behaviour and the neglect of the police in their duties, and also feels angry with the government for failing to respond to public demands," the party stated. "The government should be fully responsible for the deeply divided situations currently seen in society."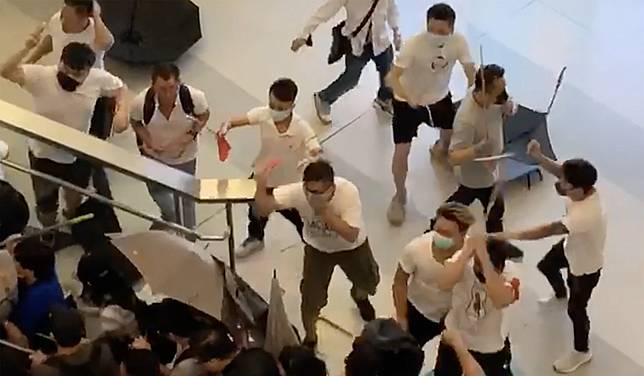 In a statement, the management of Yoho Mall, a shopping centre next to Yuen Long station, expressed "shock and regret" after some people were attacked in the passage connecting it and the station.
The mall said it could not get in touch with police after the attacks took place.
"Staff from the service office and people in the mall made calls to police for help after they had noticed people were attacked, but they failed to get in touch with the police," the statement said.
It said it arranged for some people who were assaulted to be taken to the podium of its residential area, and provided them water and first aid. Staff in the mall also offered initial medical care to the injured, who were later sent to hospitals after ambulances had arrived.
The violence followed another massive anti-government march from Causeway Bay to Wan Chai on Sunday afternoon, which later broke up into rolling waves of protests that spread to Admiralty, Central, and Sheung Wan.
The Civil Human Rights Front, the organiser of the march earlier in the day, said 430,000 people attended, while police put the figure at 138,000 at its peak. Some of those who stayed behind after the peaceful march gathered outside Beijing's liaison office in Sai Ying Pun and threw eggs at the front of the building, the symbol of Beijing's presence in the city.
They also spray-painted obscenities on the walls, blackened out security cameras, and shone laser light beams at staff trapped inside, before they retreated when they were warned riot police would move in to clear the area.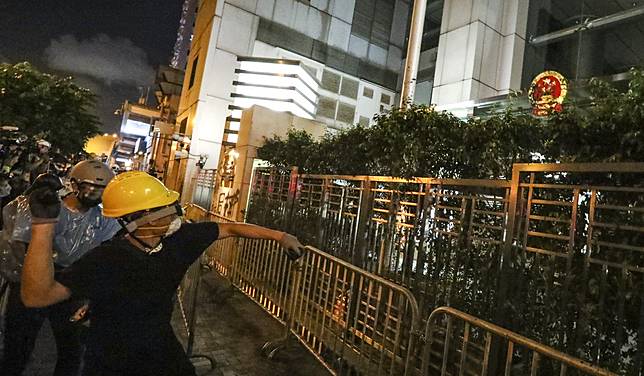 Riot police fired tear gas and rubber bullets into crowds of protesters to chase them off the streets, and by 1am protesters had mostly left Sheung Wan.
On Monday, former chief executive Tung Chee-hwa, now vice-chairman of China's top political advisory body, condemned protesters who defaced the national emblem at the liaison office.
"It was very heartbreaking and infuriating to see the acts of protesters besieging and storming the office of the Central People's Government in Hong Kong and defacing the national emblem on (Sunday night)," Tung wrote in a statement released on Monday morning.
"The acts of intentionally insulting the national emblem was blatantly challenging the national sovereignty and the authority of the Central People's Government, and has seriously hurt the feelings of all people in the country. (Those acts) must be strongly condemned and be dealt in accordance with the law."
He said a small number of people made use of the tolerance in society, and had affected Hong Kong's economy and social order, and harmed the relationship between the mainland and Hong Kong.
Order was restored by Monday morning, with rubbish, umbrellas, face masks and flowers piled next to orange bins outside Shun Tak Centre in Sheung Wan.
Traces of the clashes were still visible, with spray-painted slogans on roads and bridges, bricks missing from pavements, broken eggs, and displaced fences.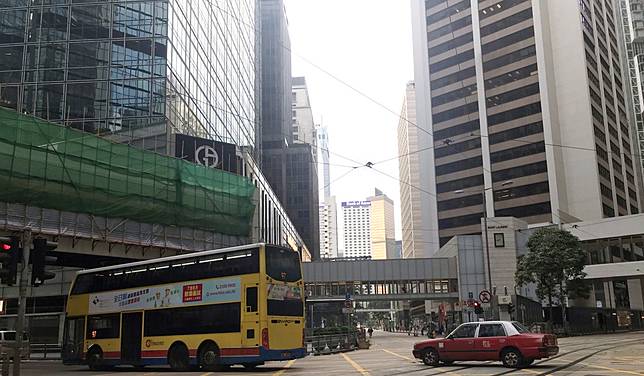 At least half a dozen cleaners were seen in the morning, and one of them said there was too much rubbish, and she would not be able to finish clearing it before the end of her shift.
"There are many bricks in one of the bins, but it's too heavy for me to pick them up," she said. "I will clear the crucial ones on the streets first so that they don't get in the way of people going to work."
But most workers found their morning commute was largely unaffected.
"I go to work by bus and everything is normal this morning," Jason Fok, a 30-year-old banker working in Central said.
Another worker in Sheung Wan, who gave his surname as Cheung, said traffic had been affected on Sunday night as he returned home, but everything was back to normal by the morning.
"I usually take the bus, but had to take the MTR at 9 last night to go home as roads were blocked. This morning it was fine. I could take the bus again," the 60-year-old restaurant worker said.
New World First Bus and Citybus routes resumed normal service, but KMB said lines 914P, 914X, 960X and 968X would be diverted, although no bus stops would be affected.
But in Kowloon Tong, train services were briefly disrupted on Monday morning in what appeared to be a part of a non-cooperative movement by extradition bill protesters.
Messages that called on people to paralyse MTR stations circulated around popular online forum LIHKG on Sunday in response to the attacks on protesters in Yuen Long.
About a dozen protestors tried to block a train going towards Tiu Keng Leng by standing in between train doors at around 9:30am,
"We demand to know what happened in Yuen Long last night," one of the protestors yelled towards MTR staff. They also tried to get the names of MTR employees.
Some people heading to work were angered by the disruption, and one man dressed in white got into an argument with a small group of protestors.
"You all are disrupting everyone else from going to work, you are all so uncultured," he said.
Trains returned to normal around 15 minutes later, but with an increased police presence on the platforms.
Additional reporting by Rachel Yeo
Copyright (c) 2019. South China Morning Post Publishers Ltd. All rights reserved.
查看原始文章