Owing to Hong Kong's colonial history and role in global affairs, the city's relationship with Beijing is vastly different from the equally complex cross-strait relations
Extrapolating from events in Hong Kong to forecast Taiwan's future is a mistake, and a setback for Taiwanese democracy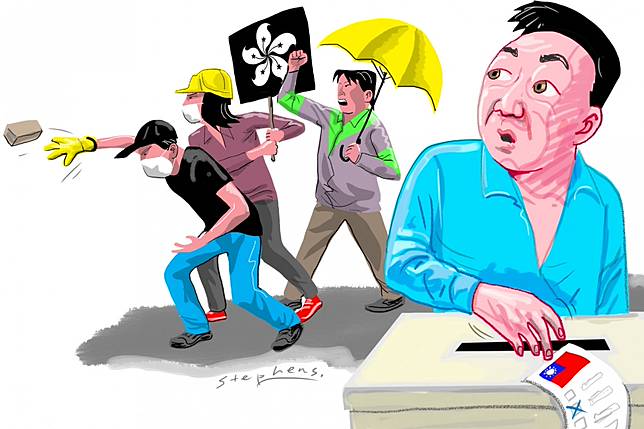 There have been signs of a new democratic maturity in Taiwan, particularly since 2014 " the electorate has been more welcoming of off-centre independent politicians, the traditional dualistic political positions of the two main parties have been questioned, and there have been clear signs of a public rejection of the predominant "Chinese fear" rhetoric on cross-strait issues.
Presently, however, mere weeks away from the Taiwanese presidential election, a barrage of confused information and reportage on the Hong Kong protests is distracting the Taiwanese electorate from debating very pressing domestic issues.
Many policy proposals have been announced at rallies or on social media with little elaboration. Strikingly, Kuomintang candidate Han Kuo-yu doesn't yet have a website that lays out his manifesto. In many ways, this is a retrograde step in Taiwan's political economy.
For such reasons, it is worth pointing out just how different the Taiwanese relationship with China is compared to that of Hong Kong's.
An industrially and militarily dominant, and highly aggressive colonising nation, Britain took Hong Kong from China in 1842 through the Treaty of Nanking following its military victories.
When Britain was forced by international law to return the colony to Chinese sovereignty in 1997, many key British elements were retained " no general elections, a patrolled and maintained border with mainland China, relative press freedom compared to the rest of China, many of the earlier British colonial statutes, and so on.
If it had adopted a more aggressive stance, China could at that time have made Hong Kong simply another region, with political status and regional governance the same as in its special economic zones or other advanced areas, with no other allowances.
Certainly, there would have been no convincing legalistic argument stemming from the international community that could have forbidden such a process.
Hong Kong development will probably pan out along completely different lines, and certainly not ones that act as some blueprint for Taiwan's future
In fact, China left Hong Kong very independent within a formally communist regime, because it wanted a high degree of open commercial communication. This enabled the Chinese stock exchange in Hong Kong to become a major global player, encouraging flows of technique, expertise and finance into China from the West and Japan.
Hong Kong's effective Chinese status lies to a large extent in the role it has played and can continue to play as a conduit for the modernisation and internationalisation of the mainland economy, as a source of soft power.
China has benefited from this fairly astute programme, and so too has the US, Taiwan and the world system itself.
None of this can be said for the Taiwan case, rendering it incomparable. From a Chinese perspective, Hong Kong never pretended to rule or represent China, as Taiwan did in the repeated proclamations of the Kuomintang and then in the United Nations (until the UN General Assembly expelled Taiwan altogether in 1971).
We might usefully remember that it was as late as 1991 that KMT president Lee Teng-hui finally announced the formal end to war with the mainland. Remember, too, that Hong Kong was not a democracy in any full sense under the British; nor was it militarily or politically modelled within the US cold-war strategy or seen as a crucial ally of the US, as Taiwan was and is.
These are profound contrasts, and they are not softened by the present trade and strategic conflicts between China and the US. So, in the near future, Hong Kong development will probably pan out along completely different lines, and certainly not ones that act as some blueprint for Taiwan's future.
Such an argument would lead to the conclusion that the Taiwanese have every right to comment critically on the Hong Kong situation, and to continue that critique as they see fit.
However, this is far from agreeing that the situation in Hong Kong should be the determining element in the coming presidential election. A major feature of the world today is the rise of "distraction capitalism".
Writing from Brexit Britain, we can hardly fail to notice this, nor can anyone subjected to the overwhelming flow of perturbing rhetoric that emanates from the White House. In both leading democracies, elections are in danger of being decided on issues that are essentially distractions from the underlying problems of mature capitalist democracies.
These include problems of the environment and ageing populations, of terrorist attacks from non-democratic systems, and of the stark failures of growth, productivity and welfare in the face of rising government expenditure. A destabilising populism eagerly exploits all such failures.
How populist politicians have become the markets' best friends
The problem is that discussions of what is happening in Hong Kong now are directly leading to the idea that Taiwan is under imminent threat. Yet as we have seen, for China, Taiwan is not Hong Kong. Taiwan does not represent " and has never represented " the degree of international degradation felt by the Chinese imperial system in the 19th century when Britain so aggressively colonised that island and led the process that destroyed Chinese economic sovereignty.
For such reasons, jumping from the present malaise in Hong Kong to any consequential threat to Taiwan seems premature at least. It may also be dangerous for the health of Taiwanese democracy and an indicator of the widespread trend towards a global "distraction capitalism", away from mindful democratic decision-making.
Ian Inkster, PhD, is professorial research associate at the Centre of Taiwan Studies, SOAS, University of London, and a senior fellow at the Taiwan Studies Programme, China Policy Institute, University of Nottingham. Hsin Hsin Victoria Chang is in the graduate school in international social and public policy at the London School of Economics
Copyright (c) 2019. South China Morning Post Publishers Ltd. All rights reserved.
查看原始文章