This is not a problem for Beijing to resolve; it is the authorities in Hong Kong who have been lax in making timely decisions that could have headed off the escalation to what is now a full-blown crisis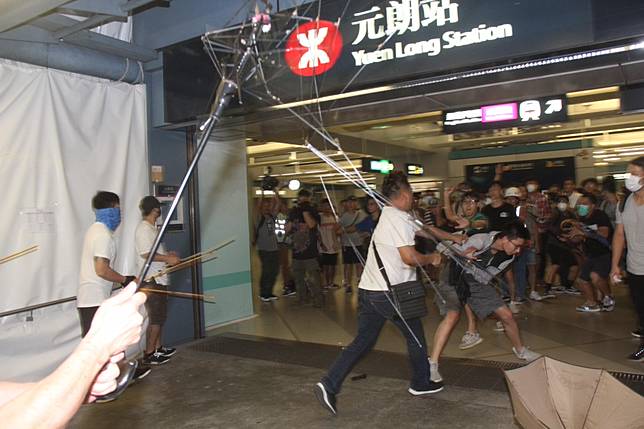 There has been no darker day for Hong Kong since its return to Chinese rule 22 years ago than Sunday's extremist events.
Sovereignty was directly attacked at Beijing's representative office in the city by radical protesters hurling insults and abuse and defacing the national emblem of China. In the New Territories, an armed mob terrorised commuters at Yuen Long MTR station, leading to at least 45 injuries, one critical.
Chief Executive Carrie Lam Cheng Yuet-ngor can no longer stand by and expect others to solve a problem that is ultimately of her government's making; she has to go beyond condemnation by taking decisive action, while police have to swiftly arrest the perpetrators.
Yuen Long and other towns in the New Territories have been paralysed by fear and uncertainty. Shops were closed Monday and banks, businesses and institutions told staff to go home early to avoid potential trouble.
Even US consumer tech giant Apple closed five of its retail stores in Hong Kong in the afternoon to allow staff to go home early. Its sixth store, in Kwun Tong, did not open for business Monday.
The concerns are understandable after Sunday night's violence in Yuen Long, in which white-shirted thugs attacked commuters, demonstrators returning from Hong Kong Island wearing black shirts conspicuous among them.
Cornered in train carriages and on platforms, the victims could only call on officers for help. But with the protesters having ignored demands that they end their rally at Southorn Playground in Wan Chai by pushing through barricades, leading to demonstrations at several other locations, police resources were stretched. Police argued that there was an inevitable delay in reinforcements arriving and, by then, the attackers had fled.
But this has seriously further damaged trust between officers and citizens, which needs to be rebuilt as the force's commissioner acknowledged Monday. Police need to allay concerns and do their utmost to protect citizens. Those involved in the outrage have to be identified and promptly arrested.
Hong Kong can no longer claim to be the safest of cities, too many are disregarding our cherished rule of law and for some, police are no longer "Asia's finest", revered and respected. The arrangements that have made our city so successful financially and economically can too easily collapse if law and order is not restored.
Crossing the line
Shocking messages have been sent to mainland China and the world by the radicals who descended on the liaison office in Western district intent on vandalism and disrespect. Two masked men made five demands, among them that a provisional legislature be set up by popular vote. That is not realistic.
Black paint was plastered over the nation's emblem, lewd words scrawled on the building's walls and damage caused to surveillance cameras. The actions have crossed the line of sovereignty, understandably attracting condemnation from authorities and many people from different sectors, including mainlanders.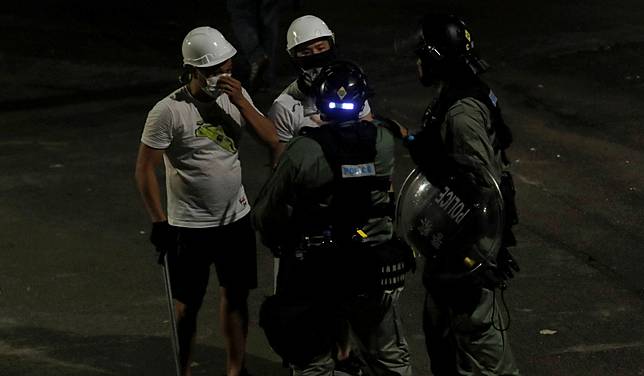 The Hong Kong and Macau Affairs Office said on Sunday night that the actions had "touched the bottom line of the principle of 'one country, two systems'" and was "absolutely intolerable". Wang Zhimin, the director of the liaison office, said all Chinese people had been offended.
But with Beijing about to discuss and review its policies towards Hong Kong, such actions also take on a deeper meaning for relations. There is a possibility that hardliners will now take a tougher position towards the city.
No quick and easy fix exists. It is not for Beijing to resolve; its repeated calls for Lam and her government to prevent bloodshed is its extent and no one can dispute such expectations.
But local authorities have been lax in making timely decisions that could have headed off the escalation to what is now a crisis. Society is so divided that citizens are pitted against one another and police have been put in a difficult situation, accused of being political and anti-protest, but also expected to ensure law and order.
Uncharted territory
Lam's government has responded poorly to the demands made during six weeks of some of the biggest protests Hong Kong has experienced. Satisfying calls for authorities to decisively withdraw the extradition bill at the root of the agitation or set up an independent commission of inquiry into police actions may not be enough to cool tempers.
Most immediately, though, there has to be a thorough investigation into the violence at Yuen Long, a promise made by Lam yesterday. Police have to also act promptly to clear their name.
Some citizens worry that Hong Kong's streets are no longer safe. Arrests and accountability for what has occurred are the least that should be expected. But violence and vandalism also cannot be tolerated, including towards the central government and nation.
Hong Kong has entered uncharted territory and Lam and her administration and police have to quickly grasp circumstances.
The role of police is obvious; they have to ensure law and order and prevent violence and, for that, they need the support of Hongkongers. A dangerous situation has been created in which some people believe they can break the law with impunity and that has to end.
There can no longer be a "them and us" atmosphere between protesters and officers. But it is Lam and her government that have the most work to do. They need an all-embracing strategy to return Hong Kong to a positive direction of common goals. Hatred, rather than goodwill, abounds. There is every need at this time of crisis for governance and leadership.
Copyright (c) 2019. South China Morning Post Publishers Ltd. All rights reserved.
查看原始文章