The German bank plans to cut 18,000 jobs globally, close its equity sales and trading business
Realignment will open up new capital for technology investments in Asia, new hiring in wealth management, according to Werner Steinmueller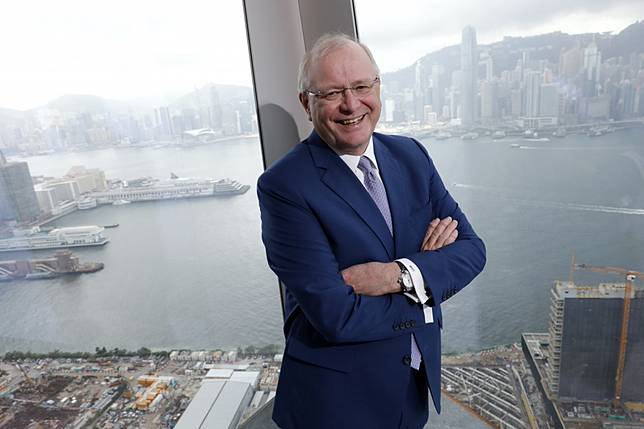 Deutsche Bank is cutting 18,000 jobs and shuttering its equity sales and trading business worldwide as part of a massive restructuring after years of struggling with profitability, but Werner Steinmueller sees opportunity in the upheaval.
The bank's Asia-Pacific chief executive said the capital released by closing the equity trading operations will allow the company to reinvest in its Asian business, expand its corporate bank in parts of the region and add jobs in its wealth management business " its fastest growing business in Asia.
Steinmueller declined to discuss how many people will lose their jobs in Asia as a result of the overhaul, but said the effect of withdrawing from the equity business in the region will be "minimal".
The company employed 19,732 people at the end of 2018 in the Asia-Pacific region, with about two thirds working in back office and support functions in India and the Philippines that serve the business globally. Following the restructuring, Deutsche Bank will employ about 74,000 people worldwide in 2022.
"I'm getting more investments," Steinmueller told the South China Morning Post. "Number one (is) in the corporate bank. We already started, but with the new strategy, we are accelerating investments in China and Australia for example, as well as in technology. We want to expand our range of transaction banking services in Australia, such as cash management."
Last week, Deutsche Bank said it would exit equity sales and trading, resize its rates business and accelerate the wind-down of its non-strategic operations as part of a massive overhaul of the bank under Christian Sewing, who was named chief executive last year. It is also targeting Euro6 billion (HK$52.9 billion) in cost cuts over the next three years.
Deutsche Bank revamp to cost US$8.3 billion and 18,000 jobs
Sewing is the bank's fourth person to hold the CEO title in the past five years as the bank has been hit with years of losses and repeated debate over its direction. The troubled bank reported its first full-year profit since 2014 last year, but has struggled to achieve the level of returns of its American rivals.
Before the latest restructuring effort, Deutsche Bank considered a merger with German rival, Commerzbank, but that proved to be unpopular with shareholders and merger talks ultimately fell apart in April.
Sewing described the latest overhaul as a "fundamental rebuilding" of the bank and a return to its roots.
"This is a rebuilding which, in a way, also takes us back to our roots. We are creating a bank that will be more profitable, leaner, more innovative and more resilient," Sewing said in a message to employers posted on the bank's website. "It is about once again putting the needs of our clients at the centre of what we do " and finally delivering returns for our shareholders again."
Deutsche Bank has declined to provide a regional breakdown of the potential job losses, but the bulk of cuts from the closure of equity trading business are expected in New York and London, where the company has larger trading operations.
As part of that effort, the company said it would create a new division that combines its global transaction bank and its German commercial banking business, known as the corporate bank.
"Cutting back volatile, capital-intensive and underperforming sales and trading activities, and further reducing the cost base should improve profitability and strengthen leverage, but execution risks are high," Fitch Ratings said in a note. "The outlook is evolving, indicating that the rating could move in either direction over a one-to-two-year horizon."
Fitch said the bank could see its BBB rating upgraded if it makes significant progress in refocusing on activities with a better risk-return profile and capital usage and sees stronger returns from its core commercial banking, private banking, asset management and smaller investment banking businesses."
Laid-off expat bankers struggle to find new jobs in Hong Kong
Steinmueller said Deutsche Bank is "performing well" in Asia and intends to allocate resources to markets and business lines where it is strong, including making a bet on the future potential of the Asian market.
The Asia-Pacific business reported revenue of Euro3.15 billion last year, accounting for about 12 per cent of the bank's overall revenue.
"Asia Pacific is a market for investment for the bank," Steinmueller said. "The APAC franchise has a good performance. In nearly all products, we had revenue increases and profitability in the first quarter. In fact, it was a record result for many years. So we are a growth area and getting the investments."
Steinmueller said that the corporate banking business and fixed income have been key revenue drivers for the bank and it is seeing close to a double-digit growth rate in its wealth management business.
The investment will come in the form of technology investments and expansion in new markets, such as Australia where Deutsche Bank has a minimal corporate banking operation and sees the potential for expansion, Steinmueller said.
"Coming to the investments, it is going, of course, in fixed income. Our strength is undoubtedly on the lending side, structured lending, global credit, and distressed loans," Steinmueller said. "On the transaction banking side, we are investing in people and markets, such as to serve our multinational clients on the subsidiary side, which today, we are not able to do. (We are making) people investments on the wealth management side. This is key in order to continue to grow this business."
Trade war to boost German firms in China, says Deutsche Bank's Asia chief
Steinmueller said that China and India are very important markets for the bank going forward.
"We want to grow substantially our China business, so about 10 per cent of revenue growth every year. Onshore, we are fully licensed. We have a full product range. In transaction banking, where we are very strong in China, with both inbound and outbound business," Steinmueller said, "it means that we are dealing with both multinational clients with operations in China, and large Chinese corporates wanting to expand offshore."
Deutsche Bank acted as a financial adviser on Ant Financial's US$14 billion private placement in June 2018, advised BMW on taking a 75 per cent stake in its joint venture in October and was a sponsor on Tencent Music Entertainment Group's US$1.1 billion initial public offering in the US in December.
Steinmueller said that 88 of the company's top 100 clients, including European and American companies, use Deutsche Bank in the region.
"We make 70 per cent of our revenues outside of Germany and Asia plays a key role there," he said.
Steinmueller said the company is closely watching the opening up of the financial services industry in China, including the potential to take 100 per cent stakes in joint ventures in the next few years.
"We are following this development very carefully," he said. "If we can do it and it fits in our business model, we will consider this option."
Copyright (c) 2019. South China Morning Post Publishers Ltd. All rights reserved.
查看原始文章