About 200,000 rural communities with 24 million people go into lockdown as other parts of the country start to ease restrictions on movement
Bans on playing mahjong and cards, and road traffic limited to police vans, ambulances and other official vehicles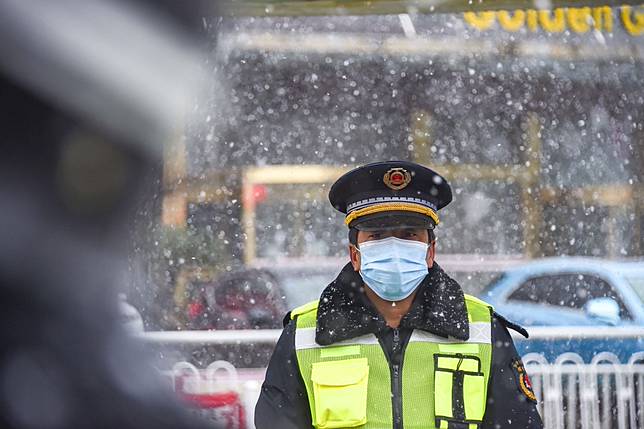 The central Chinese province of Hubei escalated its restrictions to contain a coronavirus epidemic on the weekend, ordering the province's residents " including 24 million people in rural areas " to stay home until further notice.
The orders came as the death toll from the outbreak neared 1,700, including reports of the first death in Europe and Taiwan on the weekend.
But the central government said on Sunday that the number of new cases of the disease, now known as Covid-19, fell for a third day in a row on Saturday.
A 60-year-old man who had a chronic disease died of complications from pneumonia and septicaemia on Saturday, becoming Taiwan's first death from the coronavirus, Taiwanese Health Minister Chen Shih-chung said.
"The man had not travelled abroad. Because Singapore has reported quite a few examples of coronavirus with no travel history we decided to check if he was infected and found he tested positive for the virus," Chen said.
He said the man had worked as an unlicensed taxi driver, and his passengers were mostly from mainland China, Hong Kong and Macau.
On board the cruise ship quarantined off the coast of Japan, another 70 people tested positive for the coronavirus, bringing the total number of cases on board to 355 and prompting US, Canadian and Hong Kong authorities to make emergency evacuations plans.
Separately, a United States citizen who arrived in Malaysia after disembarking in Cambodia from the MS Westerdam cruise ship tested positive on Saturday, fanning fresh concerns of more cases.
The coronavirus was first reported in December in the city of Wuhan in Hubei, and has
infected about 70,000 people and seriously disrupted China's economy.
Hubei, a province of 58 million, accounts for over 80 per cent of the confirmed cases and 96 per cent of the deaths in China. On Saturday, Hubei reported 1,843 new cases out of a nationwide total of 2,009 and 139 of the 142 new deaths across the country.
The central government has identified Hubei as a key battleground in the war against the epidemic, with authorities imposing unprecedented draconian social controls.
Under new rules introduced on Sunday, each one of the province's 200,000 or so rural communities will be sealed off with only one guarded entrance. Similar restrictions will apply to urban residential compounds.
Entry will be restricted to community residents and vehicles, and only one person from each household will be allowed to leave the village every three days to buy essentials.
"In principle, every villager should stay at home. If he really needs to step outside, he has to wear a mask and keep a minimum 1.5 metres from other people," the regulations say.
"All leisure and entertainment venues shall be shut down and all group activities shall be suspended. Weddings should be postponed, and funeral processes minimised … Visiting other households is strictly prohibited, as is playing mahjong and card games."
The province also announced that only police vans, ambulances and other specially licensed vehicles will be allowed on roads in Hubei.
The measures come three weeks after China shocked the world by announcing a lockdown in Wuhan, controls that were later imposed in other cities.
But now the central government is trying to balance the need to contain the outbreak with the need to return life to normal in places where the situation is controllable.
Many other parts of the country are relaxing controls on movement as they answer President Xi Jinping's call to revive production.
Still, urban centres and coastal areas, which face a wave of returning migrant workers after the extended Lunar New year break, are maintaining rigid check on new arrivals. Beijing, for example, has a 14-day mandatory quarantine for people entering the city.
As part of its public health measures, the Guangzhou branch of the People's Bank of China has also decided to destroy all banknotes collected from wet markets, hospitals and buses that have high exposure to the virus, according to mainland news outlet Caixin.
Mi Feng, a spokesman for China's National Health Commission, said in Beijing on Sunday that the existing measures had yielded initial gains in containing the spread, citing as evidence the declining proportion of seriously ill among the confirmed cases in Wuhan, Hubei and China.
World Health Organisation director general Tedros Adhanom Ghebreyesus also praised Beijing's response to the outbreak again on Saturday, saying China "has bought the world time".
In a speech to the Communist Party's top echelon, the Politburo Standing Committee, on February 3, but not published until Saturday, Xi said that Beijing's overall judgment and response to the coronavirus had proved right.
"Generally speaking, the central party leadership's judgment over the situation is right, the deployment of various works was timely, and the measures taken are effective," he said.
At the same time, many key questions remain unanswered, including the origin of the virus.
Speculation about the source prompted a Chinese virus research institute located at the epicentre of the coronavirus outbreak to deny links to the first patient diagnosed with the disease.
Additional reporting by Agence France-Presse and Reuters
Purchase the China AI Report 2020 brought to you by SCMP Research and enjoy a 20% discount (original price US$400). This 60-page all new intelligence report gives you first-hand insights and analysis into the latest industry developments and intelligence about China AI. Get exclusive access to our webinars for continuous learning, and interact with China AI executives in live Q&A. Offer valid until 31 March 2020.
Copyright (c) 2020. South China Morning Post Publishers Ltd. All rights reserved.
查看原始文章