Doctors should report case if someone has either a fever or respiratory symptoms, not both, health chiefs say
Three people who had close contact with second confirmed patient will be quarantined
Hong Kong has tightened monitoring of the Wuhan coronavirus, telling doctors to report suspected patients who show just one symptom, rather than looking for a combination of signs.
The change came after the second confirmed patient in the city was found to have had only a marginal fever, and no other telltale symptoms, when he went to hospital.
Cathay Pacific also announced that all Cathay Dragon flights to and from Wuhan would be suspended from Friday until February 29. The airline would help affected passengers refund their bookings or postpone their travel plans.
The government made its announcement as three people who had close contact with the two confirmed patients in the city were in quarantine, and set to be sent to a holiday camp for isolation.
Meanwhile, local rail operator the MTR Corporation stopped selling high-speed train tickets to and from Wuhan, the mainland city where the outbreak began. Mainland rail companies, which run two trains between the cities each day, will continue normal service, even though the departure halls of Wuhan railway stations are closed.
Hong Kong reported its first two cases of coronavirus on Wednesday, as the death toll in mainland China hit 17, among 550 confirmed cases. The virus has also spread to other countries, including Thailand, Japan and South Korea.
The first local patient was a mainland tourist, 39, who arrived at the high-speed railway station in West Kowloon on Tuesday. The second was a 56-year-old Hong Kong man who had visited Wuhan.
The two cases are currently being treated as "highly suspected," as the last tests necessary to sequence the virus' DNA were still under way.
Under previous guidelines, medical practitioners only needed to report suspected cases to the authorities if patients had a fever as well as symptoms of respiratory illness, and had either visited a mainland hospital or Wuhan, or been in close contact with a patient confirmed to have the virus.
But on Thursday officials said medics would need to report patients who have either fever or respiratory symptoms, rather than a combination. The other criteria remained unchanged.
The mechanism was revised as Dr Wong Ka-hing, controller of the Centre for Health Protection, said the second local patient did not initially show both sets of symptoms.
The man went to Wuhan alone on January 10 and flew to Shenzhen, the mainland city bordering Hong Kong, on Air China flight 8279 on January 19. He returned to Hong Kong the same day by train.
Dr Wong said the patient reported that, the day before he returned to Hong Kong, he had a fever but no symptoms of respiratory illness.
Dr Chung Kin-lai, the Hospital Authority's director of quality and safety, said that when the man visited Prince of Wales Hospital on the day of his return, his body temperature was only 37.1 degrees Celsius. A person is considered to have a fever when their temperature hits 37.5 degrees. An X-ray scan also found no problems with his lungs.
The next day, the man checked himself into the Alva Hotel By Royal in Sha Tin and spent one night there.
Two days later, with a temperature of 37.4 degrees, he said he felt feverish and was given the test, which came back positive. A source said an X-ray that day showed shadows on his lungs.
Guests leave Hong Kong hotel connected to city's first coronavirus infection
After coming under attack by medical experts for not requiring high-speed rail passengers coming to the city from Wuhan to fill in health declaration forms with contact details, Dr Wong said the government was now considering doing so.
He added that the move should be a considered a "supplementary" measure in response to developing events rather than a change of position.
The measure, if carried out, is expected to cover all speed rail trains, though Wong said relevant authorities still had to sort out the logistics.
He also hit back at suggestions that authorities had acted sluggishly in stepping up hospitals' reporting systems, saying that if the criteria were set too broadly, they risked becoming bogged down in borderline cases and affecting the system's efficiency in treating high-risk cases.
The second patient lives with his wife at the 20-block Oceanaire residence in Ma On Shan.
His wife and a doctor who treated him have been quarantined at a hospital and are expected to be sent to Sai Kung's Lady MacLehose Holiday Village, one of two designated quarantine facilities, later on Thursday, CHP Communicable Disease Branch head Dr Chang Shuk-kwan said. The other quarantine location is at Lei Yue Mun Park.
Hospital Authority infection control officer Dr Raymond Lai said the doctor was included because he had not worn full protection gear when treating the patient, who was not displaying symptoms at the time. But he assured that staff would be provided with sufficient equipment as Hong Kong braced for the impact.
The third person to be sent to the camp is a medical staff who treated the first patient, Chang said.
She added that she had sent staff to follow up on disinfection work at the Sha Tin hotel where the second patient had been diagnosed.
A hotline, 21561122, was set up on Wednesday for people to make enquiries. Chang said it had received 12 calls as of Thursday.
Chung warned that public hospitals may need to scale back on other services because of the emergency. He also urged those who were feeling unwell to see a doctor immediately and not to visit patients at hospitals.
On Thursday morning, cleaners at Oceanaire were disinfecting the driveway, but residents criticised the management and government for not being transparent enough.
One resident, who gave his name as Ngan, said there were still no signs inside the block warning people about the infection. There was no way, he said, to find out where the patient lived.
"Nothing was said. That's not enough. I read everything on the news," said Ngan, through a surgical mask. He added it was not until Thursday morning that he saw removable plastic sheets covering lift buttons, used for regular disinfection.
Another resident, Cecilia Law, said she was worried, too, not knowing where the person lived. She sprayed her hands and her son's hands with sanitiser as she spoke.
But she said building managers were taking action, closing down the clubhouse and some lobbies for disinfection.
Mike Chan Pui-ming, district councillor for the neighbourhood, was outside, urging residents to wear masks.
He said he would contact the Health Department asking it to have its help hotlines run around the clock, saying they currently closed each day at 5pm.
He would also invite the department to send staff to the residence to monitor the cleaning and offer advice, he said.
In nearby Macau on Thursday morning, officials confirmed the second local case of coronavirus infection on Thursday.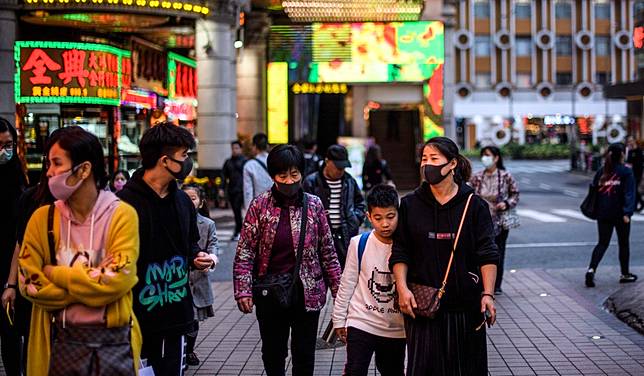 The gambling hub's government revealed on its website that the second case concerned a 66-year-old tourist from Wuhan.
The patient was found to have fever when entering Macau on Wednesday afternoon, and was sent to hospital.
Copyright (c) 2020. South China Morning Post Publishers Ltd. All rights reserved.
查看原始文章