US$126 billion committed by Chinese agencies and banks in 17 years, with over half going to Pakistan and Kazakhstan
Infrastructure 'dwarfs Beijing's other diplomacy tools in scale and visibility' but can be divisive, researchers find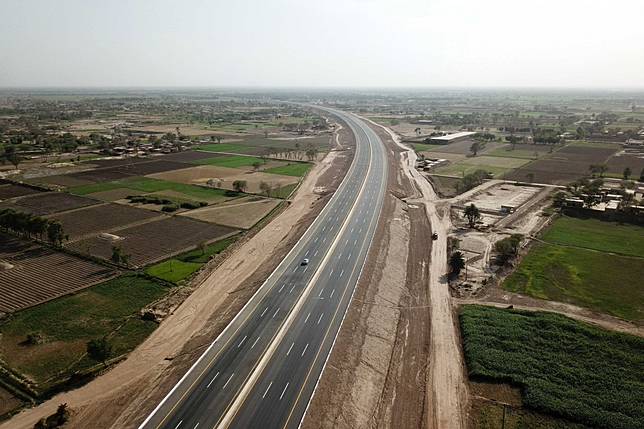 China's attempts to woo South and Central Asian countries with a total of US$126 billion of investment in 17 years have proved the most polarising of its efforts to gain regional influence, because of concerns over debt traps, transparency and Chinese labour, according to research in the United States.
Almost half of Beijing's work to make inroads across Asia between 2000 and 2017 involved finance, as it tried to expand its influence through investment and soft power, said a report by AidData, a research lab at the College of William & Mary in Virginia.
China says it will 'normalise' Xinjiang internment camps
The report detailed a range of Chinese initiatives, including sister cities, media pushes, Confucius Institutes " which seek to strengthen understanding of Chinese culture and language " and government visits.
However, researchers found that financial overtures made up 47 per cent of Beijing's "public diplomacy" in the region in 2017, and it was these that were associated with disapproval in the recipient countries of Chinese involvement.
The 92-page report, published on Tuesday, found US$126 billion in committed, implemented or completed projects in the region in the 17-year period by official Chinese agencies or banks, the bulk of which " US$120 billion " was in infrastructure investments.
More than half of the total figure was invested in Pakistan and Kazakhstan, both partners in China's transcontinental infrastructure strategy the Belt and Road Initiative. Those two countries were among the top four recipients of Beijing's public diplomacy efforts, along with Kyrgyzstan and India.
"Beijing has ramped up the volume and sophistication of its public diplomacy overtures in the region over time," said Samantha Custer, the director of policy analysis for AidData, who led the research team. "But infrastructure as a part of its financial diplomacy dwarfs Beijing's other public diplomacy tools in terms of sheer scale and visibility."
The report's findings were drawn from data analysis and interviews with more than 200 influential individuals in Bangladesh, Kazakhstan, the Maldives, Nepal, Sri Lanka and Uzbekistan.
"Some of these mixed feelings regarding Beijing's role as an economic partner may stem from the fact that the Chinese government often ties its offers of financing to the use of Chinese firms, labour and supplies, with limited trickle-down to the local economy," Siddhartha Ghose, AidData associate director and a co-author of the report, said.
"As a case in point, we found that Beijing tended to allocate a greater share of its financial diplomacy between 2000 and 2017 to countries with a higher number of new Chinese firms and Chinese migrants."
Can Kazakhstan's China-backed financial hub boost belt and road funding?
Although many in the region welcomed Chinese investments, researchers said concerns about debt distress, the utility and equity of Chinese infrastructure projects, allegations of corruption and other issues had stirred public debate.
In some cases, it had even prompted regime change, boosting opposition politicians in Sri Lanka and the Maldives on anti-corruption platforms that benefited from public antagonism towards opaque Chinese investments, the report said.
Visits between Chinese and other countries' officials were also linked to lower approval of the Chinese government.
The report said interviewees provided an array of motivations for Beijing, including checking the influence of Russia and India, minimising international criticism of China's domestic policies, trade and investment benefits, and soft power purposes to improve China's image.
Why is China's Belt and Road Initiative slowing down?
"Beijing's aspirations may be global, but it takes a special interest in cultivating closer relations with China's 'greater periphery'," researchers wrote in the report, conducted in partnership with the Asia Society Policy Institute and the Centre for Strategic and International Studies, and with the support of the US Department of State.
"Public diplomacy is a critical ingredient in Beijing's toolkit to neutralise potential threats, overcome internal disadvantages, and outmanoeuvre regional competitors who could vie with the Chinese government for influence."
In Kazakhstan " recipient of 41 per cent of Beijing's public diplomacy activities in the region " researchers found that despite China cultivating ties with political elites, people were "generally sceptical of Beijing" over investment, Chinese migrants and the treatment of Uygurs in China.
Kazakhstan borders China's far western region of Xinjiang, where more than a million Uygurs and other mostly Muslim minorities have been estimated to be detained in internment camps, which Beijing calls "re-education" centres.
Uygurs' plight could be stumbling block to China-Turkey ties, experts say
"Beijing's public diplomacy has succeeded in shoring up support among political elites but has fallen short of winning the hearts and minds of the average Kazakh," the report said. "If Beijing is to maintain stability at home through security partnerships abroad, it will likely need to convince not only political elites but the Kazakh public, who may be predisposed to support the interests of their Uygur brothers in Xinjiang."
Researchers said that, although they did not find "clear evidence of systematic association" between Beijing's public diplomacy and the willingness of regional leaders to back Chinese positions at the United Nations, they did find that there were more favourable perceptions of Chinese leadership in countries with more Confucius Institute establishments.
Higher-visibility appearances by senior officials in domestic media in South and Central Asia were also linked to more favourable perceptions of Chinese leadership, they found.
"These overtures … may give Chinese government leaders a bigger megaphone that reaches a wider audience, via channels that have greater credibility locally than Beijing's own international broadcasting efforts," the report said.
Copyright (c) 2019. South China Morning Post Publishers Ltd. All rights reserved.
查看原始文章