Boris Johnson favourite to win Conservative Party's leadership contest and replace PM Theresa May on Wednesday
He has vowed to leave the European Union on October 31, with or without a deal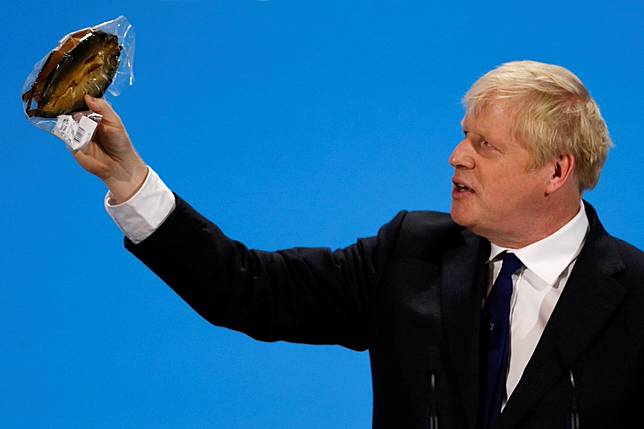 British politician Boris Johnson ended the last day of campaigning for the Conservative Party leadership contest Wednesday standing on a podium in front of a crowd of 2,000 adoring party faithful waving a fish in a Monty Pythonesque rant.
"I want you to consider this kipper which has been presented to me just now by the editor of a national newspaper," the prime ministerial hopeful bellowed to the crowd.
"Who received it from a kipper smoker in the Isle of Man who is utterly furious because, after decades of sending kippers like this through the post, he has had his costs massively increased by Brussels bureaucrats who have insisted that each kipper must be accompanied by a plastic ice pillow."
Little did it matter to the Brexit-hungry crowd, that the Isle of Man is not even in the European Union and that hygiene rules for posting fish were made in London.
Amusing his audience with Euro-mythology is how the 55-year-old former journalist and favourite to win the ballot of 170,000 party members for the top Tory job arrived where he is today.
If as widely expected his lifelong ambition to become prime minister, albeit chosen by around 0.3 per cent of the population.
The election was triggered after the incumbent Theresa May resigned after failing to gain approval for her Brexit deal.
Educated on a scholarship at Eton and then Oxford, Johnson, who spent the first five years of his life in New York Johnson's contemporaries at Oxford included David Cameron, a fellow member of the aggressively elitist Bullingdon Club and his rival in the Tory leadership race, Jeremy Hunt.
He had an international upbringing.
Born in New York he spent the later years of his childhood in Brussels where in the late seventies his father Stanley headed the European Commission's pollution department.
With his trademark dishevelled hair and unironed shirt, he would arrive late to the midday European Commission press briefing, tap everyone's brains, grab a grain of truth, embellish, and publish a story that led the rest of the press pack having to explain to their disbelieving editors it was not true.
He provided light relief from the often-dreary press briefings.
Little did any of the journalists in the press corps realise these his articles would set the tone for British Conservative euro scepticism that dominated most of the UK press for the next 25 years, let alone that he would become mayor of London, foreign secretary and now, probably, prime minister.
EU planned to employ manure sniffers to make sure its smelt the same in every country or ban prawn cocktail crisps were funny, and even though he never appeared particularly anti-EU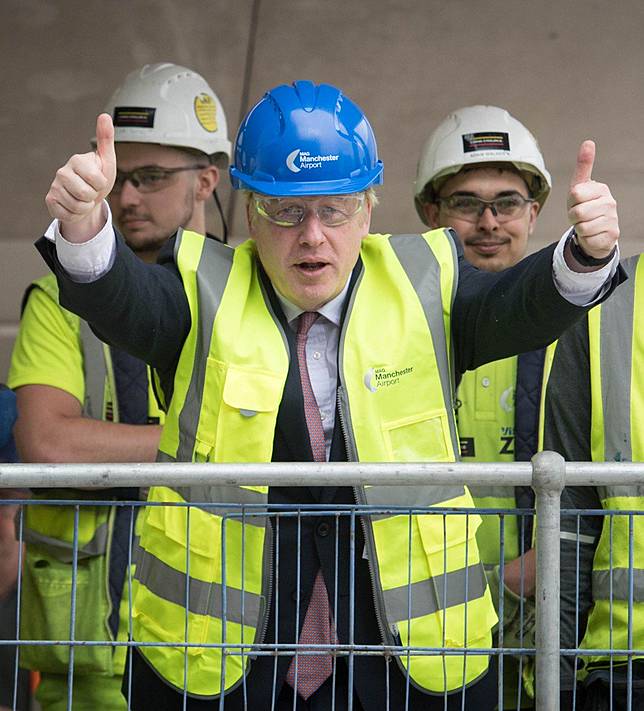 "I was just chucking these rocks over the garden wall and listening to this amazing crash in the greenhouse next door over in England," he once said in an interview.
"Everything I wrote was having this amazing effect on the Tory party and I suppose it gave me this rather weird sense of power."
Johnson's journalism career went from strength to strength, he became editor of the right-wing Spectator magazine and a bumbling and very funny panellist on British television shows.
In 2001 he was elected conservative MP for the well-heeled constituency of Henley even though he had promised the Spectator's proprietor Conrad Black, he would give up his political ambitions.
For several years he continued with two jobs as well as also writing columns for The Daily Telegraph poking fun at all and sundry.
Black later described Johnson as "a sly fox disguised as a teddy bear".
The author of several books, including a biography of Winston Churchill, his hero, and often described as Britain's Donald Trump his role model is probably the former Italian prime minister Silvio Berlusconi, famous for his politically incorrect gaffes.
In an article in The Daily Telegraph in 2006, Johnson wrote: "they help to make him fallible and human, and to explain his popularity".
He isn't cruel like Trump, does not have a pathological need to dominate everyone around him, and comments like Muslim women wearing burkas looking like letterboxes are more dog-whistling provocative than, as his enemies on the left say, racist. He is far too cosmopolitan and intelligent and his former wife is herself half-Indian.
Known more widely to the British public as Boris, or even Bojo, in 2008, Johnson, now a national celebrity, won the London Mayoral elections to become London's mayor, and won again in 2012.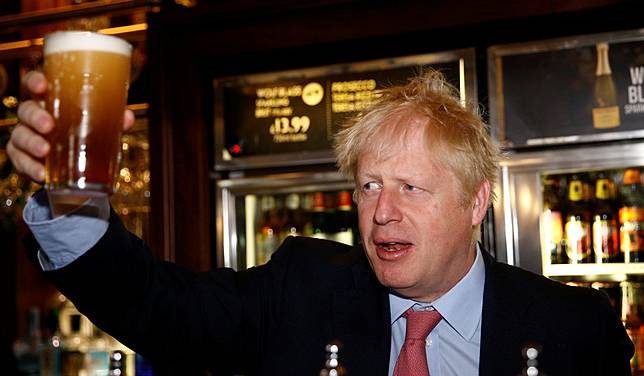 For a Conservative, he was pro-immigration, pro-gay rights and although criticised for wasting millions on a new "garden bridge" that never materialised, was generally fairly popular steering the city's growth despite the 2008 financial crisis.
His major blunder was failing to return immediately from a camping holiday in Canada when the London riots happened (blaming the fact his wife was too short to drive the camper van) and then ordering two second had water cannons that were never used.
I bumped into him in a restaurant in Rome about a year into his mayor's job, impressed my friends by spending an hour chatting with him, while he filled my glass with copious amounts of wine.
He was funny as usual and seemed genuinely concerned about London's social problems. It was only after he had left that I realised he had left me to pay the bill. He has a reputation for being tight with money.
Those who have been closer to him talk of his darker side.
"Johnson has always wanted to win at all costs, by fooling people into believing his performance or by sabotaging rivals if necessary" wrote his former deputy in Brussels, Sonia Purnell, author of the Johnson biography Just Boris: A Tale of Blonde Ambition in an article in The Guardian newspaper.
She said when she arrived fresh off the plane as an eager new correspondent "he knowingly sent me in the wrong direction for a press conference in one of the main EU buildings so that I arrived unprofessionally late."
Constantly struggling with his weight, frequently seen in a woolly hat or jogging in flowery shorts, Johnson is an unlikely sex symbol, yet he is a consummate womaniser, his numerous affairs.
He recently left his long-suffering wife of 25 years, Marina Wheeler, a barrister and mother of his four children (he has at least one other out of wedlock) for a woman almost half his age " and then made headlines again " after a humungous screaming match in his girlfriend's flat, taped by the neighbours who called the police.
But his supporters in the Conservative Party have forgiven his sexual dalliances, and his ideological flip-flops. Johnson often quotes the fact that his great-grandfather was Turkish, and once declared himself in favour of Turkey's entry to the EU.
Johnson's decision to back Brexit in the 2016 referendum came as a shock to many of the people who had known him in Brussels despite the fact he had birthed Euro-scepticism.
Indeed, it later emerged that Johnson had written two newspaper articles for The Telegraph, that continues to pay him more than GBP260,000 (US$325,000) a year for the occasional column, one pro-Brexit and one against, before deciding on the latter.
His decision to support Brexit has made him a hate figure with many people, and many believe he himself was shocked when the referendum returned the unexpected "Leave" vote.
May, probably to get him out of her way, raised eyebrows when she made Johnson, Foreign Secretary.
He had once described former US Presidential candidate Hillary Clinton as looking like "a sadistic nurse in a mental hospital", Barack Obama as "part-Kenyan" with an "ancestral dislike" of Britain, Russian President Vladimir Putin he described as looking like "Dobby the house elf" from the Harry Potter books. He wrote a poem in 2016, published in the spectator in which he accused Turkish President Recep Tayyip Erdogan of having sex with a goat.
He also accused US President Donald Trump of "betraying a quite stupefying ignorance that makes him frankly unfit to hold the office of president of the United States."
Johnson has been helped by the high profile of his other family members. His father, Stanley, is also now a TV personality who has appeared on Big Brother.
His sister Rachel is a newspaper columnist; his brother Jo is also a Conservative MP and former. The other Leo has an environment show on the BBC.
They didn't agree with Boris over Brexit. It is his decision to back the leave campaign that is widely seen as having swayed the result narrowly in favour of leaving.
If he becomes prime minister he will face the difficult, some say impossible task of securing a Brexit agreement with the EU by October 31, with a divided Parliament, a notoriously scant regard for detail, and a divided party, with as many enemies in it as out.
The business community have still not forgiven him for once famously saying "f*** business". Already resignations from his party are expected, with the possibility of several MPs defecting to another party bringing down the government and forcing a general election.
Johnson is also threatening to crash out of Europe with no agreement at all. With parliamentary recesses he will have a just a month of parliamentary working time to find a solution.
Johnson could be the shortest-reigning PM in modern history, or he could delay or even cancel Brexit, blaming it on some other factor. Whatever, you can be sure his old foes in Brussels will be waiting.
Hilary Clarke was a colleague of Boris Johnson back in the 1990s when he was the correspondent for The Daily Telegraph in Brussels.
Copyright (c) 2019. South China Morning Post Publishers Ltd. All rights reserved.
查看原始文章