Update: COVID-19 watch, May 26 -- South Korea imposes "no mask, no ride" policy on buses, taxis over pandemic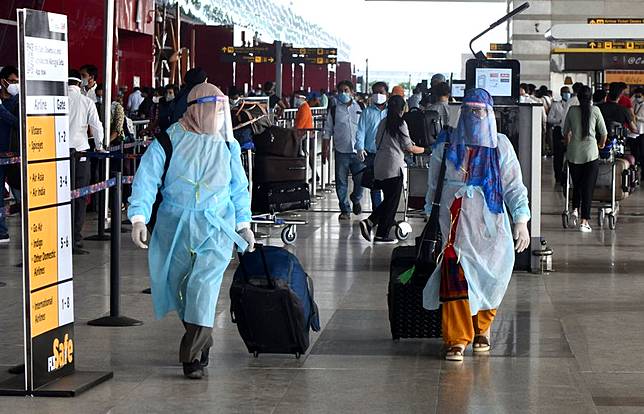 Two passengers with full protective suits are seen at the Indira Gandhi International Airport in New Delhi, India, May 25, 2020. (Photo by Partha Sarkar/Xinhua)
- S.Korea imposes "no mask, no ride" policy on buses, taxies
- LatAm's largest airline files for bankruptcy in U.S.
- China to send medical experts to Equatorial Guinea
- Brazil surpasses U.S. in daily COVID-19 death toll
BEIJING, May 26 (Xinhua) -- The following are the updates on the global fight against the COVID-19 pandemic.
- - - -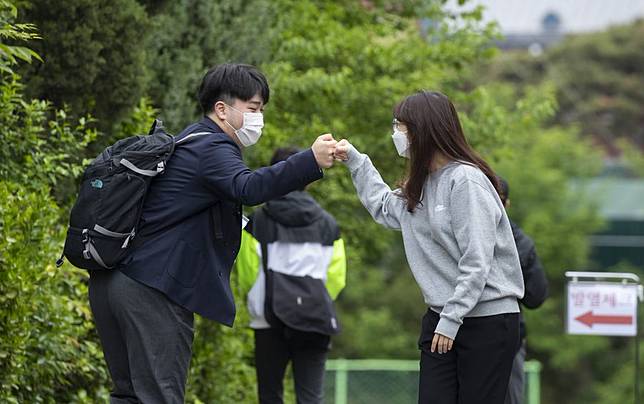 A teacher welcomes a student at the Kyungbok High School in Seoul, South Korea, May 20, 2020. (Photo by Lee Sang-ho/Xinhua)
SEOUL -- South Korea imposed the so-called "no mask, no ride" policy on buses and taxis on Tuesday to help prevent the spread of the COVID-19 while using public transportation.
Beginning Tuesday, taxi and bus drivers will be allowed to limit or refuse the ride of passengers who do not wear face masks. Drivers will be required to put on masks when passengers are on board.
- - - -
SUVA -- The Samoan government unveiled Tuesday its second stimulus package of 83 million tala (about 29.88 million U.S. dollars) to help the country's private sector battle against COVID-19.
According to Samoa Observer, the nation's daily English newspaper, the second stimulus package, also known as the Phase II Response Plan, includes a number of measures for injecting cash directly into the Samoan economy targeted at sectors hit by the coronavirus-led downturn, specifically hospitality.
- - - -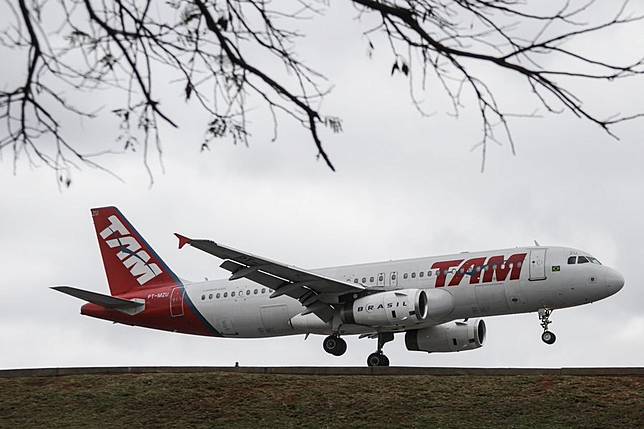 A LATAM plane lands at the Congonhas Airport, in Sao Paulo, Brazil, on September 27, 2019. (Xinhua/Rahel Patrasso)
MEXICO CITY -- Latin America's largest airline LATAM said on Tuesday that it has filed for bankruptcy in the United States, following a slump in business amid the COVID-19 pandemic.
"LATAM Airlines Group S.A. and its affiliates in Chile, Peru, Colombia, Ecuador and the United States have filed for voluntary protection under the U.S. Chapter 11 financial reorganization process," LATAM said in a statement, adding that its affiliates in Argentina, Brazil and Paraguay are not included in the filing.
- - - -
BEIJING -- The Chinese government has decided to send a medical expert team to Equatorial Guinea to support the country in its response to COVID-19, a Foreign Ministry spokesperson said Tuesday.
Zhao Lijian said the expert team was organized by the National Health Commission and consisted of experts selected by the Hunan Provincial Health Commission.
- - - -
WELLINGTON -- The New Zealand government announced a COVID-19 vaccine strategy on Tuesday, which will enable New Zealand scientists to contribute to global research efforts and explore the potential of vaccine manufacturing capability in New Zealand.
The COVID-19 vaccine strategy aims to secure a vaccine -- safe, effective and in sufficient quantities -- at the earliest possible time. It will ensure that New Zealand has detailed knowledge of key international research efforts and an ability to assess promising vaccine candidates as they emerge, Deputy Prime Minister and Foreign Minister Winston Peters said in a statement.
- - - -
NEW DELHI -- India's federal health ministry said Tuesday morning that 146 new deaths due to the COVID-19, besides fresh 6,535 positive cases, were reported since Monday in the country, taking the number of deaths to 4,167 and total cases to 145,380.
"As on 8:00 a.m. (0230 GMT) Tuesday, 4,167 deaths related to novel coronavirus have been recorded in the country," read information released by the ministry.
- - - -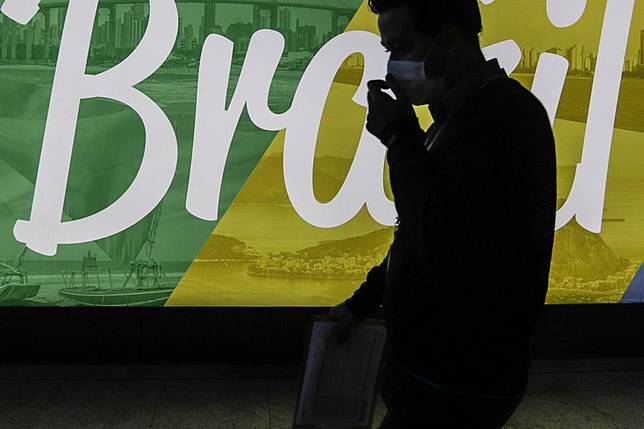 A man wears a mask while walking at the Sao Paulo International Airport, in Guarulhos, on the outskirts of Sao Paulo, Brazil, on May 25, 2020. (Xinhua/Rahel Patrasso)
RIO DE JANEIRO -- Brazil on Monday said its death toll from the novel coronavirus climbed to 23,473, following 807 fatalities in a single day.
The total number of people who have tested positive for the disease reached 374,898, with a mortality rate of 6.3 percent, according to the Health Ministry.
- - - -
BELGRADE -- Montenegro is the first coronavirus free country in Europe, said Prime Minister Dusko Markovic at a press conference on Monday afternoon, while announcing kindergartens and cinemas will open next week, while border crossings will open on June 1.
Montenegro will reopen its borders with countries that meet the criteria of the Institute of Public Health -- having less than 25 active cases per 100,000 inhabitants, Markovic said at a press conference broadcast by the national television RTCG.  ■