Umbrella, goggles, flag: tattoos use symbols of Hong Kong protest as permanent reminder of defiance, passion and pride
Scores of Hongkongers have been tattooed with symbols of this summer's protests. It's to show support and passion for their home, say tattooists and clients
Designs include items protesters wear and carry, bauhinia flowers to symbolise the city, and a clever use of Chinese characters with a double meaning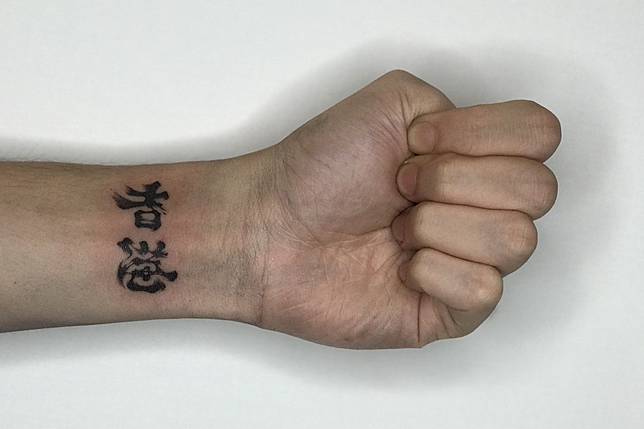 As the high-pitched buzzing subsides, tattooist David Zuleta puts down the tattoo gun and leans in to inspect his handiwork. An elegant flower blooms next to harsh red and black lines on his client's inner elbow.
Although the piece is striking, at first glance nothing too political leaps out. Look closer, and subtle details emerge: a tiny inked gas mask; silhouetted figures holding banners; a lone man facing down a tank.
For Sage Victor, the tattoo's recipient, identified only by his first and middle names, going under the needle at Inked Stories Tattoo studio this month was a way to preserve the memory of the intense feeling of solidarity he has experienced during the protests in Hong Kong sparked by proposed changes to extradition law and stoked by the forceful police response.
The 19-year-old restaurant server isn't the only Hongkonger to have chosen to show their support for the cause by getting tattooed. Originally from Los Angeles, Sage moved to Hong Kong with his parents six years ago and says that participating in both the Occupy Hong Kong protests in 2014 and the current demonstrations have made him feel closer to his adopted home.
004- Origin 勿忘初衷️ #hongkong #hongkonger . . . . . . . #tattoo #hktattoo #latattoo #geometricaltattoo #flowertattoo #simpletattoo #minitattoo #nyctattoo #art #taiwantattoo #香港紋身 #纹身 #刺青 #小清新 #簡約 #losangelestattoo #zada_hk #zadatattoo #watercolortattoo #hongkongtattoo #香港 #香港人 #花 #blacktattoo #flower #umbrella #雨傘 #umbrellatattoo

A post shared by #Tattoo Artist HKGZada Lam (@zada_hk) on Jul 14, 2019 at 2:39am PDT
He says the tattoo, his first, is, "a way for me to remember the struggles Hong Kong has had and the fight it is still going through … I wanted something to remember that passion and drive all these people have for this one place.
"It represents the idea of never forgetting to fight for what you believe in, as well as the love and pride people have for a city they may not even have been born in."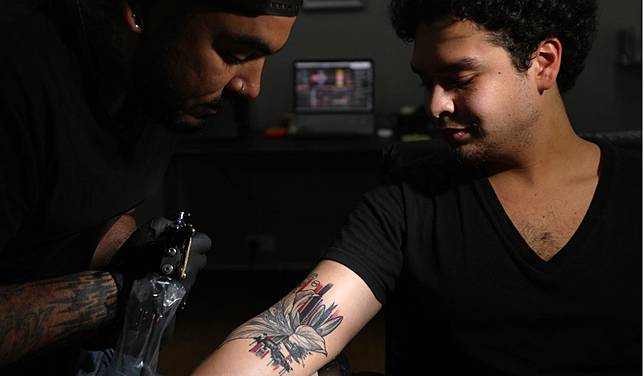 Every detail of the tattoo is symbolic: the bauhinia flower, Hong's Kong's emblem, was chosen to show the "elegance and beauty" of the city; the lines and dot work represent "strength" by signifying skyscrapers; and shadowy figures emerging from smoke hold a peace sign to underline the non-violent participation exhibited by most of those who have taken part in protests.
Now in their third month, the protests were initially against a now shelved extradition bill that would have allowed the transfer of fugitives to mainland China and other jurisdictions with which Hong Kong does not have an extradition agreement. Protesters, many angry at the city's leader for inaction and the violence of the police's handling of their protests, have since issued broader demands.
Sage's tattoo includes a reference to "tank man", an icon of the 1989 Tiananmen Square crackdown against pro-democracy students in the Chinese capital, Beijing. It resonates with Sage, who wears it on his body to stand for pacifism in the face of aggression.
One of my clients told me they felt proud to have the same tattoo as other people. The identity, the sense of belonging, has never been so strongYC Carl Lee, tattooist
Zuleta, who tattoos under the name "Vidzul", says he created a design for his client that emphasised "revolution and peace" while staying away from negative statements.
"He's 19 and I was concerned that he didn't need to say so much to say what he wanted to say," says Zuleta, a Colombian artist who has worked in the city for a decade and who says Sage's piece is his way of showing support for the protesters as well as respect for Hong Kong.
"Sage originally showed me a photo of a rusted and damaged bauhinia, but I thought it was too strong a statement to destroy a country's symbol. I wanted to show the protests were about people wanting to take care of a place they like, represented with a realistic bauhinia, as I thought having the flag was too aggressive:
"I said, 'Let's do a tattoo that speaks to people about what's really going on: they're trying to take care of their home.' The overall energy (of the protests) is peaceful."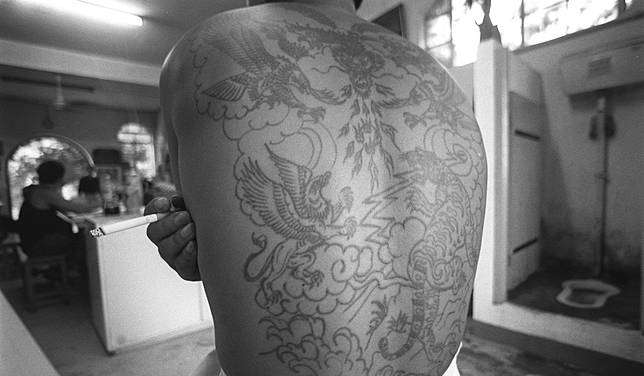 Tattoos have long been used to signify solidarity or membership of a group. Once the preserve of sailors, in Hong Kong they became a marker of affiliation with the city's triad societies from the 1960s onwards.
Getting one is an act of protest in itself in a region where body modification is still often considered taboo due to its association with organised crime. However, as a group of sociology researchers at University of Hong Kong note in a 2018 paper, while having a tattoo was once considered "deviant behaviour", conservative attitudes are eroding and tattoos' popularity among young people is rising, partly thanks to their normalisation by celebrities and through social media.
The growth in the popularity of tattoos among the young shows a generational mindset shift towards self-expression through skin art. Incorporating a political statement in the design of a tattoo takes that self-expression further, and signifies the wearer's passion for a cause and willingness to defend their stance if challenged in public.
In recent weeks, photos of tattoos have emerged in Hong Kong that centre on the imagery of the current protests: umbrellas, goggles and gas masks are a common theme, as are upbeat messages in both English and Chinese " Bruce Lee's famed saying "be water" having been adopted as a protest motto " or simply a flag or the word "Hong Kong".
One of the more striking designs to emerge from the protests is a manipulation of Chinese characters, which reads "Hong Kong" when viewed upright and ga yau " or "add oil", a phrase used to express encouragement " when read from the side.
The design is the work of Kyo Chen, a Taiwan-based graphic designer, who describes himself as "shocked and moved" to see his work being used not only on merchandise such as T-shirts and flags, but also tattoos. The design, he says, was his contribution to the protests; the image he created has been widely shared on social media in recent weeks.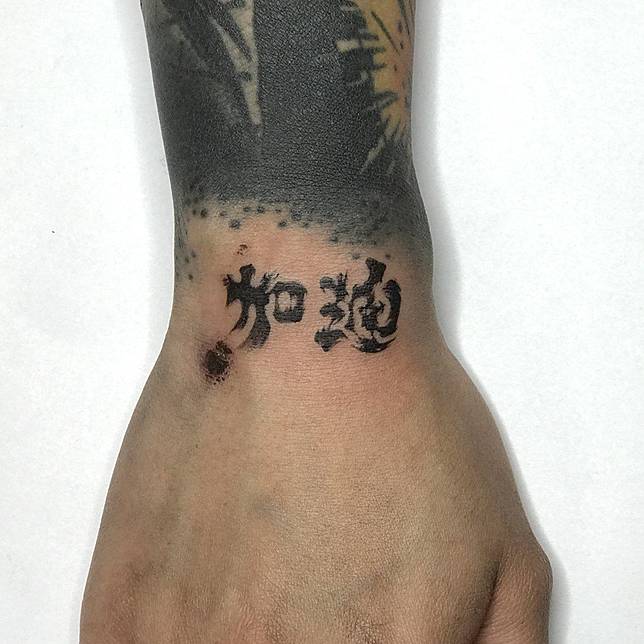 "On June 9, I saw Hong Kong residents, including my friends, take to the streets for freedom," he says, referring to the day an estimated one million people marched from Victoria Park in Causeway Bay to oppose the extradition bill. "I wanted to make a contribution by encouraging and comforting them through my design."
YC Carl Lee, who has been working as a tattooist for a year, has inked at least six clients with Chen's design, which he believes perfectly encapsulates the current sentiment within Hong Kong.
"It is not only a word but (a) form of beauty (that) includes various meanings using the same Chinese symbols," he says.
Meanwhile, over the last two months, Zada Lam's Instagram feed has been taken over by his own geometric umbrella and bauhinia tattoo design, which the artist has tattooed on "70 to 80" people free of charge.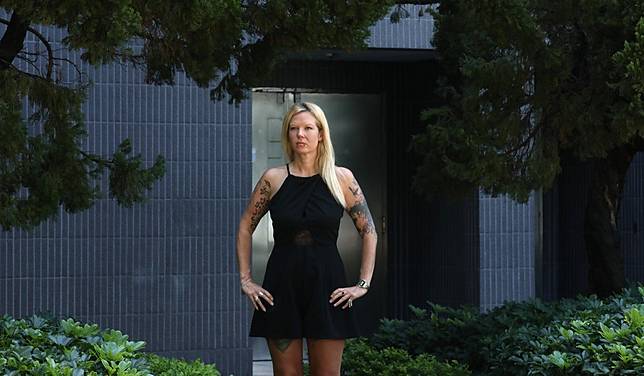 "It's my way of doing something, a meaningful way to support the people who love Hong Kong, and help them show and share how important this place is to them," Lam says.
One of his clients, Weeze, describes herself as "a lifelong protester", having voiced her support for a number of human rights causes since she was a young teenager.
Weeze, 36, has now added a first politically motivated design to her already large collection of tattoos. Bearing Lam's design on her skin is a way to pay tribute to the city she was born in and calls home, but also mark two tumultuous months during which she marched through the streets.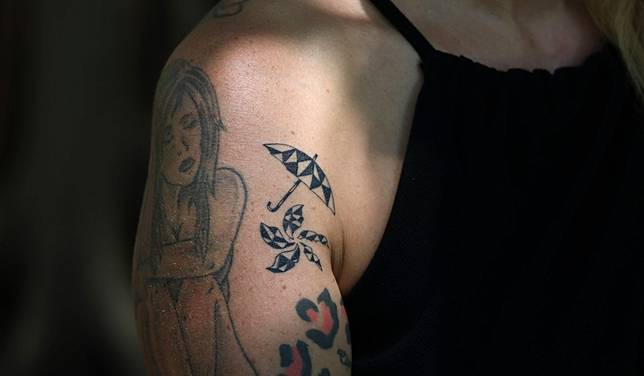 The design's placement on her right upper arm was significant too: "It's a tattoo for me," she says. "I wanted it to be in a place where I could see it. When I look at it, I feel pride and solidarity. It's in the place I touch with my left hand when I'm shocked or moved by something."
While steadfast in her beliefs, Weeze, who works for a human rights NGO, isn't naive or blase enough to bare her body art in all situations, having chosen to cover it with clothing on a recent work-related visit to a police station, for example. "It's just a tattoo, but I didn't want the attention, as I was handing in an application for a work event. I didn't want them to put a note on it," she says.
Sage is similarly mindful, hoping to still be able to travel to mainland China for leisure without being questioned. "I'll have to be careful with it there, but I think I'll be OK in Hong Kong," he says. "I understand it's a powerful statement at such a time but it's not meant to be taken in a negative way."
I wanted to show the protests were about people wanting to take care of a place they likeDavid "Vizdul" Zuleta, tattoo artist
Despite increasing resentment towards the aggressive crowd control tactics used by police and a government that remains largely unmoved after successive demonstrations, the theme of unity remains paramount to most protesters, and those who have created or received tattoos inspired by the events are keen to emphasise optimism over anger.
Like the ink beneath the skin of those who have chosen to display their pride and participation using their bodies as a canvas, the events of the last 11 weeks have left an indelible mark on Hong Kong society and revealed a city increasingly unafraid to wear its heart on its sleeve.
"We all have a responsibility to contribute the city that we call home," Lee says. "One of my clients told me they felt proud to have the same tattoo as other people. The identity, the sense of belonging, has never been so strong."
Copyright (c) 2019. South China Morning Post Publishers Ltd. All rights reserved.