Thousands of students turn out for protest rally in Central as Hong Kong gears up for weekend of demonstrations
Rally organised by group of students from 12 local colleges and universities features recorded messages of support from abroad
Anti-government march for To Kwa Wan wins 11th-hour reprieve while pro-government rally in Tamar Park goes ahead on Saturday
Thousands of students gathered in central Hong Kong on Friday night, calling for the US and Britain to help the city in its fight for democracy.
The rally in Chater Garden came as Hong Kong braced itself for yet another weekend of demonstrations, calling for the full withdrawal of a now-shelved extradition bill, as well as the appointment of a judge-led independent inquiry into police use of force on protesters since June.
A number of protests have been scheduled. They include a march from Hung Hom to To Kwa Wan and a teachers' rally, as well as a pro-government rally on Saturday. Those will be followed by the Civil Human Rights Front's rally in Causeway Bay on Sunday.
Police had issued letters of objection to the planned Saturday march from Hung Hom to To Kwa Wan, as well as a separate Sunday march on Hong Kong Island organised by the front, approving only its proposed rally at Victoria Park in Causeway Bay.
On Friday night, the organiser of the Hung Hom rally won an appeal, with the route being changed to start at 3.30 from Hoi Sham Park in To Kwa Wan to Whampoa MTR station.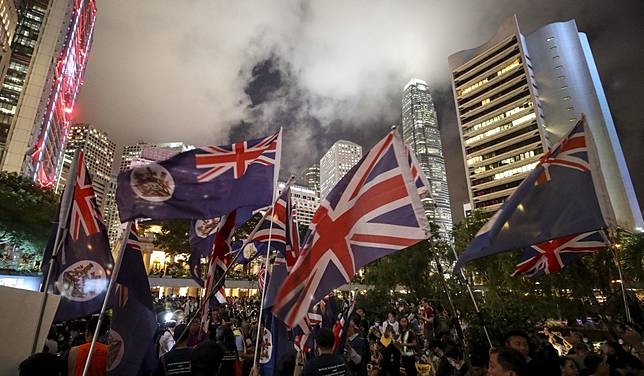 The rally on Friday, named "Stand with Hong Kong, Power to the People", was organised by the Hong Kong Higher Institutions International Affairs Delegation, a group of students from 12 local universities and colleges. Organisers wanted Britain to announce that China had violated the Sino-British Joint Declaration, and the US to fast-track the Hong Kong Human Rights and Democracy Act.
A 26-year-old nurse, surnamed Yeung, said that while the rally could help raise more international awareness he was not expecting foreign countries to contribute much to the movement.
"To some extent, the continued attention might make Beijing act more carefully on Hong Kong issues," Yeung said. "But at the end of the day, you still have to rely on Hongkongers."
A dozen members of a group, British National (Overseas) and Commonwealth Citizens Equal Rights Rummage, brought British colonial flags to the rally. They wanted London to give BNO passport holders the right of abode in Britain.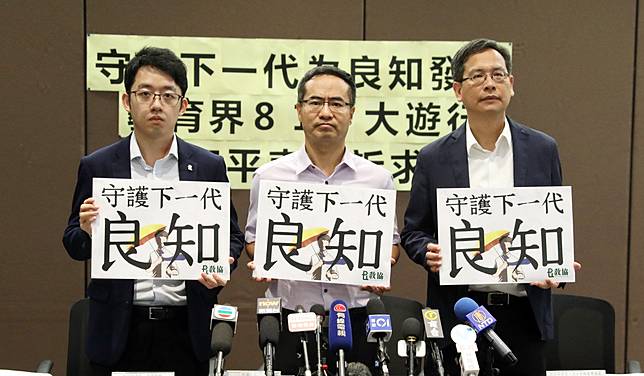 "We are loyal to Britain," a 58-year-old retiree, surnamed Ling, said.
In a video message broadcast at the rally, Larry Diamond, a leading scholar on democratisation, said the struggle in Hong Kong was part of the global fight against authoritarian regimes, and added democrats around the world were lobbying their respective governments to stand behind Hong Kong.
Brian Leung Kai-ping, the only protester to remove his mask in front of the media after storming the Legislative Council on July 1, said there was already no possibility of a return to past order, and Hong Kong should leverage international support.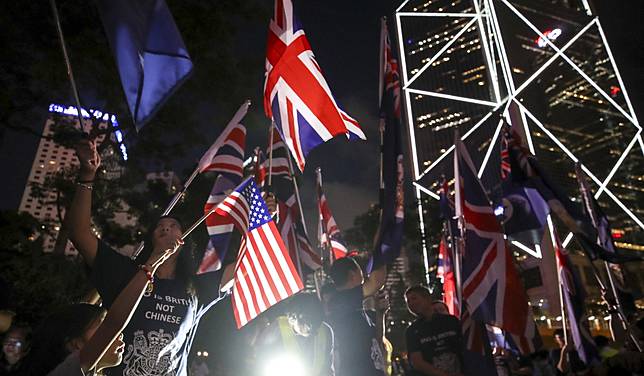 "Putting Hong Kong in an international perspective is to protect Hong Kong's long term democracy and liberty," he said in a video message.
Leung also expressed no regret about having to leave Hong Kong.
Activist Ray Wong, who was granted asylum in Germany, also filmed a video for the rally.
Wong said the city was now at the forefront against authoritarianism.
"Should the Chinese government engulf Hong Kong without facing any consequences, it would encourage other regimes to continue their authoritarian rule," Wong said.
He also said he hoped to return to Hong Kong one day.
"I have a dream, a dream of returning to a Hong Kong that belongs to Hongkongers," he said.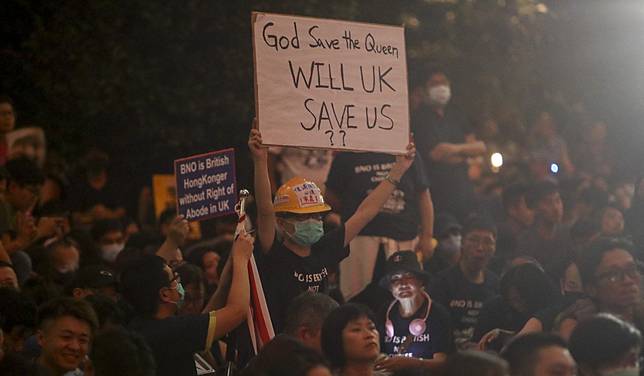 Hong Kong's police on Friday defended their decision to ban and scale back the weekend marches, and warned extradition bill protesters not to press ahead with unlawful assemblies and other acts such as road blockages, disruption to traffic and damaging facilities.
Police top brass refused to disclose operational details when asked whether the force would deploy water cannons.
But Yeung Man-pun, commander of Kowloon City District, said conditions must be met for the crowd management vehicle to be used. "If there is a serious risk to life, property or traffic disruption, we will consider using it."
Separately, Professional Teachers' Union president Fung Wai-wah, organiser of the teachers' march on Saturday, said he expected 500 educators to turn up.
Fung appeared emotional and he cried when speaking about a large number of young protesters being arrested in the past weeks.
"The government arrested over 700 people, many of them students," he said. "Regardless of whether it is of any use, we can express our care and wish to protect the next generation."
In a separate development, the Safeguard Hong Kong Alliance, which consists of pro-government political and business leaders, announced that they were organising a rally with the theme "Oppose violence, save Hong Kong" in Tamar Park in Admiralty on Saturday.
The watchdog investigating complaints against the Hong Kong Police Force said they will extend the scope of the inquiry, from incidents between June 9 and July 2, 2019, to events after that date.
The Independent Police Complaints Council (IPCC) held a special in-house meeting on Friday at which all attending members unanimously passed the motion to extend the scope, a spokesman said in a statement.
He said the Council would continue to aim to publish the first phase report, covering the period from June 9 to July 2, within six months.
Additional reporting by Kimmy Chung, Tony Cheung and Victor Ting
Copyright (c) 2019. South China Morning Post Publishers Ltd. All rights reserved.