The faint hope of freedom for the last of China's 709 lawyers behind bars
Rights defender Wang Quanzhang is expected to be released from prison on Sunday but he is unlikely to be able to return to his family any time soon
Like other dissidents, Wang faces a future of 'non-release release', according to observers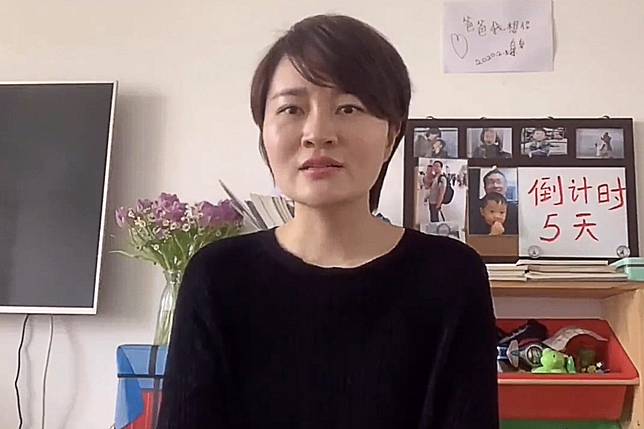 Li Wenzu is nearing the end of a tumultuous five-year journey fighting for the rights of her lawyer husband Wang Quanzhang " but there is little left in her to look beyond the finishing line.
"One thing I have learned over the years to avoid crushing disappointment is to live in the present moment rather than harbouring hope," Li told the South China Morning Post.
"There was no worst pain, only even worse pain, again and again."
Wang, a 44-year-old human rights lawyer, is due to be released from prison on Sunday after serving 4 1/2 years in jail for state subversion. But his imminent release offers little comfort because, like other dissidents before him, he is likely to face continued limits on his freedom, such as house arrest.
"I can't wait to hold him again but I don't know when that might actually happen," Li said.
Wang was arrested in a 2015 nationwide crackdown that targeted hundreds of human rights lawyers and activists, in a move that critics say was meant to silence the country's emerging rights defence movement.
About 300 human rights lawyers and activists around the country disappeared, were interrogated or were persecuted. Some have reported being tortured, including physically abused and medicated against their will in custody.
The crackdown, which drew widespread international condemnation, is commonly called "the 709 crackdown", a reference to the start of the purge on July 9.
Wang is one of the last to still be behind bars.
In her Beijing flat, Li wrestles with anxiety and insomnia as she and the couple's seven-year-old son, Quanquan, count down to her husband's release. She will not be there to greet him at the prison gate on Sunday " a decision that tears her apart.
"I worry about our family being locked up in a rural place away from friends in Beijing if Ipick him up in person … My mind constantly churns through different scenarios of his release," Li said.
Under existing quarantine measures to contain the coronavirus pandemic, people like Li, who lives in Beijing but is from Hubei province, are not be allowed to return to the capital for two months if they leave.
Wang is being held in Linyi in the eastern Chinese province of Shandong and prison authorities there told him that he would be sent to his home town of Jinan, also in Shandong, upon his release, according to the last letter he wrote to his family. It all means that the family is unlikely to be reunited any time soon.
In the letter dated March 12, Wang expressed a simple desire.
"What I want the most after getting out is to live freely, where there is no one knocking on my door. Let us restart a life we had built," he wrote.
'Shackled, isolated and beaten': how one child became a victim of China's 709 crackdown on rights lawyers
That life was torn apart five years ago. Since his father's arrest, Quanquan has not been able to go to school, and Li, who was a housewife before her ordeal began, has spent the past five years campaigning so tirelessly for her husband's freedom that she has become a thorn on the side of the authorities.
While most of the 709 human rights lawyers had already stood trial, been released on bail or given suspended sentences by 2017, Wang was held incommunicado for three years.
Lawyers who were hired by his family were dismissed by the authorities. Close friends and colleagues of Wang attributed the delayed handling of his case to his refusal to strike a deal with authorities or confess.
Eva Pils, a specialist in Chinese human rights and professor of law at King's College London, said Wang's strong sense of moral responsibility "compelled him to put himself in harm's way to protect his vulnerable clients from deep flaws of China's judicial process".
"I think at a time when we are all in the grip of a global crisis, this resonates with a sense that individual rectitude and courage are invaluable," Pils said referring to the coronavirus pandemic.
She said fellow lawyers and activists in the 709 community were particularly worried for Wang when he first "disappeared" because the authorities refused to release any information of his status or whereabouts.
"It is significant that he has survived … and it's also significant that his ordeal transformed his wife into a formidable human rights defender," Pils said.
Chinese police hold four wives of rights activists seized in '709 crackdown'
Wang was finally tried in December 2018 after years of relentless campaigning by Li. A month later, he was sentenced to 4 1/2 years in prison and deprived of his political rights for five years for state subversion.
Li was not allowed to visit him until last June; she was devastated to see the effects of his ordeal on his mental health.
Many of the released 709 lawyers had reported various levels of physical and mental abuse in custody, including being forcibly medicated.
One of the released 709 lawyers, Li Chunfu, was diagnosed with schizophrenia upon release in January 2017 after spending more than 500 days behind bars. Others, including lawyer Wang Yu, her husband Bao Longjun and Hunan-based rights lawyer Xie Yang, were put under de facto house arrest in their hometowns after leaving custody.
Jerome Cohen, professor of law at New York University, said the "non-release release" of the rights advocates was a way for the Communist Party to exert continuous political control over them.
"It looks better than sentencing a lawyer to life in prison but can amount to a more discreet form of stifling someone for life," Cohen said.
He cited the case of Gao Zhisheng, a rights lawyer who was released from jail in 2014 but was put under house arrest in a cave home in Shaanxi province. He tried to escape in August 2017 but was captured and his whereabouts are unknown.
"What will Wang Quanzhang's release on April 5 amount to? It might have been more appropriate to release on April Fool's Day," Cohen said.
With Wang's last day behind bars imminent, 11 international, Hong Kong and Taiwan-based human rights groups and lawyers' associations jointly called for him to be released unconditionally.
"Lawyer Wang and his family have suffered enough. We urge the Chinese government to adhere to Article 37 of the Constitution of the People's Republic of China as well as Articles 3 and 13 of the Universal Declaration of Human Rights, to ensure Wang Quanzhang's personal freedom after his release and to refrain from putting him under any form of house arrest, surveillance or any other form of control over his personal freedom," the groups said.
Sign up now and get a 10% discount (original price US$400) off the China AI Report 2020 by SCMP Research. Learn about the AI ambitions of Alibaba, Baidu & JD.com through our in-depth case studies, and explore new applications of AI across industries. The report also includes exclusive access to webinars to interact with C-level executives from leading China AI companies (via live Q&A sessions). Offer valid until 31 May 2020.
Copyright (c) 2020. South China Morning Post Publishers Ltd. All rights reserved.